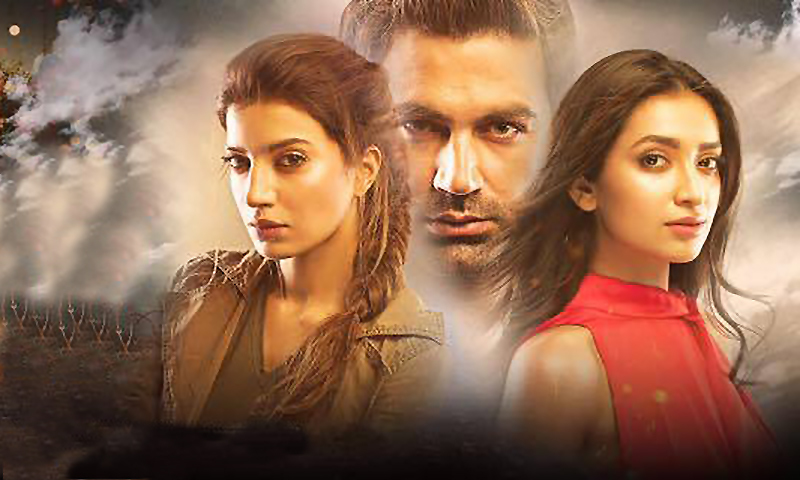 Let's just say, you might not want to see this one

What would you do if a girl asks you … Am I not hot? (Kia main hot nahi hoon?). If that girl is Aishwariya Rai or Katrina Kaif, you would give the obvious answer, but the question was popped by Rubab Ali in Farooq Mengal's Hijrat. A movie that takes you down memory lane and then forgets to bring you back.
Hijrat is one of those films that shouldn't have been conceived, let alone released for viewing of Pakistani public (or any public). In an era, when the filmmakers are trying to make quality films; it's flicks like these that dent their good work.
The director failed to realize that it is 2016 – a good 14 years after the first revival flick, Yeh Dil Aapka Huwa, was produced. The only common thing between the two films is actress Sana, who was a knockout beauty in 2002 and danced amazingly well on Bollywood choreographer Saroj Khan's instructions. Here, she resembles a Lahore stage actresses and the item number she performs on reminds you of the 90s when Nargis and Co. ruled the screen and people chose to stay away from cinemas.
Read: "Hijrat is literally like a baby to me," says Farouq Mengal
In another ode to the 90s, the voice of the lead actors was dubbed by professional VO artists. Actor/director Aehsun Talish did the same for Zeeshan Sikandar in Inteha, Faysal Qureshi did it for model Ahmad Butt in Salakhain, and now in Hijrat all the lead actors had to be dubbed by others.
Asad Zaman may have the looks of a hunk, but apparently his voice lets him down and same goes for Rabia Butt and Rubab Ali. The actresses looked gorgeous, but when your voice doesn't match your face...well, let's just say it's not a pleasant sight.
Thankfully, Jamal Shah, Zeb Rehman, Durdana Butt, and Nadeem Baig retained their voices otherwise things would've been way to creepy!
Read: Is Hijrat's official trailer worth the wait?
The plot
While it were the flaws that stole the show; let's try our hand at discussing Hijrat's story line.
Asad Zaman plays the happy-go-lucky protagonist who has three women in his life – his mother Zeb Rehman and the two knockout beauties (Butt and Ali). While he is set to marry one, he falls for the other one, that too in a refugee camp somewhere in Pakistan.
Read: HIP Talk: Asad Zaman on 'Zeher-e-Ishq', 'Hijrat,' and 'Rab Razi'
The locations were well-selected, but sir, if you wanted to shoot indoors, why did you go to Turkey? Islamabad is no less beautiful, so you could have used the Capital City and saved some money. You could easily have recreated the Mohajir camp in Pindi, but Mr. Director, you aimed high, and sadly missed!
The mystery that is Hijrat
The film was more of a mystery than a tragic love story. Here are some questions that have been driving me insane ever since I watched the film.
Why were the doctors – model-turned-actress Mahjabeen Habib and Rabia Butt – wearing designer clothes and looked like anyone but a person belonging to the medical profession? Was the character of Nadeem sahib – Dr. Sameer – a Hindu? Was Jia a Muslim who married a Hindu guy? Was his name Arun or Varun because we heard both? Why didn't the landmine blast away the character? Was it a Made-In-China landmine? And why was this Zain character aping Uday Chopra (the Bollywood actor famous for his roles in Dhoom)?
Verdict
We don't need such halfhearted attempts at film making and that too at a time when we are on our way up. Please don't attempt to make a film again Mr. Mengal. Go back to TV and make dramas there as your stories can be digested by that public (no offense). The cinema going public pays to watch films and when they don't get their money's worth, they remember the name of the person who conned them.