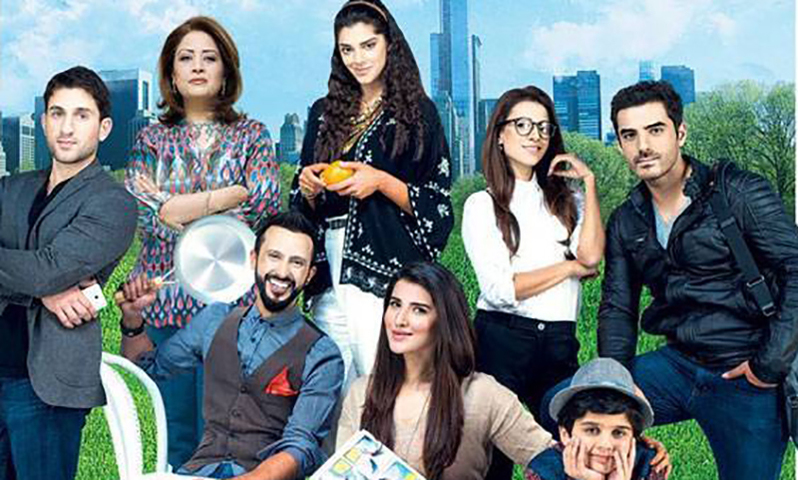 Do you look forward to Eid for all the movies that are lined up for the holiday season? Do you spend the evenings of your Eid holidays bundled up in a cinema with popcorn? If yes, then we're here to make your life easier.
HIP spoke to the Manager Marketing & Projects Cinepax, Mohsin Yaseen, to confirm the list of films (Indian, Pakistani, and Hollywood) releasing this Eid-Ul-Fitr. We have two Pakistani (third isn't confirmed yet), one Indian, and two English films all set for an Eid release. According to Yaseen, while all the films will provide good backup, Salman Khan's Sultan will be the real cash cow for cinema owners.
Read: And we present to you the first look of 'Dobara Phir Se!
Dobara Phir Se
Mehreen Jabbar's feature film, Dobara Phir Se, is probably the most anticipated film of the season. The trailer was released a few weeks back and it looks like the film revolves around a dysfunctional family and angst-filled men (especially Adeel Hussain) and women (specifically, Hareem Farooq) who're trying to lfind "real love".
Distributor: ARY Films
Cast: Adeel Hussain, Hareem Farooq, Sanam Saeed, Ali Kazmi, Tooba Siddiqui, Atiqa Odho, Shaz Khan, and Musa.
We expect...
An intense family drama set in the backdrop of New York and Karachi, featuring power-packed performances from all these amazing actors and actresses.
Read: On the sets of ARY Films' 'Dobara Phir Se'
Sultan
This Yash Raj film features Salman Khan in his usual muscular self, ready to rip his opponents apart, and Anushka Sharma in her not-so-usual (again) muscular self. Interestingly, Sharma plays a wrestler in Ali Abbas Zafar's directorial venture and will be seen delivering Haryanvi dialogues. Abbas has earlier directed entertainers such as Gunday and Mere Brother Ki Dulhan, so we expect Sultan to be entertaining if nothing else.
Distributor: Geo Films
Cast: Salman Khan as Cheema, Anuhska Sharma as Aarfa, Randeep Hooda as Sultan's coach, Amit Sadh as Sultan's brother, and Tyron Woodley as wrestler.
We expect...
An action-packed entertainer which won't just draw traffic because of Salman Khan, but also because of Aarfa (Sharma's character).
Read: 'Raees' to take Ae Dil Hai Mushkil's slot for release
The Legend of Tarzan
We've seen many movies, cartoons, and TV shows based on the fictional character, Taazan, over the years, but Warner Bro's The Legend of Tarzan looks intense and visually stunning.
Cast: Margot Robbie, Alexander Skarsgård, Samuel L. Jackson, and many others.
Distributor: HKC Entertainment
We expect...
To witness action, drama, and lots of high-tech, special-effects-induced fights between Tarzan and his enemies and that too in 3D.
The Secret Life of Pets
It is an animated film by those very humans who made Despicable Me", and now tell me why we shouldn't be looking forward to it?
The films sheds light on the lives of pets...in the absence of their owners and you'd be surprised to see the antics of these fictional characters. From a feminine-looking poodle who likes to headbang to hard rock, to a puppy whose favourite pass time is to scratch himself with an electrical mixer; this film promises to be a joy ride.
Distributor: Footprint Entertainment
Cast: Ellie Kemper, Jenny Slate, Lake Bell, and more.
We Expect...
Loads and loads of fun. But to be honest, we'd rather watch it from the comfort of our home because it doesn't seem to offer much of a cinematic experience, does it?
Read: Pakistani film 'Sawal 700 Crore Dollar Ka' to release this Eid
Sawal 700 Crore Dollar Ka
This is the second Pakistani film releasing this Eid and we aren't exactly too excited about it. According to the trailer, Jamshed Jan Muhammad's Sawal 700 Crore Dollar Ka is story of a bank robbery and that's about it. The official trailer reminded us of the bad old 90s' cinema and that's never a good sign.
Read: Does the trailer of 'Sawal 700 Crore Dollar Ka' tempt us to watch the film?
Distributor: Eveready Pictures
Cast: Javed Sheikh, Shamoon Abbasi, Ifftikhar Thakur, Ismail Tara, Nayyer Ejaz, Ghulam Mohuiddin, and is introducing Qurat Ul Ain, and Ali Mohiuddin.
We expect...
Action, action, and only action.
---
There is another film which hasn't wrapped up yet, but according to makers, it will release on Eid Ul Fitr.
Jiyo Sar Utha Kay
Directed by Nadeem Cheema, this film is a 'Cheema special' since the director, producer, and the lead actor all belong to the Cheema clan. It is based on the journey of a gang leader, Ghulam Rasool alias Chottu. The producer of the film, Ahmed Cheema (Shafqat Cheema's brother), while speaking to The Express Tribune, said, "The film is wholly based on real events and aims to highlight social evils. We also talk about other such gangs that are actually supported by certain sections of the government."
Cast: Mahnoor, Areeba Khan, Sheheryar Cheema, Shafqat Cheema, and others.
Distributor: Not yet known
We expect...
Some old school "Lollywood" drama with "state-of-the-art production quality" because the film's post production will be done in the US.
---
There are a two clear winners in this list for me - Sultan and DPS. These two films posses star power and an interesting story line to attract audiences.