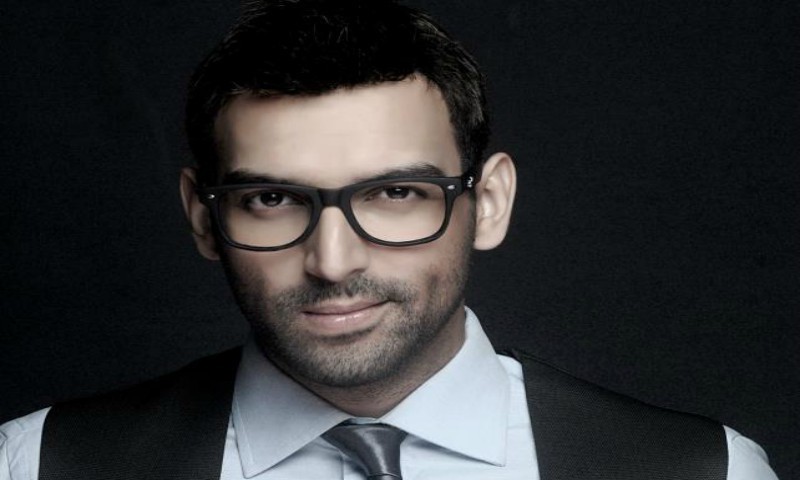 "I'm a big fan of Pakistani dramas. I loved 'Diyar-e-Dil' especially because of Abid Ali's cgaracter," says Malik.
The British-Pakistani multi-faceted artist, Mubashir Malik, is a man of all trades. Not only is he a swoon-worthy model, he also happens to be a successful banker, and he has recently published his book!
Enjoying the perks of being an occasional celebrity, Malik has finally decided to make it big and and said yes to a supporting role in the Karachi Se Lahore's spin-off, Lahore Se Aagey. And as he tours the world, attends the launch of his recently-published book Double Standards, does his bank job; he also manages to give us an insight into his life and profession.
Also Read: 'Lahore Se Aagey' to feature five songs in its soundtrack!
What are you currently working on?
To be honest, the only media project that I'm doing is Lahore Se Aagey. That too is a coincidence. The offer literally came out of nowhere and I was quite surprised and honoured. So, that's the only project for now. I'm a full-time banker and am launching my book worldwide.
Tell us a bit about your recently published book, Double Standards?
It actually refers to the double standards of the government, establishment, and bankers. It basically revolves around greed. It's about a visionary called Agha Hasan Abdi who started a bank and made it the fastest growing bank in the world. The west didn't like it and it was shut down. The book also compares his bank with other contemporary banks.
I was ten years old when the bank was closed, so basically he's an unsung hero, and that's why we're telling the story. It's an eye opener.
Being based out of UK, have you ever been criticized for the bold (anti-est) topic of you book?
Thankfully I've never been a victim of any sort of racism. I consider myself a British first, as I've been born and brought-up here, but I love Pakistan. My values, however, are from here, and I believe that's when problems occur, when you try to change the society. For me, I feel I have the best of both worlds.
Coming back to the book, it's been received very well. It's actually factual, and there's no conspiracy at all. It's an academic book and anyone can check the facts online or research. That's the reason I've been bold about it. I have evidence that what I'm saying is true and I've faced no issues so far.
Also Read: Imran Khan's life in Pakistani drama titles
You've keenly supported Imran Khan, what's your take on PTI?
Imran Khan is my mentor and he took me under his wing when I was in my university. He has a significant role in my life, and that was before he rose to politics. The reason we came close was because of his charity work. I used to organise everything here in England during his visits.
We still meet every now and then, and I look up to him as a father figure. I'd support him in anything he does. I might not 100% agree with all of his policies, but he's definitely the best option in a pool of very bad options (laughs).
Have you ever gotten an opportunity to watch any Pakistani film or serial?
I'm a big fan of Pakistani dramas to be honest. They're really popular here and I make sure to watch them all with my mother. My friend Aisha Khan was in Jawani Phir Nahi Ani and after watching that film, I realised that revival was truly here. Apart from films, I loved Diyar-e-Dil, especially because Abid Ali's character reminded me of my lay father, and it had a great story which touched my heart.
How was your experience with Lahore Se Aagey and tell us a bit about your character?
First of all, I didn't expect to be treated so well. That too when I was with such a senior and gifted cast. They treated me with such warmth, that it was like being with my family. I've never acted, I've modelled when ever I've got time, so it was something new and a lot of fun.
I play Saba Qamar's fiancé. It's a commercial film and my character is hilarious. He's a rich arrogant guy, a bit insecure, but overall a typical Lahori guy. It's not a massive part, but it plays a pivotal role in the plot. Fingers crossed!
Also Read: A chat with the team of 'Lahore Se Aagey'!
You are often referred as John Abraham's lookalike. How does it feel?
What happened was that I had long hair when I used to host shows over the weekend, like a VJ, but based on cricket. That was my affiliation with the industry, and when John became popular, people started noticing the similarity.
Than I bumped into him a couple of times. The third time was when we met at a mall, and his wife Priya clicked a picture of us and posted it on John's social media. And that picture went viral (laughs). Though I still don't see the resemblance, but it's a compliment as he's such a big superstar!
Do you plan to continue acting?
According to Saba and Wajahat, I'll have to quit my job and move to Pakistan after the film releases (laughs). But honestly speaking, I'd like to explore opportunities. It's not my primary career, so I have limited time. As I mentioned earlier, I used to model because it can easily be done on a day off or a weekend. If I get nay offers, I'd definitely consider them as I strongly believe 'one should never say never'.
What would be your message to all the readers?
My message would be to go and watch Lahore Se Aagey. The first part was a hit and being part of this now, I'm sure it'll break all records. I find myself lucky that I got to work with all these amazing people and I'd request all the readers to make this a success as it celebrates the talent of Pakistan!