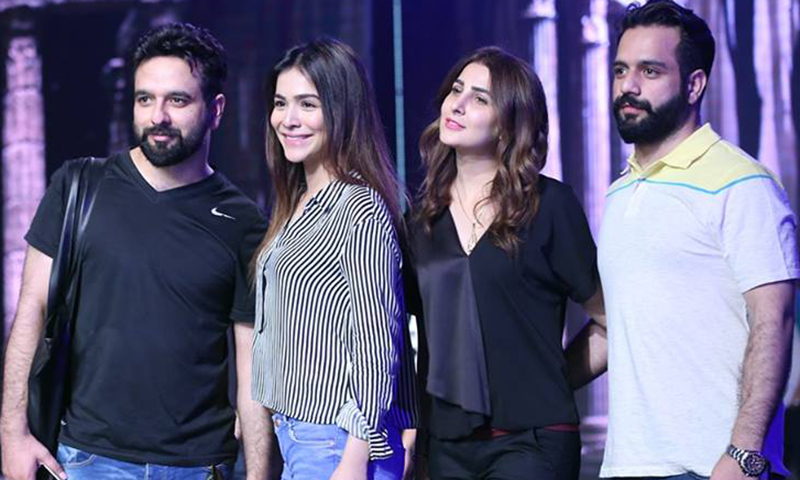 Bilal Ashraf, Hareem Farooq, Ali Rehman, Armeena Khan, Farhan Saeed, Urwa Hocane, and the list goes on

The Summer wedding season will be here in full swing after Ramadan which means you have around eight weeks only to find that perfect lehnga for your bestie's wedding. It doesn't matter that you'll probably melt under all the glitzy brocade. All that matters is that you have to totally kill it!
HUM TV's Bridal Couture Week is here to help you in your noble pursuit. And this time it's the "gold edition" which just adds so much glamour to the name and let's hope to the showcases too.
Read: BCW Gold: The bridal extravaganza begins from May 6
Fashion weeks these days are as much about stars as they are about designers and their clothes. Case in point is Fashion Pakistan Week Spring/Summer 2016. FPW Spring/Summer not only lacked in the design department, but also interms of star power. While there were a few starry appearances from Ayesha Omer, Sarwat Gillani, Ayeza Khan, Azfer Rehman, and so on; they weren't enough.
Hum TV's BCW Gold, however, looks self-sufficient in that department. Here's the list of celebrities who're all set to walk the ramp in their bridal glory.
Team Yalghaar
Bilal Adhraf posted a video on social media today, announcing that Yalghaar's team will be walking the ramp tomorrow. I wonder which designer will they walk for and exactly how many members of the team will be able to make it to the ramp considering the film consists half the industry?
Read: 'Yalghaar' and 'Ishq Positive' to release under Hum Films
These pictures here shed some light on the all-important question.
And so does this video where Ali Rehman is very expertly (not) stitching a piece of cloth.
Hareem Farooq
Like Bilal Ashraf, Farooq also decided to let her fans know about her upcoming venture. She will be walking the ramp for Deepak & Fahad on day two of BCW Gold.
Read: In conversation with the extremely talented Hareem Farooq
Team Mah-e-Mir
Mah-e-Mir releases tomorrow across Pakistan and since this film is also being released under the Hum Films banner, its star cats will also walk the ramp for BCW Gold. Iman Ali, Fahad Mustafa, and Alyy Khan will surely kill it in Zainab Chottani's intricate clothes.
Read: Solving the mystery that is 'Mah-e-Mir'
Humaima Malick
Yesterday, we got hold of a picture of a beautiful chiseled face (rather jaw) half hidden in a magnificent dupatta, and of course we started guessing who it was.
The mystery ended rather abruptly when Mohsin Naveed Ranjha shared a picture with Humaima Malick within a short span. Since Malick was wearing the same shirt that was spotted in last picture, it wasn't too hard to put two and two together.
He also shared some clicks from the rehearsals today.
Sumbul Iqbal
The young actress will walk the ramp for Ayesha Ibrahim and what makes it even more exciting is that this marks Iqbal's debut on the ramp!
Read: Big Bang Entertainment's play 'Socha Na Tha' is a love triangle
Yasir Mazhar
Mazhar is slowly making his name in the industry. We all hated him in Mausam, but he plans to change all that with his recent adventure. Mazhar will wlak the ramp fo Emran Rajput.
Team Udaari
Udaari's young pair, Farhan Saeed and Urwa Hocane, will open the fashion week in Fahad Hussayn's regal clothes. And that's not it, Hadiqa Kiani will provide just the right atmosphere with her vocals. Will she be singing Udaari's title song?
Read: Ahsan Khan kills it in 'Udaari's' 4th episode
Shahzad Sheikh and Fahad Mirza
The forever young hotties will be walking for Amir Adnan on day three of BCW and they seem to be pretty excited.
These aren't the only two, looks like Adnan has got hold of a number of celebrities. Film star Moammer Rana will also be walking the ramp for Amir Adnan.
And so will Aijaz Aslam.
---
Here's to hoping that the designs are as exciting as the celebrity line up.