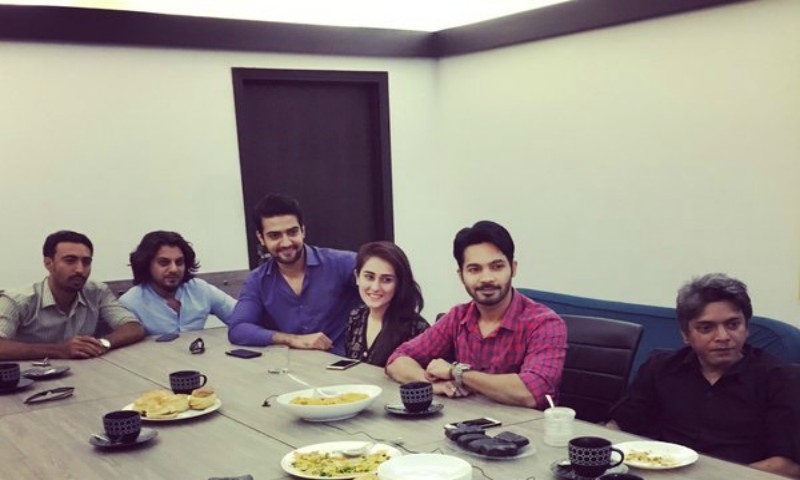 HIP gets candid with the movie's team and brings to you facts that you absolutely must know about 'Aksbandh'

We are less than a week away from the release of Aksbandh. Pakistan's first found footage horror movie, Aksbandh, is going to hit cinemas on 20th May, 2016 and HIP decided to get candid with the film's team and get to know about things which make Aksbandh, a must watch!
Read: HIP's rapid fire with Aksbandh actor, Saud Imtiaz
Here are six things that make Aksbandh a must-watch.
1. "It's pacey", says Aayaz Samoo
When we watched the promo, we were quick to conclude that Aksbandh is merely a desi version of found footage movies like Blair Witch Project and Paranormal Activity. But Aksbandh's writer and actor, Ayaz Samoo, turned down our assumption and stated:
"The movie's pace makes it special and different from other found footage horror films. The first action scene comes after 8 minutes which you won't find in Blair Witch Project or Paranormal Activity where the first scary sequence comes after 25 minutes."
2. A good quality "Urdu" horror film
The makers must have thought about public comparing Aksbandh with English horror movies made under the same genre. But according to Aksbandh's director, Emraan Hussain:
"Aksbandh's best part is that it is an Urdu movie. People have never watched a good quality horror movie in Urdu so Aksbandh has an edge on that."
3. Aksbandh's sound effects
A horror movie's most important aspect is its sound effects. When the makers were asked about Aksbandh's phenomenal sound, they replied:
"In a horror film, 60% of attention is given to the sound effects and 40% to the visuals. More than half the people feel scared because of the sound effects. So first we tried to collaborate with people in Pakistan on this regard. We bought samples and follies of sound to test, but we didn't find what we were looking for. Then we took help from India. We redid the follies and added them again. The mixing and follies were done by people who've done Bollywood movies like Raaz and Bajirao Mastani. But we are proud to mention here that the sound effects in the trailer have been mixed in Pakistan only."
4. Beautiful locations
Aksbandh has beautiful locations that are worth watching. Most of the people around me were wondering whether the film was shot in Switzerland, but the film's director, Emraan Hussain, only laughed and exclaimed:
"Not at all! We have shot the entire film in Larkana where some sites were so amazing that we couldn't believe it was Pakistan."
5. Good humor
Technically, in a horror movie, it is important to fill the voids - scenes which move the plot forward but aren't scary. When we asked if Aksbandh has any interesting aspect to fill in the gaps, Ayaz Samoo stated:
"In English or Bollywood horror flicks, they add inappropriate romance or love scenes. Of course we didn't want to do that, so we incorporated a great mix of comic scenes instead, which the audience will surely enjoy."
6. Spontaneous acting
Apart from the technicalities, the film has amazing line up of actors who are new in the industry, but they have put in their heart and soul to give Aksbandh a natural feel. Shehzeen Rahat, the leading lady along with Bilal Yousufzai while talking about their experiences said:
"It was great to be a part of this project. As an actor, we had to keep things real and make sure that we don't go overboard. Otherwise our actions will look exaggerated. This is the reason why we had several group exercises for 15 days before the movie went on floor. Those acting exercises helped us bond and that translated on the screen."
Read: HIP gets rapid with Aksbandh's leading lady, Shehzeen Rahat
With this, Aksbandh looks like a great attempt in the horror and mysterious movie genre. It will pave way for up-coming directors and actors who wish to indulge in this type of movies. If done well, it can surely serve as a milestone for Pakistan's Film Industry.
HIP wishes team Aksbandh all the best and we hope that the movie will do great at the box office.