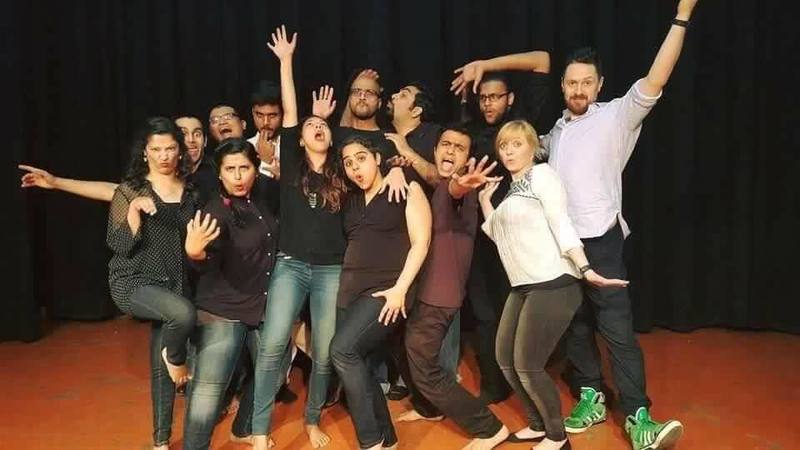 Faiza Saleem and gang will be performing live coming Friday.

Anyone who is tuned into Karachi's burgeoning art and music scene will know exactly what Improv theatre is all about as Improvs are happening almost every other weekend at places like T2F, PACC, Thotspot, etc. However, for those of you who don't know, Improv theatre is a form of live performance where the scenario, the plot, characters, and dialogues are all created on the spot i.e. with no script as a reference, whatsoever. Doesn't sound easy, does it? Well, it really isn't. But that is exactly what makes it fun.
The last show that I attended was back in March, organized by The Platoons in collaboration with British improvisers Jules Munns and Heather Urquhart. The series called Ten Million Love Stories Love Stories, saw the group of performers ask the audience a few questions, interact with them in order to pull in ideas to create a situation and then improvised it for a performance right after. I was mesmerized to say the least.
Read More: The Platoon introduces first of its kind improv show in Pakistan
However, while there is a theoretical definition available to make sense of it, I wondered what Improv theatre meant to the artists involved? And so we asked a bunch of these thespians. Here is what they had to say:
Hassaan Bin Shaheen who in the last 4 years has worked with Lolwaalay, trained for a year in the UK, and founded and directed The Platoon, said:
"Improv to me is the freeing of self from judgment to create and discover."
Ayesha Tariq, who also launched her graphic novel at Creative Karachi Festival recently, also felt that it has more to do with one's inner self.
"To me, Improv is a way of expression and a way of being. It makes you a better human and better at everything that you do."
Maheen of the Platoons, on the other hand, believed it to be the perfect opportunity of letting go of one's inhibitions.
"For me, Improv theatre is an opportunity for joy, play and fun, but it also promotes self-growth by allowing me to work with my fears and hesitations."
Muneeb, who is an active part of the Platoons, also echoed a similar sentiment.
"A blind but faithful jump into the dark, wild valley of uncertainty where outcomes are only incidental and the journey is exhilarating in and of itself without any heed for what may or may not come next."
Another member, Babar, added, "Improv theatre is like being as free as child to create something beautiful from that single moment of silence."
Finally musician Rachel Viccaji, who is also a part of the Platoons, said that Improv offers limitless possibilities for depicting a situation.
"Improv theatre is the license to explore an infinite realm of possibilities, and how those spaces, situations or characterizations relate to the improvisers in the scene; bringing to life a reality woven out of the threads of energy brought to the stage."
In the midst of this, I also got a chance to catch up with Faiza Saleem to get more insight into how she started off Improv.
"Improv is a way for me to play different characters in a very short span of time. Over the years it's helped me grow as a performer and as an actor. Faris and I started doing the Improv jam about three months ago and will continue with it after Ramzan as well. We call it The Improv Jam because there are only two rehearsals that take place before a show and the line-up keeps changing every time, except for myself and my co producer Faris Khalid."
Are you finally getting interested? Then it'd help to know that there are two more shows coming up this month including one on coming Friday!
I asked Faiza what can one expect from the show?
"It's the seventh show of its kind and brings together improvisers from all over the city under one roof! However, Faris will not host the show on Friday because he's out of town. I am always part of the line-up as a performer."
*- Faiza Saleem and the troupe will be hosting "Improv Magar Pyar Se" on Friday, May 20.