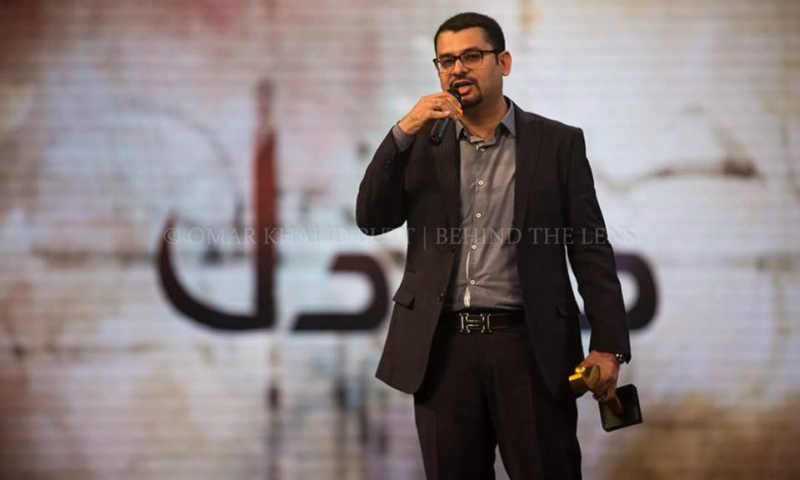 The director is considering the likes of Hamza Ali Abbasi, Mahira Khan and Maya Ali to play the leads.
Veteran television director, Haseeb Hasan, has come a long way from directing telefilms in the late '90s, to becoming the man behind television's most popular dramas of the recent past – emotional, family saga Diyar-e-Dil, and the ongoing tale of two lovelorn souls, Mann Mayal. His serials may not necessarily be groundbreaking when it comes to storylines but they most definitely are the highest rated, often creating frenzy amongst fans on social media and otherwise.
Hasan is now all set to try his hands at filmmaking and may just be treading across the border for a collaborative project. Rumour has it that Haseeb's currently untitled production may star Hamza Ali Abbasi and Mahira Khan in lead roles and if these rumours are anything to go by, then it's hype is likely to supersede that of any other film's in the near future. Of course it's not that Haseeb's directing skills aren't reason enough to anticipate his debut film, but with a lead pair like this one, it will surely be a match made in heaven.
HIP caught up with Hasan on his new journey to filmdom, to find out if there was any truth to these reports and the challenges of switching from television to filmmaking. Here are excerpts from the conversation:
So tell us a bit about your debut film… What genre does it fall into and how is it different from the films that have come out so far?
It's in pre-production phase and I am actually working on casting artists for it. Basically it's a relatable love story with elements of action. I was waiting for the right script and the right time, and I can easily refer to this as my dream project. Compared to other films that are coming out, the film will be unique. We've hired an international crew to do the action sequences, and everything about the film is beautiful – it's backdrop, synopsis, treatment, etc.
I also have two more films lined up. One will be a romantic comedy whereas the other one will be serious with hints of satire.
Who all is going to be part of the cast? Is it true that Hamza Ali Abbasi and Mahira are going to be the leads?
Nothing is concrete yet. We actually have a small industry as far as actors are concerned, so we'll get in touch with everybody. Maybe it'll be Hamza Abbasi, or Bilal Ashraf, and the list goes on. Same goes with the female lead, we'll approach everybody from Mahira Khan and Mawra Hocane to Maya Ali. We are not looking for divas since the characters are that of a boy-next-door and a girl-next-door, but we'll start auditioning in the coming month.
Also Read: Haseeb Hasan, the Director Extraordinaire
Do you have any plans of working internationally?
Well I have been offered a few international films from Bollywood by one of their leading producers, Boney Kapoor. He liked Mann Mayal's first episode. In fact, he got in touch with me when he wanted to cast Pakistani artists for his film, Mom. And because I had worked with Sajal Aly in Nanhi, and Adnan Siddiqui in Ahista Ahista, I knew they'd do an exceptional job. Now they're almost about to wrap up the shooting and the makers are all praises for them!
As far as working there is concerned, I think I'll have to give it a serious thought, we need to groom our industry first and there's a lot that I'm doing right now, so for at least a couple of years I won't be able to manage anything. But I'm constantly speaking to Boney and we're trying to create something for the audience on both sides of the border.
Given it's a switch from television to the big screen and a lot of our earlier films have been criticized for looking more or less like TV dramas, what precautions have you taken?
If you watch my plays, you'll see that visuals have been done in a cinematic manner. I try to convey and execute my shots similar to those in a film. But being more specific, I'm working with experts in cinema; my DOP and the technicians are experienced and for a few sequences I've gotten in touch with people from Hollywood to guide me how the treatment can be improved. And as I mentioned earlier, we have an international crew on board for the action scenes.
Also Read: Diyar e-Dil: And it all comes to an end
Moving towards television, Diyar-e-Dil was a turning point for everybody, how was the experience?
Diyar-e-Dil is one of the most memorable and toughest journeys of my life. We shot it for two months in Swat, even during our Eid holidays (which weren't really holidays). It was tough, but when a script is worth the hard work, everyone naturally develops the drive. So I cherish every moment spent on the sets, and after.
Mann Mayal has been facing a lot of criticism. How are you taking it?
I actually find criticism positive. If it's right and factual I try to implement it and try not to repeat the mistakes I've made. But if I feel it's nothing but propaganda and isn't genuine, I don't comment on it and ignore. Every project has its own feel, Diyar-e-Dil for instance was a complete opposite, and Mann Mayal's loyal fans are actually enjoying the plot and it's vibe.
Apart from that, I'm just a storyteller. It's actually the writer who pens down the theme and the script. But being a seasoned director, I closely work on every project that I take up. As far as Mann Mayal's future episodes are concerned, I'm sure the audience won't be disappointed with the climax.
Also read: 'Mann Mayal' turns out to be a long lost relative of Usain Bolt
What other projects are you currently working on?
After I shoot the film, there's a mega serial lined up; it's written by Farhat Ishtiaq. We've already shot another serial called Sanam, that'll go on air in a couple of months.
What was the reason behind Sanam's delay?
We wanted to give some gap between Diyar-e-Dil and Sanam because it also stars Osman Khalid Butt and Maya Ali in lead roles. So releasing another serial with the same couple and team immediately after the first one wouldn't have created the buzz. But now people are dying to see them both together, so it'll start airing in a couple of months.
It's a unique love story, with a totally different package. Sanam stars Osman and Maya alongside Hareem Farooq, Hina Bayat and Sheheryar Munawar Siddiqui, and Abid Ali will also make a special appearance. It's always a fun ride working with a team that's more like family. I'm sure it'll be able to bring something new to the table.
Maya Ali has been in three of your projects in a row. Is she your preferred choice?
It wasn't a deliberate decision; we didn't sign all three of the projects together. I'd honestly call it a coincidence. When we got done with Diyar-e-Dil, we started casting for Sanam, and Maya suited the kind of character the script demanded. During Mann Mayal's casting, we approached several actresses but Maya managed to perfectly fit into Mannu's shoes. Besides that, I'll have to agree with the fact that when you work with people who are genuinely hard working, you try to work with them over and over again.
Also read: What's in the Lollywood name? Celebs tell HIP!
Do you feel you have a responsibility towards the audience in terms of how you tell your story?
There's always a lot of pressure on my shoulders and yes, I have the moral responsibility to translate and convey positivity to the audience. I think nothing should be made just for the sake of entertainment, you must teach what's right and what's wrong. And thank God that I've always been conscious about what I take up. For me there should be logic behind everything, so that the viewer can derive something optimistic out of it.
Finally, is there a message you'd like to give to our readers?
Firstly, I want to thank everybody for liking my serials and respecting me. Diyar-e-Dil got 12 awards and Mann Mayal's response has been amazing. But I'd also request everybody to please think before you say and write anything.