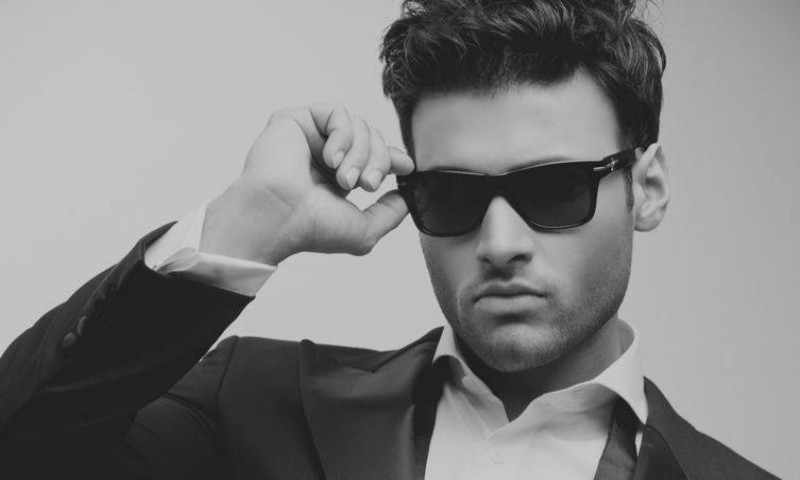 "I'd just say that don't judge 'Blind Love' from the trailer; watch and than decide if you like it or not," says Shah.
You might have spotted him in Indian soaps or eyed him for his chocolate boy looks in Hum TV's hit serial, Khoya Khoya Chand; ladies and gentleman, presenting to you Yasir Shah!
The Dubai-based actor started his career in India where he gained a lot of popularity, especially for Ekta Kapoor's show Khwahish where he played the protagonist, Azaan Khan. After working in India's most sought-after channels' serials, Shah then moved to Pakistan and appeared in serials such as Dil Nahi Maanta and Tumse Milke.
After rubbing shoulders with the acclaimed and famous on both sides of the border, the actor is all set to make his big screen debut with Faisal Bukhari's Blind Love, where he will be seen sharing space with Nimra Khan, Aamir Qureshi and Mathira.
Taking out time from the promotions of his film in Lahore, the young artist speaks to HIP about Blind Love, working across the border, and future plans (which defiantly include films).
Also Read: Trailer Review: 'Blind Love' or 'blind chance' by the makers?
Firstly, tell us how you ended up making your big screen debut with Blind Love?
I had been working in India's television industry for the past one decade. There's a huge market for Pakistani serials there and they are appreciated and loved by many, especially after 'Zee Zindagi' started airing re-runs. I initially came to Pakistan for a serial, but was soon offered Blind Love.
I really liked the script and the character so I said yes.
Tell us a bit about your role?
I play the character of a gangster who falls madly in love during a robbery. It's an action-thriller genre, and has all the elements that are needed for a commercial Pakistani film. I'm sure the audience will enjoy every bit of it.
Blind Love reminds us of the 90s' "Lollywood" films. Do you think it will be able to gel-in with the new age cinema?
Yes, the film does have a "Lollywood" feel, but that is basically because the director (Faisal Bukhari) belongs to that era of filmmaking. Pakistani cinema has truly evolved with time and, exposure and the production values have become more sophisticated, and yes, Blind Love may not enjoy that treatment, but it is a complete package. I believe that the masses are more fond of such films.
It might not be liked by everybody, and it might fall behind other films in terms of little technicalities and production quality, but we need to take the masses into account before making a film. And I think they'll like it. At the same, I respect every individual's perspective, so I'm keeping my fingers crossed. I hope the audience relates with it.
What are your expectations from the film?
Honestly, I have very high expectations from the film. I've watched all films that Pakistan has produced after the "revival", and I'm sure that Blind Love, with its high entertainment value, brings something new to the table. As I mentioned earlier, it won't be liked by critics or people who are fond of intellectual cinema, but it has all the ingredients that attract majority of cine-goers.
How was your experience shooting the film and working with your fellow artists?
I believe we still need to adapt advanced ways of filmmaking, but we are trying to place ourselves on an international map with lesser resources and budgets. So basically Blind Love is an attempt to take the cinema forward, which I support.
Shooting Blind Love was an enjoyable experience. We had a very friendly and zealous atmosphere to work under. Our director was great and I have learnt a lot from him; mainly about how we can adjust ourselves according to the situation and develop as well. It wouldn't be wrong to say that it was an entirely new set up for me.
Also Read: 'Rishton Ki Dor' is another drama that presents women as sacrificial lambs
Usually Pakistani actors are on the look-out for opportunities in India, but you chose to come back. Why is that?
It's true that Indian television channels are definitely more established and their crew is more professional, but our content is more strong and that attracted me. Also, our drama serials/shoots are of small duration, whereas Indian soaps are endless (laughs). More importantly, Pakistani drama series are more realistic and they give a margin to perform to an actor. And who doesn't love coming back to one's own country?
What's next for Yasir Shah?
I have done two serials here already and Blind Love is releasing on Eid-Ul-Fitr. I've been offered a few more films here, so I'll be doing one of them. Generally, I want to work in Pakistan mostly now. I personally believe my physique and persona would be more suitable for a romantic action/thriller film, but, as an actor, it is essential that I experiment, so I'm open to all sorts of films and characters.
As far as projects in India are concerned, I have received a lot of love and positive feedback, so my popularity is still going good there.
I've signed a Bollywood film that will be going on floors in the beginning of 2017. It's been delayed a bit due to date clashes for other cast members. It's basically a comedy film directed by Sanjay Amar.
Speaking of Bollywood, what's your take on a Pakistani actor's limitations when it comes to intimacy?
Since I've been brought up in several countries, I don't think that's such an issue, but it depends upon the scenario and the situation in which such scene may occur. Intimacy is part of an actor's job, and I've always tried to diversify myself in every possible manner.
Being a Muslim and a Pakistani, what sort of hurdles did you face while working in India?
Not only in India or the showbiz fraternity in large, in every field, one grows and learns by facing opposition. As long as you're confident and determined, success will come to you. I consider myself lucky that I had a few production companies that were with me throughout. Ekta Kapoor gave me my debut serial and has been a major support since, and there are many like her. I've made some great friends in India.
Unwanted political strategies exist, but at the same time, I believe there's somebody out there who constantly supports you. It's not that I never faced such situations and problems, but I believe in working towards one's betterment. Indians don't hate us, there's just a small group of people who are against the idea of Pakistani actors working there. I'm sure if Indian actors work here, they would be a victim of such minor persecution as well!
Also Read: Did you know: Mathira to do another item number
Final thoughts for all the HIP readers?
I'd just say that don't judge Blind Love from the trailer; watch and than decide if you like it or not. Support our industry, and your input is always welcome, be it appreciation or criticism. We certainly can't (and don't) ignore your feedback. As a citizen, we must contribute to the development and as artists, our contribution is entertainment.