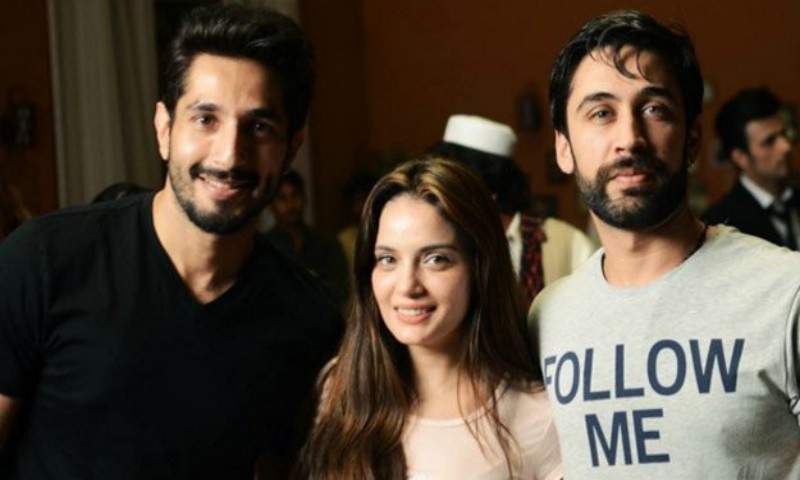 The film will be distributed by ARY Films in Pakistan while B4U will distribute it internationally in 6 countries
The local cinema is growing leaps and bounds with every new release, be it a commercial extravaganza like Jawani Phir Nahi Ani or films such as Manto and Moor that keep the parallel cinema afloat. Azfar Jafri's directional debut, Janaan, is one such film that looks to propel our industry in the right direction. It may soon join the rank of hit films like JPNA and NMA, or so it seems.
Produced by Hareem Farooq and Imran Kazmi of IKR Films, and written by Osman Khalid Butt, Janaan is all set to release on Eid-Ul-Azha, competing with Fahad Mustafa's Actor In Law. The film will enjoy a simultaneous release across six countries, the co producer, Imran Kazmi, confirmed to HIP.
One of the most anticipated film of the year stars Armeena Khan, Bilal Ashraf and Ali Rehman Khan in leading roles, whereas veteran actors, Mishi Khan, Ajab Gul, and Nayyer Ejaz will be essaying supporting characters.
Also Read: HIP Picks: 7 Pakistani films that should not be missed this year!
The crew of the film was recently spotted signing a contract with renowned Bollywood network and distribution company, B4U Movies. Sounds like a big deal, right? Indeed it is, so we asked Imran kazmi about the collaboration.
"ARY Films is distributing the film in Pakistan, whereas they're collaborating with Bollywood's B4U Movies for international distribution as well. Janaan will release in the entire UAE, England, USA, New Zealand, Australia and Malaysia. And we are also in negotiation with a release in Iran, Turkey and Morocco. I think it'll be the only Pakistani film so far to be released in more then six films (hopefully)."
Also Read: 'Janaan' gets some cross border love
Kazmi further disclosed that he is currently in Thailand for the final patchwork of the film, which include sound, editing etc.
"The director, Azfar Jafri, co-producer, Munir Hussain, CEO ARY Films, Jerjees Seja and I are currently in Bangkok, Thailand for the post-production. Ninety percent of the film's work has been done, and we'll be done with the whole film within the next ten days, after which we'll start the pre-production of Parchi and other projects of IRK Films," he commented.
Kazmi also revealed that the audience can expect Janaan to be a visual masterpiece as the editor of the film, Mitesh Soni, is part of the 'Yash Raj Films' team. Soni has edited films such as Shahrukh Khan and Katrina Kaif starrer Jab Tak Hai Jaan and Aamir Khan's Dhoom 3.
Also Read: Hareem Farooq's next is a rom-com
Janaan breaks the stereotypical image of the pakhtun, celebrating their culture and values. A love-triangle that revolves around Meena (Armeena Khan), Asfandyar (Bilal Ashraf) and Daniyal (Ali Rehman Khan); Janaan is a complete package that promises romance, comedy and mesmerizing music.
We hope the film does wonders at the box office and since it's releasing internationally, let's hope that it matches up to the standards of the international market and makes us proud!