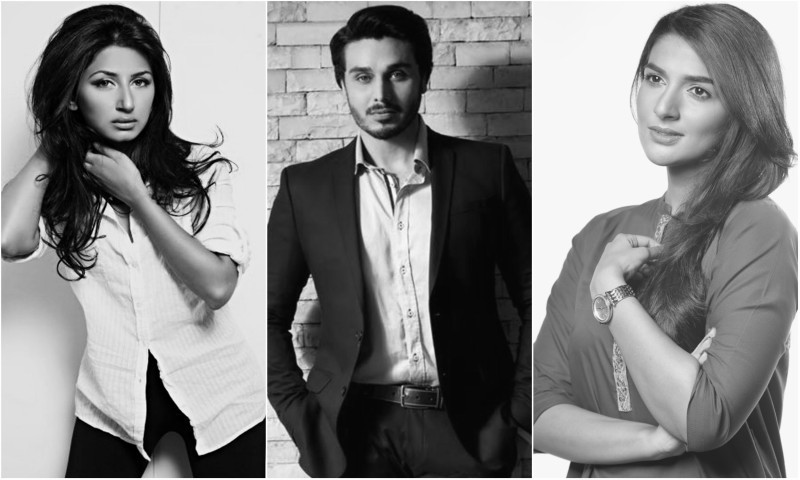 The serial is being directed by Owais Khan and portrays a light-hearted love story.

The talented and experienced actor, Ahsan Khan is winning hearts, with his bone-chilling portrayal of Imtiaz in Farhat Ishtiaq's beautifully written drama serial, Udaari. He tackles the criticism (mainly from PEMRA) and accepts the welcome praise, but the actor shows no signs of slowing down as he gears up for his very own production, Maslehat.
The actor recently co-found his production house called 'Real Entertainment' with friend and partner, Meraj Uddin. The production house is currently producing a series, directed by Sakina Samoo, titled Kahaani Ghoomti Hai, two films, and this drama serial (Maslehat).
Also Read: Ahsan Khan is all set to produce two films!
HIP got in touch with the main lead and the co-producer of Maslehat, Ahsan Khan, to know more about the project which is being shot up north. Interestingly, the serial will be directed by Owais Khan and stars Hira Tareen, and Rabab Hashim alongside Khan, whereas newcomer Azekah Daniel and veterans, Firdos Jamal, Ghazala Kaifi, Leyla Zuberi, and Waseem Abbas, will also be seen in prominent roles.
Khan described Maslehat as an unconventional love triangle stemming from a circumstantial story. TH conflicts won't wrise because of people, but because of the circumstances like it used to happen in good old PTV dramas.
"It's not literally a love triangle, but it's more like a situational story, where everything ends up in confusion," Khan explained. "My character in Udaari is very dark and the projects that I'm currently doing are message-oriented, so Maslehat is basically a light-hearted romantic entertainer that will hopefully be liked by the audiences. I believe one should keep a balance."
Also Read: No hero or heroine in series 'Kahaani Ghoomti Hay'
When asked about his experience shooting with such sought-after artists and being up-north for the first spell, Khan replied;
"It's always a ball being on-sets with senior and more experienced actors. I've worked with them since as long as I can recall and they're more like friends to me than colleagues. And since the weather is actually quite pleasant here in Murree, I brought my family along. So it's more like working on a vacation and living the best of both worlds!"
Also Read: Hira Tareen talks about 'Tum Kon Piya' and other projects
Unlike most television producers, Khan chose to shoot the first spell in Murree. According to him, the inner patriot in him suddenly woken up.
"Pakistan is blessed with such amazing beauty. We're actually shooting in Nathia Gali right now and I'm awestruck seeing it's magnificence. So with this serial, I tend to not only entertain the audience, but also show the beauty of our country. Our directors usually prefer winding up shoot within Karachi, but I wanted to experiment and show the world that we are defiantly not less than the best."
Also Read: Rabab Hashim & Junaid Khan pair-up for 'Marzi'
The rest of the shoot will not just take place in Karachi, but in different locations, that have previously 'not' been presented on TV, within interior Sindh. We wish Khan, Hashim and Tareen all the luck for the serial and hope that it is able to bring something new to the table and saves us from the misery of the usual run-off-the-mill plays.