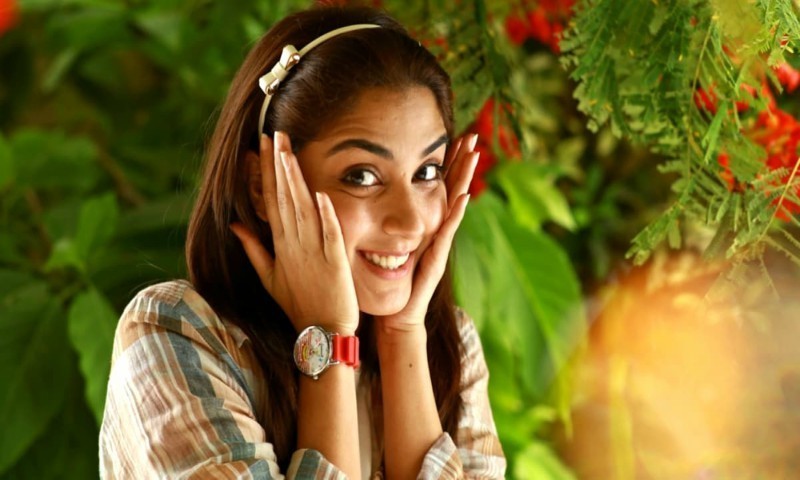 The actress's ringtone is the soulful track, 'Bolna' from 'Kapoor & Sons'!

The 'it' girl of Pakistan's entertainment industry, Maya Ali, is ruling the celluloid like a boss. From being the new girl on the block, to an award-winning actress; this VJ-turned-model-turned-actress is definitely the next big thing. She has multiple hit drama serials under her belt such as Diyar-e-Dil, Aunn Zara, and Mera Naam Yousuf Hai.
Her current serial, Mann Mayal, is also doing wonders at the box office and she has been nominated in the 'Best Actress' category for Diyar-e-Dil by 'Lux Style Awards' jury. Ali will soon be seen in Haseeb Hasan's upcoming drama serial titled Sanam alongside Osman Khalid Butt and Hareem Farooq. But right now she is spending some quality time with her family in Lahore.
HIP decided to throw a few questions her way and she was game enough to answer them. As Kuch Kuch Hota Hota Hai, so eloquently taught us that rapid fire (quick and fiery question answer) sessions can easily reveal one's inner secrets. Let's see how many secrets did Maya Ali reveal:
Also Read: Celebs are all praises for Fawad Khan and 'Kapoor & Sons'
The song stuck in your head nowadays?
Bolna from Kapoor & Sons. It's actually my ringtone (laughs).
What qualities do you think should be present in a good actress?
She should know how to fit into any character's shoes.
Major turn offs?
I have problem with people who pretend to be who they're not, who are fake and who lie.
Also Read: My look in 'Tera Gham Aur Hum' will create magic on screen: Maya Ali
Who's your biggest inspiration?
My mother!
How would you describe yourself as a person?
I believe people easily. I have a big ego and it doesn't take much time for me to get all worked up, but it doesn't last for long.
Last book you've read?
I read Alipur Kaheli.
What is the one thing you can't live without?
I can't even imagine life without my mother!
Also Read: 'Diyar-e-Dil' rules 4th Hum Awards
Best day?
The day I won two awards at 'Hum Awards'. It was a beautiful moment that cannot be described in words!
Favourite cuisine?
I'd eat anything, but I love daal chawal!
What's your favourite movie?
If you speak of recent favourites then I really enjoyed Jawani Phir Nahi Ani!
Favourite colour?
They're two. Black and white.
Also Read: Haseeb Hasan's debut film will be an action romance
A night owl or a morning person?
A night owl (said with a grin).
How do you relax and unwind?
I power-off my mobile phone and disconnect from people.
If you had one superpower, what would it be?
I wish I could read people's minds and hearts.
Also Read: Mannu and Meekail once again outshine everyone in 'Mann Mayal'
What's the one word you use the most?
'To be very honest' (laughs). Technically four words.
An actress you would like to share screen space with?
It's my dream to work with Aamina Sheikh one day.