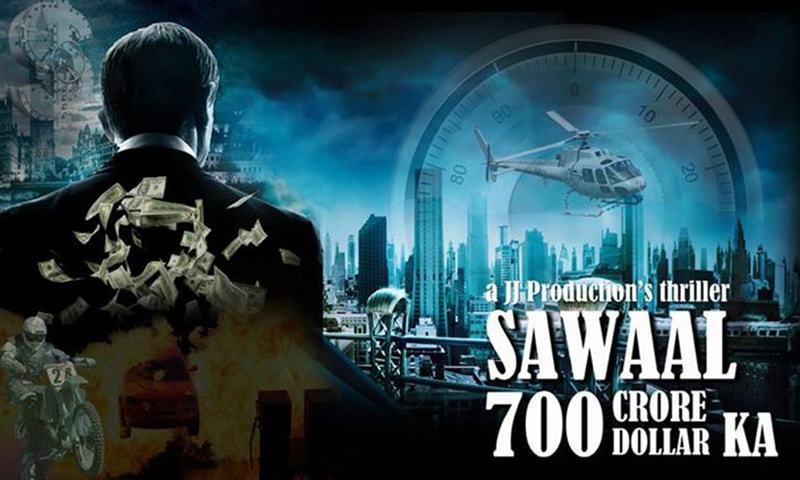 Did you know that veteran actors Javed Sheikh and Ghulam Mohiuddin last acted together in a Pakistan film way back in 1998 in a film named Khalnayak. 18 years later the two re unite under the direction of Jamshaid Jan Muhammad in Sawal 700 Crore Dollar Ka; the music launch of which took place in a five-star hotel of Karachi yesterday evening. The event was attended by the celebrities acting in this movie as well as the media personnel. What's interesting to know about this flick is that Ghulam Mohiuddin's son Ali Mohiuddin would be making his debut alongside model Qurat-ul-Ain (whom I have never seen in a TV commercial though).
Read: Does the trailer of 'Sawal 700 Crore Dollar Ka' tempt us to watch the film?
Talking to the media, Javed Sheikh termed this film as one of the most advanced ones in recent years; he claimed that the special effects used in this movie will blow the audience away. Ghulam Mohiuddin, who has worked with Jan Muhammad in many films, just like Javed Sheikh, was also all praises for the young director. He said that by retaining his father's team, Jamshaid had paid tribute to the man behind Dekha Jayega (1976), Parakh (1978), Hong Kong Kay Sholay, Bangkok Kay Chor, International Gorillay (1990), and Aalmi Jasoos.
Newcomers, Ali Mohiuddin and Qurat ul Ain, asked the media to support upcoming talent because this is the right time for the youngsters to make their mark. They also praised the director, the producer, as well as the senior actors for their support and love which helped them give 100% to the film. The producer Shahid Qureshi revealed to the audience that it was the director Jamshaid Jan Muhammad who discovered Ali Mohiuddin rather than his father asking for his son's inclusion in the movie.
Read: In pictures: Cast of 'Sawaal 700 crore Dollar ka' having a blast in Thailand
M. Arshad - who did the background score - and Faizi Ali - the music composer - also praised the director-producer for their continuous support. The film has used Bollywood singers Shaan, Alka Yagnik, Kalpana Potwari, and Khushbu Jain along with local talents Afshan Fawad and Mohammad Irfan for a total number of 5 songs.
Read: Pakistani film 'Sawal 700 Crore Dollar Ka' to release this Eid
In the end, the trailer of the movie was played and the audience praised the improved version that resembled international films thanks to its snappy editing and daring underwater and aerial shots. The film, starring Javed Sheikh, Shamoon Abbasi, Ismail Tara, Nayyar Ejaz, Ali Mohiuddin, Qurat Ul Ain and Ghulam Mohiuddin, will release this Eid ul Fitr and the actors are confident that it will give tough time to Salman Khan's Sultan.