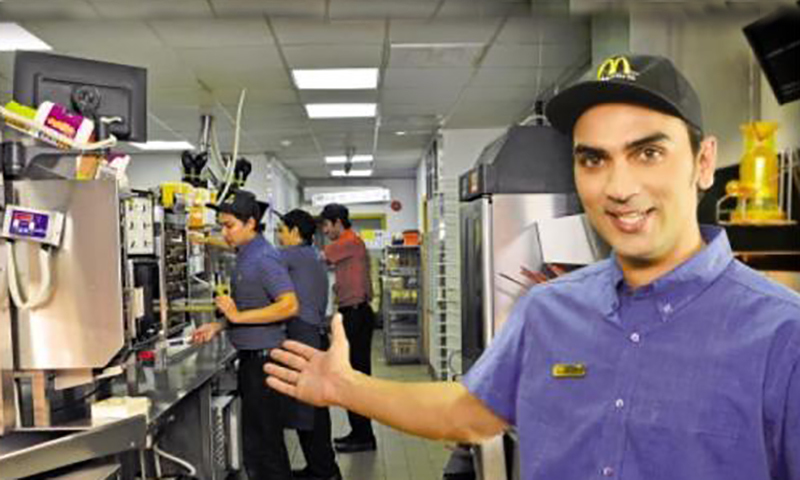 If you want to know what goes on behind the closed doors of McDonald's kitchen then go tour it. It's that simple

Last week, McDonald's invited top notch bloggers from Karachi to step into their kitchen and experience the high quality standard of food safety and hygiene practiced at McDonald's.
HIP decided to be part of the tour this year because who doesn't want to see what's going on behind the scene. It is not only interesting to see the efficiency of the workers, but also removes any doubt regarding the quality of the product. This year's Open Doors program further reinforced customers trust and confidence in McDonald's high quality standards and transparency.
What does the tour include?
McDonald's started its 'Open Door Program last year and the tour includes everything; from how they store equipment, to handling and storing raw and cooked material, to the movement of the material from storage to kitchen, then the preparation and how the ingredients are assembled, and then delivered to the customer. If you wish to tour the kitchens then you can register yourself here.
They also showcase how hygiene is maintained; this includes kitchen hygiene and most importantly personal hygiene of the staff.
5/5 for kitchen hygiene
The fast food chain's kitchen hygiene definitely deserves full marks. The workers sanitized their hands, had their heads covered, wore gloves, and basically made sure not a single germ enters your McChicken meal (or whichever meal you've ordered).
Full marks to the staff
The staff was super helpful and courteous as they took the visitors for the tour. They were least bothered that a group of nosy strangers were snooping around in their habitat.
Quality control
Apart from hygiene; the fast food chain also keeps strict check on the safety and quality control. Ingredients are only purchased from suppliers who uphold good practices in sustainable halal food sourcing, animal welfare, and employee welfare.
For example, all ingredients including chicken and beef are traceable to their halal and certified parent sources and unannounced checks are regularly made by independent audit teams on all suppliers to ensure they adhere to the strict safety, quality, and animal and employee welfare requirements.
Read: 3 Bahadur: a new way forward in movie merchandising
How was the grand chicken Spicy?
That must be the question on everyone's mind right now. Was the chicken juicy and succulent? Were the buns fresh and soft? Yes, McDonald's latest offering was everything and more.
After taking the 'Open Door' tour, the guests were served with McDonald's latest offering, Grand Chicken Spicy meal which was delicious to say the least. People had turned slightly vary of McDonald's portion size, but the Grand Chicken Spicy was truly grand. If you're a McDonald's fan then this product will definitely become your go-to midnight meal.
---
In the end, let's hear what the Director Marketing has to say about the initiative and also what should we, as customers, expect from the fast food chain.
"At McDonald's, it's all about customers and giving them the very best food," said Jamil Mughal, Director Marketing and Development, McDonald's Pakistan. "We want to be transparent about the food we serve so customers can be assured of high-quality and safe food from us. Our customers have enjoyed our food for 18 years in Pakistan and we stay committed to being our customers' first choice."
If you missed out on the tour have a look at this.
More than 20,586 people have already taken the tour since last year, including renowned celebrities such as Chef Shai, Dr. Farzeen, model Nadia Hussain, and actor Humayun Saeed. Sharing their views, Nadia Hussain congratulated Team McDonald's on setting high standards of hygiene and food quality in Pakistan.
Read: Special Olympics Pakistan organizes the First Unified Marathon 2016
The health-conscious Dr. Farzeen after visiting the McDonald's kitchen called McDonald's her number one choice, where she saw no compromise on food and hygiene quality. Chef Shai, the kitchen queen, expressed her gratitude to Team McDonald's for the special care it serves in its meals.