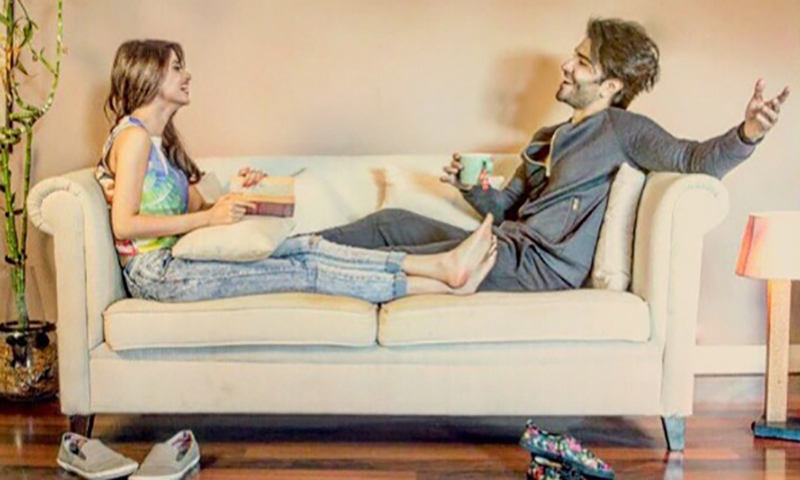 A pleasant winter sun reflects on the ice blue ocean and a young, hopelessly in love pair stands atop a mountain and stares into the twinkling waves ahead of them. The first look of Zindagi Kitni Haseen Hai captures this very blissful moment.
The second look of the film was revealed soon after and boy was it quirky or what. Those red heels totally steal the show in the fun poster.
With back to back poster reveals; one might think the film will release sooner then expected, but when HIP contacted Anjum Shehzad to ask whether it'll release this Eid, he denied it.
The duo - Sajal Ali and Feroz Khan - create magic whenever they appear on screen, be it in a issue-based drama serial Chup Raho or a novel-based one, Gul-e-Rana. Their chemistry is often compared to that of Shahrukh Khan and Kajol and understandably so, since their drama serials mange to make a mark on the ratings chart despite few glaring issues.
Read: Everything you need to know about Feroz Khan and Sajal Ali's debut film
Anjum Shehzad's directorial venture, ZKHH, will mark Ali and Khan's debut on the big screen and if their BTS images are anything to go by then it looks like one adorable love saga. And definitely poles apart from Shehzad's last outing which was Mah-e-Mir.
The pair adds a youthful feel to the soon to be released film and that's a refreshing and welcome change for our local cinema.
Sajal Ali is currently busy shooting for her Bollywood debut project, Mom, in India while Feroz Khan wraps up his parts in ZKHH.
Read: Sajal Aly spotted on the sets of her first Bolly film 'Mom'
Geo Films goes commercial with ZKHH
Not only does ZKHH mark Anjum Shehzad's turn towards a lighter genre, but it is also the first truly commercial Pakistani film being released under the banner of Geo Films. Geo Film's last local offering was Manto and before that too the distribution house has been churning out one serious film after another like Moor, Dukhtar, Bol, and Khuda Ke Liye.
Zindagi Kitni Haseen Hai seems like a light, romantic drama that has tendency to become an extraordinary tale due to Sajal Ali and Feroz Khan's sizzling on screen chemistry.