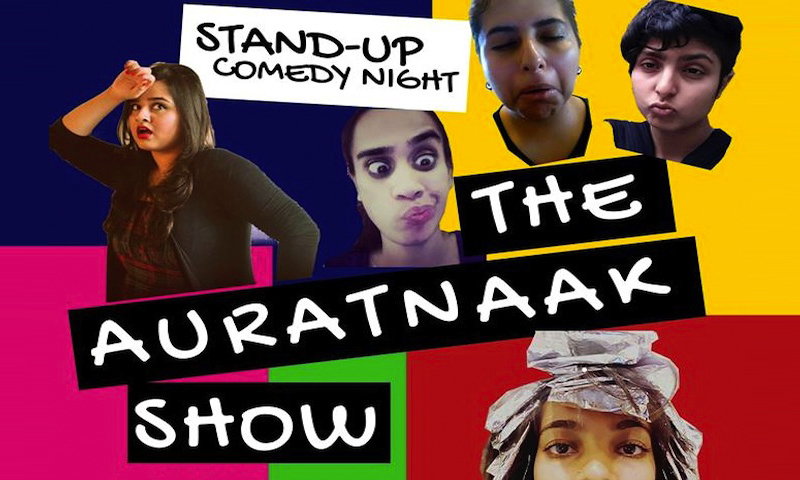 Who says women aren't funny? And with 10 of them, you are bound to die laughing.

People often quote that "women aren't funny" but for everyone, who attended The Auratnaak Show on Friday night at T2F, the supposed veracity of the saying was blown to smithereens. The event was truly that khatarnaak.
Featuring a line-up of 10 comedians, all of whom were women, the show followed a standard stand-up routine. Each performer (Annie Shamim, Ayesha Tariq, Eman Chamdia, Faiza Saleem, Jaweria Khan, Reham Muneer, Rooj Hussain, Sana Khan Niazi and Sadia Khatri) was given approximately 15 minutes to present their set by the host, Fatema Shah, who also performed herself later on. However, this is as far as the show went in following "routine".
Read: Saad Haroon on his upcoming tour, comedy, and Danish Ali
Saadia Khatri who took to the mic first pretty much set the tone for what was to come. From confidently proclaiming her disdain for wearing dupattas, she went on to highlight instances from her personal life which showed how people around us were obsessed with talking about what women wear or don't. "What is our obsession with dupattas?," she said in her set. "I guess when we talk about our social fabric, that's what we mean."
For a show that had an entirely female line-up, there were quite a few men in attendance doing away with the impression that it was a "men-bashing" event. If anything, it was an event directly targeting the 'rishta aunties'. The topic made an appearance in almost every set and was embraced well by the audience.
One of the performers, while describing a typical rishta meeting said, "Even your parents are looking at you as if for the first time, and thinking, 'shit!, what have we given birth to?"
Jaweria Khan, another performer also noted the ongoing discourse on rishta aunties and said, "let's just call them match-makers" to make it a little different.
Read: Karachi's new love affair with Improv Theatre
One of the most eagerly awaited performances was that of Faiza Saleem. She has been a part of The Platoon, an improvisational comedy troupe, but it is her funny Facebook videos that have made her a household name in the comedy circuit. Expectations, hence, were high and she met them to the tee.
Her performance was quite different compared to the rest. Taking a dig at people who body shame others, she had the audience in fits of laughter and seemed well in command of her material. Her expressions and comic timing were on point and you couldn't help but quietly send a message to the universe to make a solo Faiza Saleem show happen.
Other notable performances included those of Annie Shamim's, who had the crowd in stitches while describing the ordeal of having a long name like Quratul-Ain; Fatema Shah, who at one point literally turned around in front of the mic so as to apply that a change of topic is in order, and Rooj Hussain who took a jab at the struggles of being in a 'class' where people were competing for 'inner peace'.
As the show came to a close, one realized that it had already been two hours since it started, and if it wasn't for the discomfort of sitting cross-legged on the floor, you wouldn't have even noticed the time. The event's success lied in the fact that the house was so full that there was no room to breathe and quite a few people had to return from the doors disappointed because there just wasn't space to accommodate them.
As we made our way out, we heard a few murmurs and calls for a second show and we couldn't help but agree wholeheartedly.