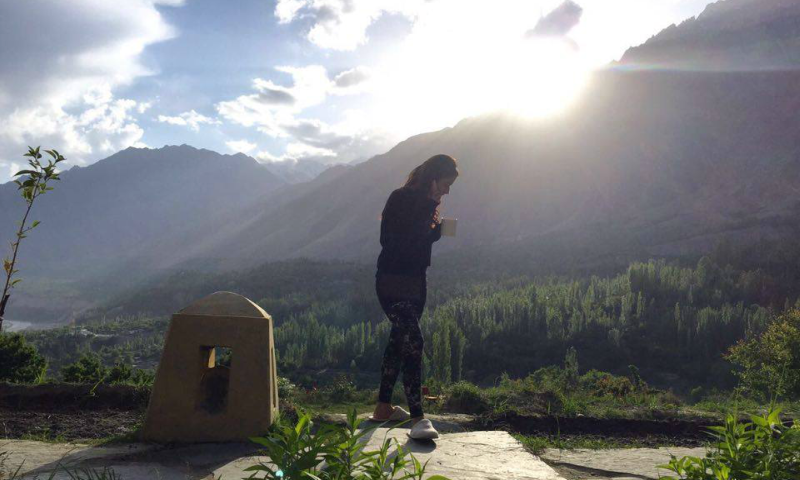 The writer kept Syra Shahroze in mind while writing the script.

Syra Shahroz has ruled the television-watching audiences' heart ever since she debuted in, Mera Naseeb. She is known for her poise, screen presence (despite her petite frame), and that perfect smile. The next obvious step for the actress after creating a niche for herself on television was to debut on the big screen appearance (the cameo in Ho Mann Jahaan was impressive but doesn't count).
The actress was seen having a blast in Hunza (up-north in Pakistan) when HIP got in touch with the VJ turned actress to discuss Chalay Thay Saath.
Also Read: Syra Shahroz is all charged up for debut film, 'Chalay Thay Saath'!
Syra Shahroz earlier revealed that the film will be a light-hearted family extravaganza that revolves around family values, friends, and love. While the film went on floors just recently, we spoke to the young gun to ask about her her evolution from small screen to big one.
"It's a very different experience altogether. On a drama set, we shoot around 15 scenes a day, but on a film, even on a good day, we do maximum two," Shahroz confessed. "So basically when you're doing a film, you end up living the character and feeling it's emotions and personality to the fullest, which has actually been quite fun."
Fitting into her character's shoes was a piece of cake for Syra Shahroze, especially because the writer had kept her in mind while characterizing Resham - name given to Syra Shahroze's character.
"It's actually been quite easy. I remember when I was offered the film, the makers told me that they had kept me in mind while writing the script," Shahroze explained. "So I see a lot of similarities, my character is that of a go-getter. She's very ambitious, independent and fun-loving, and above all, she always sees the lighter side of life, which makes her very close to my heart."
Shedding some light on to what the audience must expect from the film, Shahroz excitedly shared that Chalay Thay Saath is a travelogue of sort and is all about finding love amid tragedy.
"Chalay Thay Saath is about finding love, even when you have lost everything. It's about forgiving and moving on in life," added Shahroz. "It is kind of a travelogue which takes you across the scenic areas of the country and into the world of our characters as they find their way around life. My character is of a headstrong doctor who is heading back home with her friends, and she's also on a personal journey of knowing more about her past and future."
Also Read: Zhalay Sarhadi, Mansha Pasha and Syra Shahroze all set for the big screen
Faris Khalid, Osama Tahir, Mansha Pasha and Zhalay Sarhadi will be seen essaying the characters of Resham's (Syra's character) friends in the movie, whereas veteran actor and her real life father-in-law, Behroze Sabzwari will be portraying the role of her father.
Interestingly enough, Beijing-born and based actor and filmmaker, Kent S. Leung will play Resham's love interest. How and at what point will he enter the story? Well, only time will be able to tell.
Directed by ad filmmaker, Umer Adil, and written by Atitya Zaidi, the film's main shoot has completed in Hunza. The films remaining two spells - which constitutes of almost 30% of the film - will be shot in Karachi and abroad. You might've noticed Syra Shahroz's sister and VJ, Palwasha Yousaf, in the BTS pictures doing rounds on social media. Well, Palwasha is there not because she's doing a cameo in the film, but because she the stylist for Chalay Thay Saath.
(Note: Earlier in the article, it was incorrectly mentioned that film's first leg was shot in Karachi and Hunza was the second spell.)