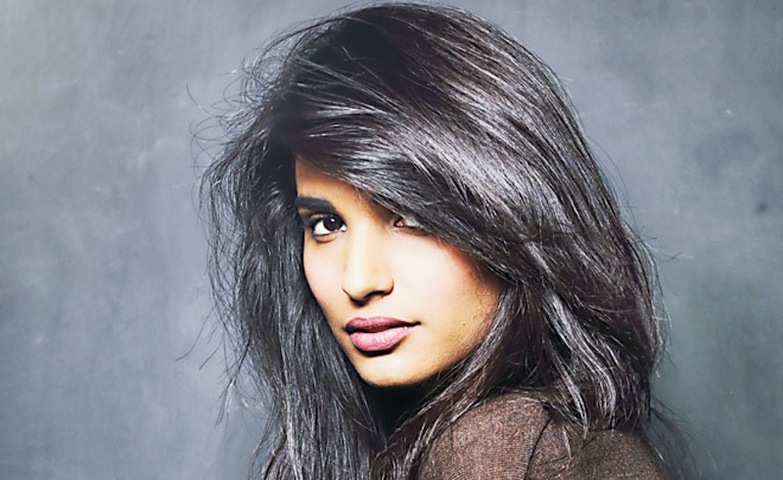 The actress will finally delve into mainstream, commercial cinema with Ready Steady No.

She is the dusky beauty who stands tall in a plethora of white-washed faces on the runway; she is a natural star when it comes to fashion shoots and she is not afraid to speak her mind, be it in interviews or on the podium of the country's biggest awards platform, the LSAs. She is also perhaps one of the only models to have become 'bored' of walking the runway. Yes, we are talking about supermodel-turned-actress Amna Ilyas, who is now more interested in pursuing acting than just being a pretty face on magazine covers. After a successful stint in Zinda Bhaag, Amna is currently busy with not one, not two, but three movie projects!
Ilyas, who has remained more inclined towards parallel cinema, made her debut in 2013 in the critically acclaimed Zinda Bhaag, a film that was set in Lahore and followed the struggles of people from the lower-income group with big dreams. Ilyas was widely appreciated for her character, Rubina, and the film almost made it to the Oscars.
Also Read: 'Zinda Bhaag' will soon be on Netflix
She also went on to work with experienced filmmaker, Sabiha Sumar in Good Morning Karachi - a modest story of an aspiring model which didn't quite succeed at the box office. And not to forget her sultry cameo in the song, 'Kaala Doriya' in Asad-Ul-Haq's Dekh Magar Pyar Se, which was probably the only saving grace of the film that completely sank at the box office.
Also Read: Amna Ilyas to star in 'Dekh Magar Pyar Se'
Coming back to the present, while her third film Driven has been under production for the past couple of years now, the actress has moved on to other thrilling projects. One of which is Gardaab that is set to be showcased at film festivals across the world, Ilyas told HIP in a recent conversation.
While debutant Fawad Khan will be essaying the role of Shahbaz, the protégé of a drug lord, Ilyas will be seen playing the role of Parveen, the daughter of a rival. How the-boy-meets-girl story unfolds into a gangster saga, set in Karachi, is what the film is all about.
Also Read: Diva shoots for 'Power Cover 2015'
While a local release hasn't yet been finalized, the Harune Massey directional venture promises us a serious dose of Pakistani flavoured Romeo & Juliet. The film boasts of an interesting ensemble cast including Gohar Rasheed, Nimra Bucha, Mohammad Javed and Khalid Ahmed among others.
Also Read: Amna Ilyas appointed as the brand ambassador for Khaadi Pret
While Gardaab is another non-commercial venture, it in no way means Ilyas is shying away from mainstream cinema. The actress will be taking the lead in upcoming rom-com Ready Steady No. Directed by Hisham Bin Munawar, the film revolves around the obstacles that a couple faces when they set their minds on tying the knot. At the same time, the film also serves as a lesson that sometimes one's own mistakes can lead to more problems.
While Ilyas chose to keep her lips sealed over revealing further details, she did say that the film will have all the elements that make for a "solid entertainer", with a great soundtrack, energy-fuelled action sequences, romance, comedy and a lot more. The film will also take a look into the consequences of being a Pakistani.
Also Read: Tuxedo babes: Hira Tareen vs. Amna Ilyas
The movie stars veteran actors Salman Shahid, Nargis Rasheed and Ismail Tara in prominent roles, whereas the male lead, Faisal Saif, will be making his acting debut with the film. Pakistan's finest comedians Ashraf Khan, Nayyer Ejaz and Saleem Albela will also be making guest appearances in the film. Slated for a late 2016 release, the film's official announcement will be made by the makers, very soon.
Also Read: Nothing good about 'Good Morning Karachi'
As far as Michael Hudson's directorial Driven is concerned, it is said to have been delayed because of some internal matters. The film, which is a one-night story based on the encounter of two people and how they strive to change what all has happened to them, stars Kamran Faiq opposite to Ilyas along with seasoned artists like Rehan Sheikh, Javed Sheikh, Adnan Shah Tipu and Omair Rana. The makers will soon disclose details regarding the project.