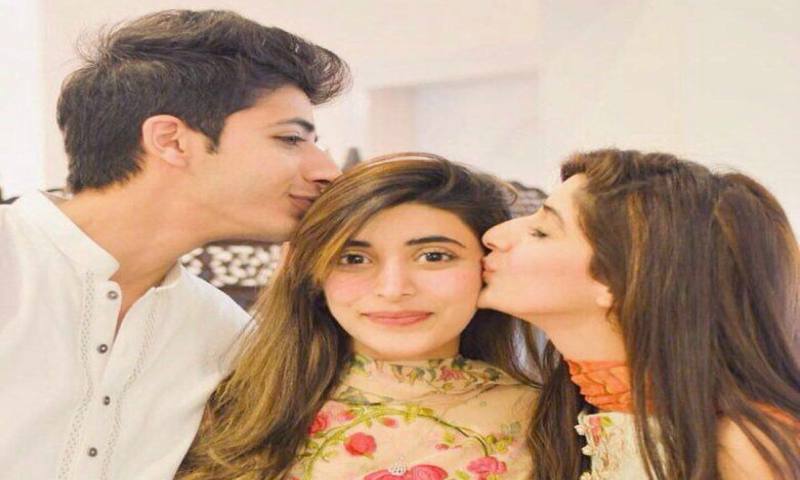 Following his sisters' foot steps, Ins-e-Yazdan is all set to appear on television as Ejaz aka 'Jaaza'
The Hocanes are a talented trio indeed. Urwa and Mawra Hocane are already a established name in the industry and have proved their mettle time and time again. While Mawra has gone a step ahead and appeared in an Indian movie titled, Sanam Teri Kasam (which did average business on Box Office), Urwa, on the other hand, is impressing the audience these days with a play called Udaari in which she plays a village girl, Meeran.
Read: Urwa Hocane's breathtakingly gorgeous magazine photoshoot
With the sisters being so talented, it was only a matter of time before their younger brother, Ins-e-Yazdan, got bit by the acting bug as well. Yazdan, when a lot younger, did appear on stage with his siters while they were doing theater, but appearance in Udaari will mark his debut on television. Yes, Ins-e-Yazdan is all set to act in the super hit serial, Udaari, in which Urwa is already a lead.
What role will the young boy play? Will his entrance mark another twist in the tale? Let's find out.
HIP got in touch with Urwa Hocane to discuss her brother's debut and the relationship the three siblings share.
Tell us how do you feel about your brother's debut?
UH: I am proud of him for always trying to explore and experience new stuff life has to offer him, the set has become a lot more fun with him around .
How did it happen?
UH: Well he has acted in theater in Islamabad as a child actor, but this time around it happened quite randomly. One day my team was discussing about this character, Ejaz (Jaaza), on the sets and they were saying that all the guys they had auditioned looked much older. They were looking for a high school going boy who has to play my brother and that is where it rang a bell and I right away called Ins first to find out if he is done with his CA Third Module exams. And since he was done with them, this sounded like a good plan for him during his holidays.
What kind of bond you guys have with each other?
UH: Our trio I would say is loving , tightly bonded, and a powerhouse of energy. When we are together we can light up a town with our energy!
Read: 20 reasons Mawra Hocane is a modern style icon
Will he pursue acting in future like his sisters?
UH: I see him more in love with Accounts right now as he is doing his CA. When I asked him this question of yours he replied,
"I am doing this because it sounded fun and interesting. I believe I still do have time until I take a serious decision about my career plans."
---
It will be interesting to see Yazdan's entry in Udaari and what changes (if any) will Jaaza's character bring as he gets old. Since the brother-sister duo has already piqued viewers' interest; his appearance will further raise the bar of Udaari's popularity.