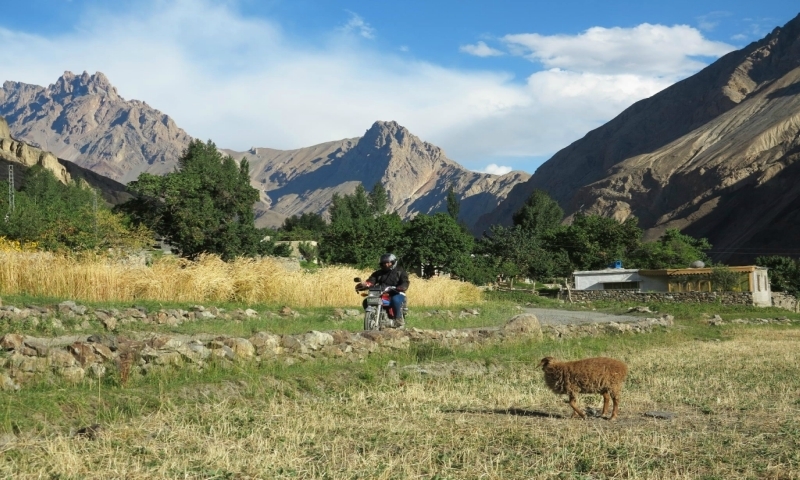 Zenith Irfan breaks all bounds and travels lone on a trip across Pakistan on a motorcycle

We, more often than not, stop ourselves from living our dreams. We set tasks, we find reasons, we find alibis, we set dates, but in the end we end up in the same place where we started. For 21-year-old Zenith Irfan, this was not an option. Her late father's unfulfilled dreams of going on a 'crazy motorcycle trip around the world' became a life goal that she had to complete.
"I asked my mother what was the one thing my father wanted to do, but couldn't? She replied saying he really wanted to go on this crazy motorcycle journey around the world," Irfan told in a video now widely circulated by NowThis.
Challenging patriarchal norms one bike trip at a time, the Lahore native ended up travelling solo to areas far and wide in an aim to commence a journey that will take her to newer places around the globe. In just a week, Irfan has already travelled 500 miles across Pakistan, including the lush valleys and breathtaking plains of Kashmir.
"I really got caught in the whole psychology and physical state, when you have to keep on telling yourself that you need to ride further and push yourself. Otherwise, you'd just give up and come back," she added.
Speaking about her aim to diminish stereotypes against women riding motorcycles in Pakistan, Irfan refutes any connection between one's gender and their ability to accomplish gargantuan tasks.
"I just don't get the connection between riding and your gender. I don't think any gender dictates your passion," Ifran further added.
However, thanks to the continuing misogyny and an overall sentiment of self-righteousness online, Irfan has received her fair share of hatred.
"Some of them said I shouldn't ride because it's a disgrace to the label of a Muslim woman. However, every moment and every place I went was a message to my father."
Irfan aims to continue this journey further and the motorcyclist has been on other trips as well along with her brother, whom she gives a tribute, because he was the driving force who taught her how to ride a bike. She now plans to travel to more unchartered places across the globe.
You can keep yourself updated about her adventures via her Facebook page, 1Girl2Wheels.