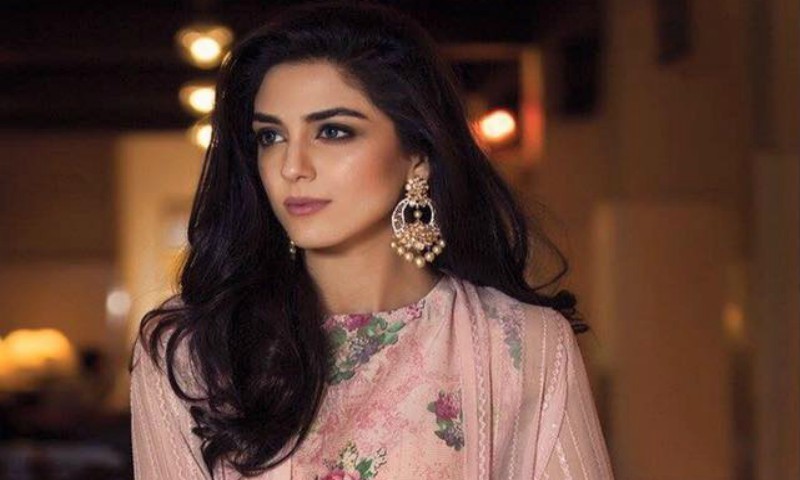 No to item songs, yes to films and a maybe to B-Town for Maya Ali

With her girl-next-door persona and innocent charm, Maya Ali has gradually become one of television's most sought after names. From being a damsel in distress on the screen to transforming into a fashionista on the ramp and billboards across the country, Maya seems to be as versatile as they come. And with her most recent performance as Mannu on Mann Mayal alongside Hamza Ali Abbasi, she has proven that her fan base is only expanding.
In a candid conversation with HIP, the gorgeous actress opens up about the real her plus lots more
Also Read: Rapid Fire: Maya Ali loves 'daal chawal' and hates fake people
How do you respond to criticism, especially regarding your character Mannu in Mann Mayal?
To be honest, I don't understand why people have negative views of roles that are of a bechari larki being half-baked. And at the same time, I was criticized for playing a bold woman who leaves her husband in Zidd. The world would be a lot better if people weren't so confused!
Speaking of Mann Mayal, my character Mannu compromises a lot for her family and children. You either stay happy or you make an agreement with life, and in her case at least she's trying to settle down and correct her husband. Mannu is a very powerful character, and in the episodes ahead, you'll see her stand up against all odds.
Apart from this, all the serials that I'm offered these days are very stereotypical. And when I ask writers about why they pen down such scripts, I get an interesting response – they tell me I'm not old enough, and I haven't experienced anything as such so far. I'm an actor but a woman first, and I know that I have to cover myself before going out, and I can't be alone in an unsafe area. In a way, serials today do reflect the reality.
And there's definitely a message behind every project, you'll find one even in Mann Mayal. On a personal level, I wasn't even allowed to think about the showbiz fraternity. Honestly speaking, I would've been married by now if I wasn't an actress today. My father is a man of principles and I had to go through a lot when I joined, and now the same people who discouraged me, support me!
Also Read: 5 on-screen couples that remind us of Zoya and Dr. Ahmer
We heard you signed on a Saqib Malik film also starring Osman Khalid Butt. Is there a release date for that project?
It was in the pipeline, and it was very much confirmed, but unfortunately, stuff wasn't falling into the right place. Things got delayed, Osman signed another film called Balu Mahi and I got busy with my serials. So we are still in talks, but there's no major procedure that I can talk about.
I haven't signed any other film as yet, but I'm almost about to. It's a romantic film, and the character that I've been offered is very strong and gives me a solid margin to perform. I have been offered a lot of projects, but I want strong content and a complete package. It happens when you work with perfectionists like Haissam Hussain and Haseeb Hasan (laughs).
Your association with Osman Khalid Butt is widely spoken of. What are your thoughts?
Finally, I've gotten an opportunity to express my feelings (laughs). We met on the sets of Aik Nayee Cinderella, and he has been a wonderful friend and co-star since. We both were new, and we started out together, so we ended up learning together, and growing into being good actors. So our chemistry and confidence on each other was always present.
We share a very comfortable and friendly bond, and that's something I can't say for Ahsan Khan, Hamza Abbasi, Gohar Rasheed or any other male actor I've worked with. I'd just say that it's all because of him, especially the 'Best On-Screen Couple' award that we won recently; he has taught me so much.
Also Read: 'Diyar-e-Dil' rules 4th Hum Awards
It is said that you are doing a film in India; is this true, and is Bollywood on the cards?
Aun Zara was one of the first Pakistani serials to air on 'Zee Zindagi', so I've been offered a lot of projects since then and I am going through a few scripts. But I recently met Mahirah Khan, and she told me that when she is on the sets of Raees, she has Pakistan's flag carved on her shoulder. Similarly, I believe I can't wear revealing clothes or be part of make-out scenes. There's a lot of respect that I've earned here, and I have a responsibility as a public figure. I'd rather do an A-Grade Pakistani film than do a C-Grade film there.
A lot of actors from our industry went there, and I had high expectations from them, but I felt disappointed after watching their work. Some, however, are literally making us proud in the truest of sense. Sajal Aly for instance, will give Sridevi a tough time. Our bomb is going there and showing them what we are capable of!
I'm also a fan of Fawad Khan and his work. I know we can make better dramas than Kapoor & Sons, but his closet homosexual act was exceptional. As an artist, he has experimented with his skill, and mastered it. So overall what I'm trying to say is that actors don't have boundaries. If I get a good enough opportunity, I wouldn't hesitate in taking it up!
Also Read: Maya Ali tells you how to be the perfect 'bahu'
What's your take on item songs, would you do one if offered?
I don't want to point out anyone but I've denied all such offers. I may not agree with them personally, but at the same time I enjoy those which are done with dignity. On a whole, I believe our culture is very different from India's. And a film cannot solely rely on an item song, so I'd always prefer a substantial film, where the director's more focused on the content and the plot.
At what point did you realize that acting was your passion and not VJ-ing?
As I had mentioned earlier, I never even thought of entering the field. Similarly, I never wanted to become a VJ either – it just happened all of a sudden. I was doing an internship somewhere, and I got offered to host a show, so I did that just to build a strong résumé; and I did that after convincing my family.
Then I started getting modeling offers for campaigns. So I was with Khawar Riaz for a lawn shoot once, when Haissan Hussain was there auditioning debutants. And just for the sake of it, I auditioned too. The unexpected happened, and they called me for Dur-e-Shehwar. Since then, there's been no looking back!
Also Read: Hamza Ali Abbasi and Maya Ali shoot for Maria. B
Speaking of which, we don't see you model a lot. Why is that?
Showstopper acha nahi hai (laughs)? When I used to model quite often, I never understood a showstopper's importance, but now I feel blessed to have been one. And hats off to all the models that excel in walking the runway – it's incredibly tough. But yes, modeling is a glamorous field; unfortunately I don't get to do it a lot since I'm mostly busy with acting assignments. And I'm on a contract with 'Maria B.', so I'll be shooting her campaigns for another year. She's a great friend and her team is like family to me!
Out of your contemporaries, which actresses do you admire or look up to?
Firstly, I never thought I'd be better than anyone. I just constantly try improving myself as an actor and try not to take up the same kind of roles. Recently I read an article on the 'Top 3 Actresses' online, where I was listed with the likes of Mahirah Khan and Sanam Saeed; it was an absolute honor for me!
I still remember when I was shooting for Aik Nayee Cinderella, Humsafar was the talk of town and during Aunn Zara, Zindagi Gulzar Hai was making waves. I believe Sanam and Mahirah, both are brilliant actresses and I love them. I learned a lot from Sajal Aly as well when I was shooting Laadon Main Pali with her. And it's a dream to share space with Aamina Sheikh, I believe she's one of the best that we have.
Also Read: Which Pakistani celebrity rules social media?
You've came a long way from Dur-e-Shehwar. How has the journey been?
Initially I had a stamp on myself of a bechari and a girl-next-door kind of person until Shanakht came along. I'd like to thank Momina Duraid for that for always believing in me. So, after that, I got a chance to show my versatility and polish my skill. Some people also started thinking that I fight well on-screen (laughs). They put their trust in me and that, for me, was a turning point.
Then Diyar-e-Dil came along, for which we worked day and night. We had an amazing director who made us perform to perfection. After which I did Mehreen Jabbar's Mera Naam Yousaf Hai and learned a lot from her. So, I'd say it was a blend of luck and hard work, but what really did wonders for me, were the brilliant consecutive scripts by ace writers that I was being offered.
Also Read: On the sets of HUM TV's 'Mann Mayal'
What character of yours do you personally relate to?
I enjoy whatever I do. When I joined, I had no knowledge, even of how a scene is shot, but I started learning gradually with exposure. Zara in Aunn Zara was a girl similar to who I am in reality, I talk a lot and I'm very fun-loving, but then I got to prove my diversity with serials like Shankaht and Zidd. But overall, I feel Mannu is very close to my heart, I don't know what's the connection (if there is any), but I feel her difficulties and the obstacles that she faces. Even now when I watch the serial, I have tears in my eyes!
What is your take on the content that television and film deals with?
You see, there's a certain duty that we have. I want to do projects that are thought-provoking. Where a woman grows with time and experience, and if she's negative, there should be a logical explanation behind it. In Mera Naam Yousaf Hai, Zulaikha took a stand against the atmosphere she was living in, in Diyar-e-Dil Farah opposed her mother in support of what was right and even in Mann Mayal, Mannu took a tough decision of marrying because she took up challenges and had lost her true love.
Similarly, nobody should give up; we must tell people to move forward, there's a lot that God has written for you. Can you name any household where there are no problems or issues? So television is a medium where we mirror the society. It's not a Bollywood film, it's a Pakistani drama - and it's all about realism.
That sort of entertainment that includes the fantasy factor needs to be presented through films. I, myself am a fan of masala films. Films need emotions and that unrealistic feel, so that people spend their money and enter the world where they can relax, unwind and enjoy. Comedy genre also exists in drama serials, but mostly it's all about practicality.
Also Read: Haseeb Hasan's debut film will be an action romance
On an ending note, what would be your message for all the readers?
I request everybody to not be judgmental, just be patient. I love all my fans, and I'm not just saying this for myself. We as artists work a lot and it takes a second for you to switch the channel. So, I'd say appreciate the effort and enjoy content for what it is.