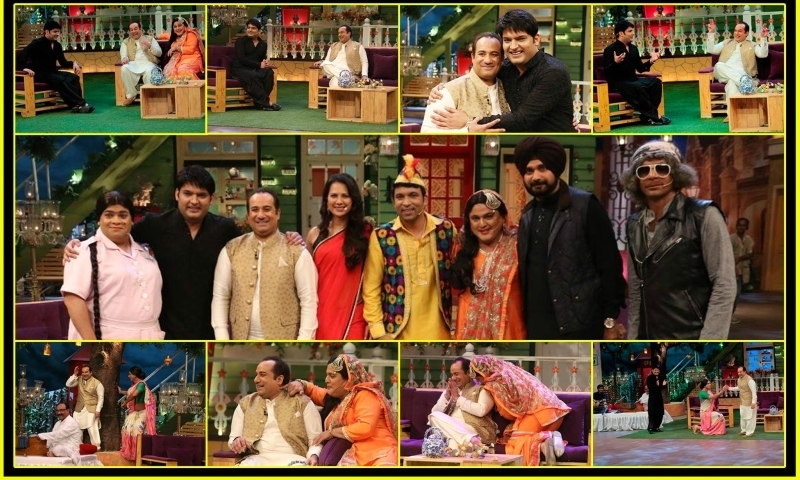 For the last few days, it has been Pakistan galore in Bollywood all over again. From Fawad Khan managing to grab almost all films previously dominated by the Khans', to almost every film featuring a record-breaking hit featured by a Pakistani artist, you know something good is going on!
In recent news, it's Pakistani maestro Rahat Fateh Ali Khan who keeps making the news. While his surprise inclusion in Sultan after Arijit Singh's dismissal was already making buzz, his upcoming collaboration with A.R Rahman made huge roars on social media. However now, it's his upcoming appearance on 'The Kapil Sharma Show', which is swiftly closing-in to break the Internet.
Sharing the famed couch with Indian comedy sensation Kapil Sharma and the entire collective of the show, the singer was seen sporting a traditionally ethnic kurta-shalwar ensemble paired with a jewel toned Nehru jacket, keeping in code with the Qawal-esque theme.
READ: Rahat Fateh Ali Khan and AR Rahman to collaborate in a project?
While the airing date for Khan's episode has been announced as 19th June, the singer took to Facebook to mention his upcoming appearance. The singer also, shared the teaser where he is seen sharing a light-hearted moment with another Indian comedian, Ali Asgar, as he manages to leave the musical powerhouse in stitches.
From Nawabs to a live Qawwali session, this episode is surely one for the books. After all, who would ever want to miss out on the Jag Ghoomeya singer's voice?