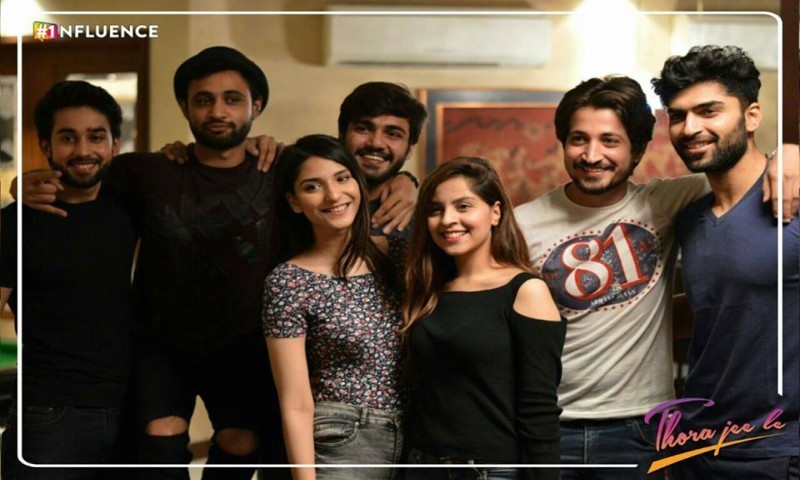 It's movie season once again and there are tons lined up for release already. With varying genres to finally choose from, the audience can decide which movies they want to watch and which they'd rather cross off the list. One such genre, which seems to be a desi favourite, is the coming of age, romantic drama. Movies like Ho Mann Jahan and Zindagi Na Milegi Dobara are the kind that make you realize the importance and significance of youth and relationships in life. It's that time of your life which will never come back and it's when you make all your important memories. It's also that time where you make key decisions which will affect your whole life. Rafay Rushdie's upcoming directorial debut, Thora Jee Le is exactly that and a lot more...
The film stars debutants Bilal Abbas, Kasim Khan, Fatima Shah Jillani, Ramsha Khan, Salman Faisal and Ahsan Mohsin alongside 'Lux Style Award' winning model-turned-actor-turned-singer, Rizwan Ali Jaffri.
Read: HIP Picks: Best Ramp looks from Karachi Fashion Week Men's Fashion
Hunting for further details, we got in touch with the film's male lead, Jaffri.
"It is a very youth-oriented film with a lovely message at the end. It's basically a two-day story of seven friends who travel to Larkana (in Sindh) from Karachi. During the trip, they face situations that are both humorous and scary and cause confrontations and a lot more. I'm sure Thora Jee Le will have its moments which the audience will enjoy and learn from," Jaffri stated.
Giving an insight into his character in the film and why he took up the project, he said:
"I play the main lead. My character is very humble and helpful; the whole plot basically revolves around him. He is a very rich guy and has everything that money can buy him, but deep down he is unsatisfied as he has lost the people who he valued the most. The script of the film has heart and soul, and I was actually quite intrigued by the approach when I was offered the part. Our director Rafay has great vision and I'm sure his style of filmmaking will be appreciated."
Read: Showbiz stars who walked the ramp during TBCW 2015
Rizwan further revealed that the film has a complete package in store for the audience. Excited yet nervous about how the film will do at the box office, the actor added:
"From Thora Jee Le, you can expect new faces and a script packed with energy, zeal and passion. You will get to see gorgeous locations too. It consists of around five songs, and all of them are very contemporary. The comedy in the film is a breath of fresh air. And above all, it conveys a beautiful message which the youth of today will be able to relate to."
The film that will go on floors after Eid ul Fitr is slated for nationwide release in December, this year.