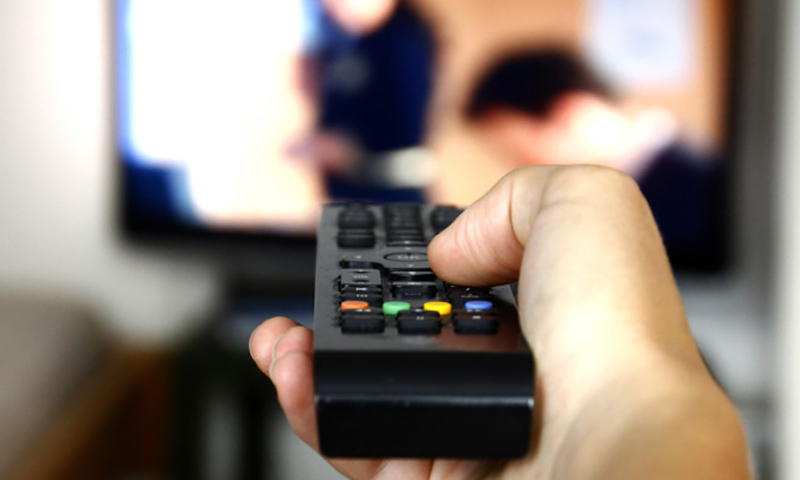 If you thought the craze for Indian soaps died with 'Kyunki Saas Bhi Kabhi Bahu thi' then think again
Have you ever come across a village or a town during a hot summer afternoon, or even a cool wintery one for that matter? If not, then let us tell you what majority of the female population is up to during those hours. They're watching Indian soaps. And to give company to this loyal lot, we have our urban housewives, who get done with their everyday household chores by noon to start binge-watching an array of Indian drama serials on their television screens.
As a result, Indian channel, Colors, has left leading Pakistani channels far behind in terms of ratings and secures the top spot on the 'Top Entertainment Channels list'. Interestingly, none of Colors' shows have made it to the top programs list.
Next up on this list is Filmazia, which again airs Indian content most of the time. Filmazia's popularity can be credited to the Indian soap, Naagin, which is one of the most-watched shows in the country. The particular Indian soap also beat Mann Mayal – a highly popular show – from May 1 to May 16.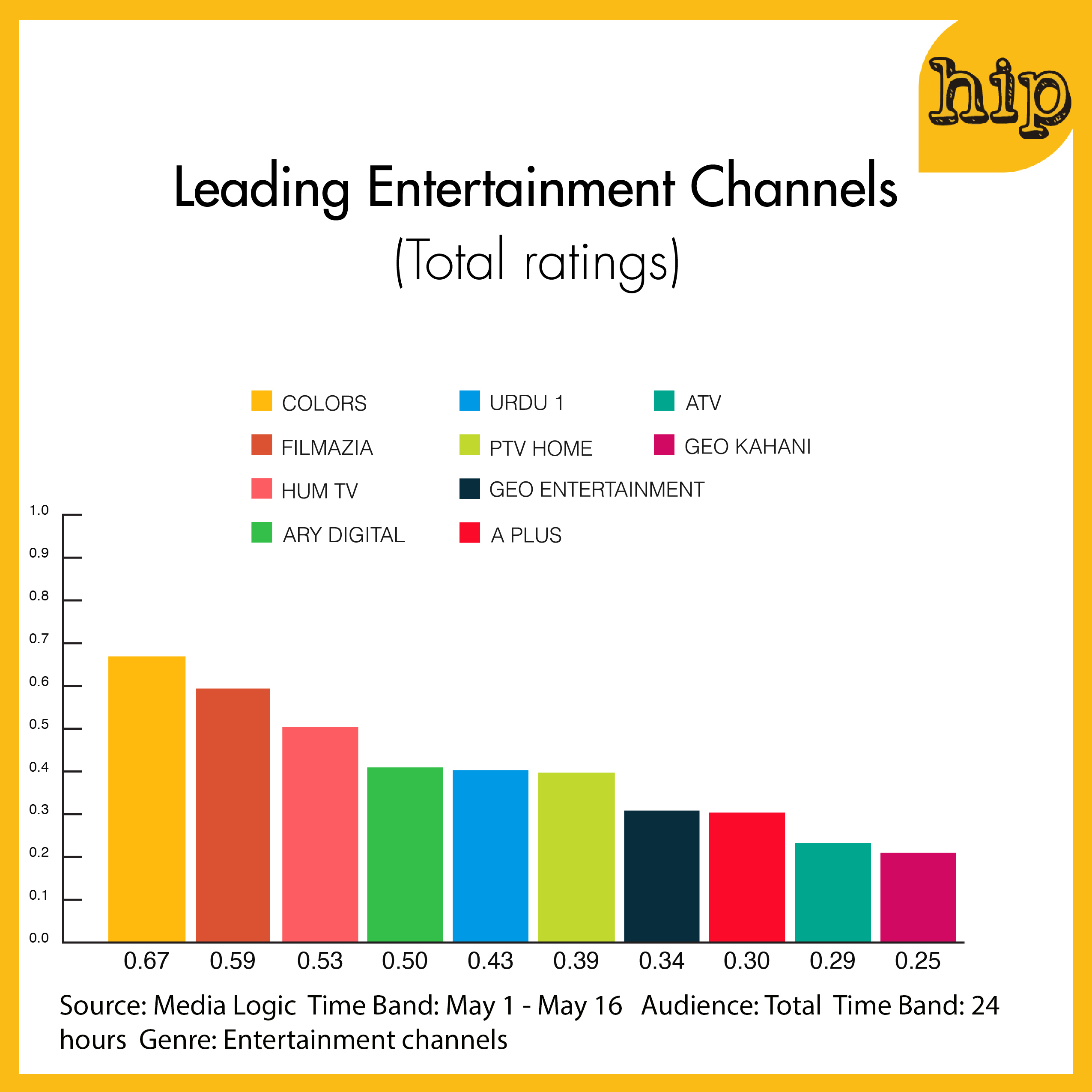 Third spot is captured by Hum TV which is known for its quality drama serials and popularity amongst the female population. The channel aired five of the 10 highly rated shows in the month of May which include Mann Mayal, Udaari, Aabro, Zara Yaad Kar, and Servis 4th Hum Awards. Moreover, Jago Pakistan Jago – HUM TV's morning show – remained the most watched morning show in May.
Fourth up is ARY Digital, and rightly so, as it has produced some highly popular drama serials in recent times such as Guzaarish and Dil Lagi – both of which are in the top 10 highly rated shows list.
In addition to their drama serials; ARY Digital's game show, Jeeto Pakistan, and sitcom Bulbulay have also carved a niche for themselves. The channel's morning show, Good Morning Pakistan, was the second most popular morning show after JPJ, hence, contributing to ARY Digital's high ratings.
Urdu1 since its launch has grown leaps and bounds to grab the fifth spot in the top entertainment channels list. Although drama serials such as Tum Kon Piya, Indian soaps like Ye Hai Mohabbatein and Turkish soaps such as, Kala Paisa Pyaar and Aashiana Meri Mohabbat Ka didn't make it to the top ten most watched shows; they do contribute to the hybrid channel's popularity.
While Geo was the most watched channel in Pakistan once upon a time, the channel falls back on the sixth spot when it comes to entertainment channel. Geo Entertainment revamped itself after the ban with structural changes, but it still hasn't managed to enter the top five. The channel has produced some popular drama serials like Ishqa Way and game shows such as Inaam Ghar, but its morning show and lack of meaty content in drama serials, probably lets the channel down.
APlus, ATV and Geo Kahani grab the eighth, ninth and tenth position respectively. While Geo Kahani had created a loyal audience when it was first launched with shows like Mera Sultan, Kumkum Bhagya (which reportedly beat the then popular drama serial Diyar-e-Dil), and Inteqaam, but the channel seems to have lost its loyal fan base after the ban.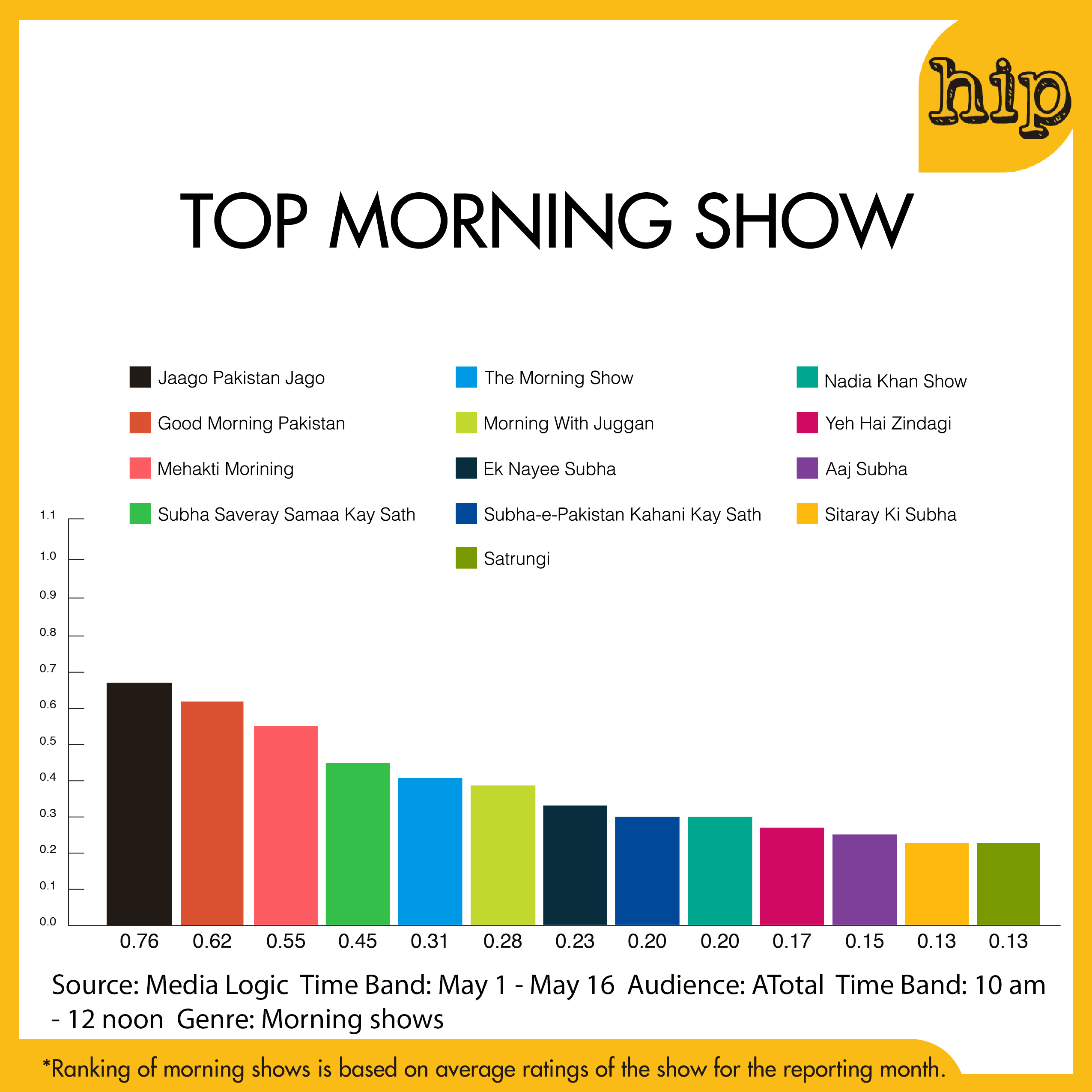 Most Popular channel overall
We know where we stand in terms of most popular entertainment channels, but now let's discuss which channel do Pakistanis love overall. They love to watch PTV. Yes, the terrestrial channel won the race in terms of the most popular channel across Pakistan in all genres (news, entertainment, music, morning shows, and so on).
ATV, another terrestrial channel, was ranked second while Colors, Filmazia, and HUM TV grabbed the third, fourth, and fifth spot respectively. Although news channels enjoy more commercial airtime as compared to entertainment shows, and other genres; entertainment channels seem to have taken the cake in overall ratings.
The top five channels are all entertainment channels while the sixth rank goes to the children-centric Disney Channel.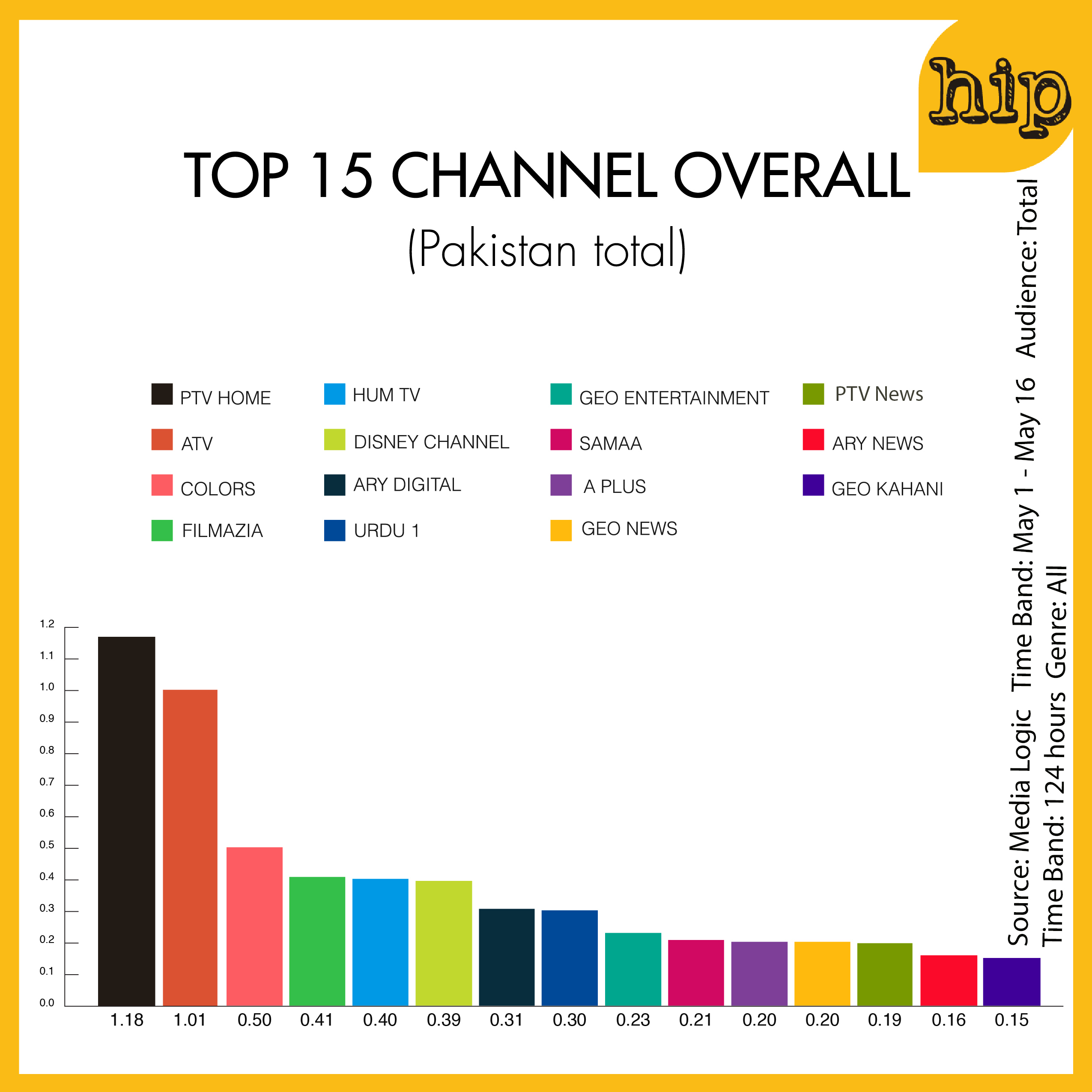 The first news channel to appear on the list is Samaa and that too on tenth spot while Geo News and PTV News are down below. This goes on to make us wonder if audiences are finally looking to escape the depression which news channels tend to cause more often than not?
Who rules the metros?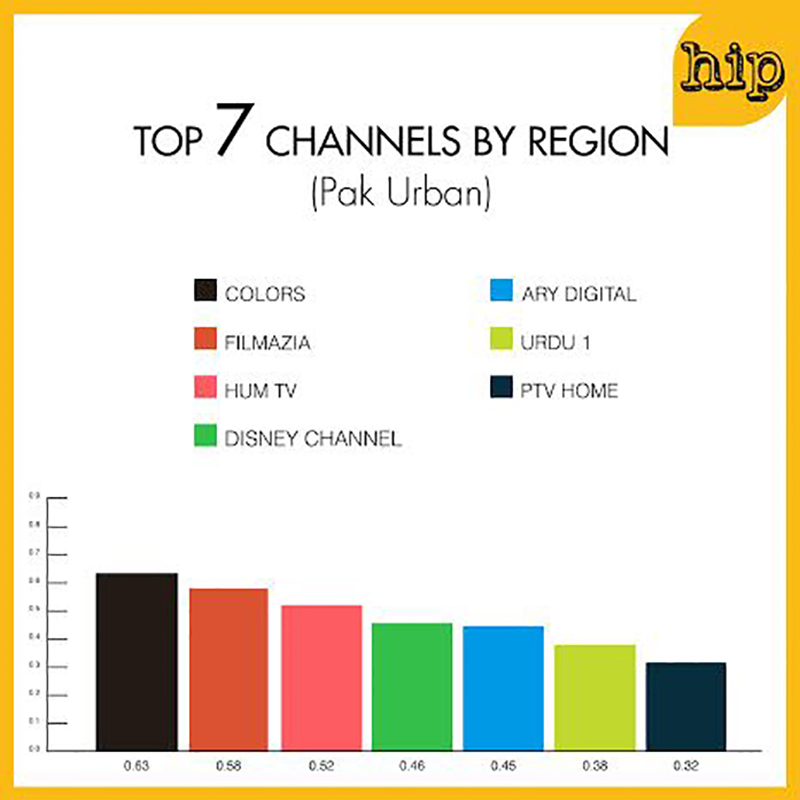 We are probably turning out to be huge fans of Indian content as Colors is the most popular choice among the urban population of Pakistan. And here we were under the belief that Mannu and Sallu were ruling the hearts of urban dwellers. Next up is Filmazia and understandably so since it airs the most popular Indian soap, Naagin, in Pakistan.
Udaari, Mann Mayal, Zara Yaad Kar, and Aabro have enabled HUM TV to become the third most-watched channel. Disney, ARY Digital, Urdu 1 and PTV Home were close behind. It was surprising to see ARY Digital ranked fifth despite its game show, Jeeto Pakistan, and sitcom, Bulbulay, being two of the most watched shows on television.
And the winner in the suburban and rural areas is...
Not Colors, but Filmazia which is surprising because rural population is known to be a huge fan of Indian soaps which are found in abundance on former. Don't feel bad for Colors yet because the channel was close behind on second spot.
As expected, terrestrial channels, PTV and ATV, enter the mix in non metros along with another channel that is known for its children based programming: Disney channel. The terrestrial channel, PTV, was ahead of HUM TV and ARY Digital in rural areas.
Hello Karachi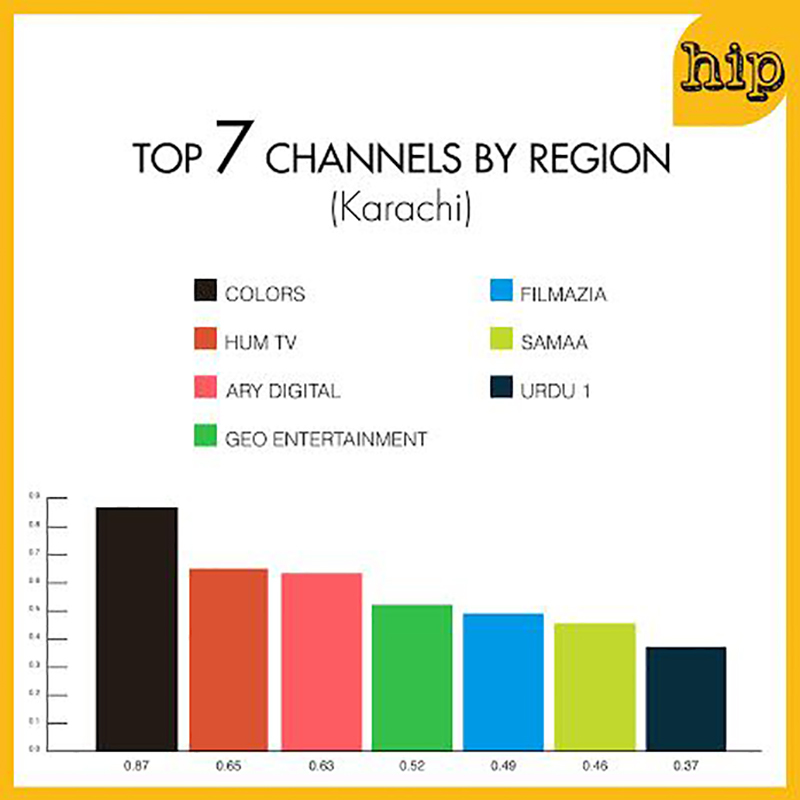 Once again, Colors rules the charts, but good news is that it is closely followed by HUM TV - a channel which is known to produce quality drama serials. Although, the ratings are debatable; it is heartening to see channels - HUM TV, ARY Digital, and Geo Entertainment - which only air Pakistani content ranked second, third, and fourth respectively.
This doesn't mean that Karachi-ites don't have their dose of Naagin; they do, and that's why Filmazia is the fifth most watched channel in the metropolis.
Lahore is...unique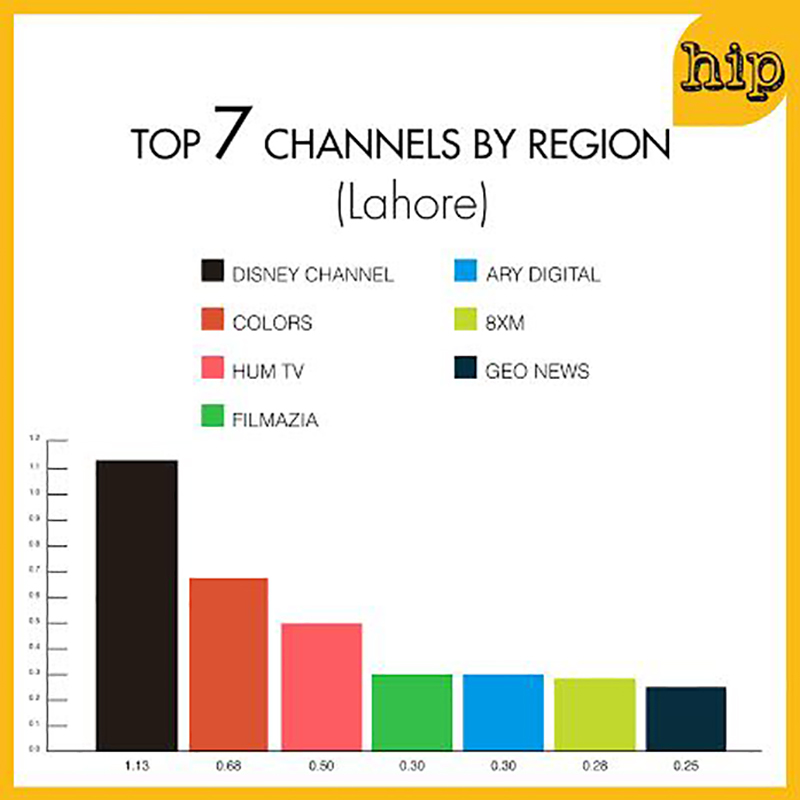 The city is obsessed with Disney Channel. Yes, that's the most popular channel in Lahore, or at least in the homes that have the peoples meter. They do watch their share of drama serials on Colors, ARY Digital, Filmazia, and HUM TV; but they don't forget to listen to their Bollywood beats. 8XM is the sixth most popular channel with the zinda dilane Lahore and guess what; Lahoris like to keep themselves updated unlike the Karachi-ites who don't watch news channels enough to bring them into the 'Top 7 Channels' list.
The Twin Cities' enjoy their Turkish and Indian soaps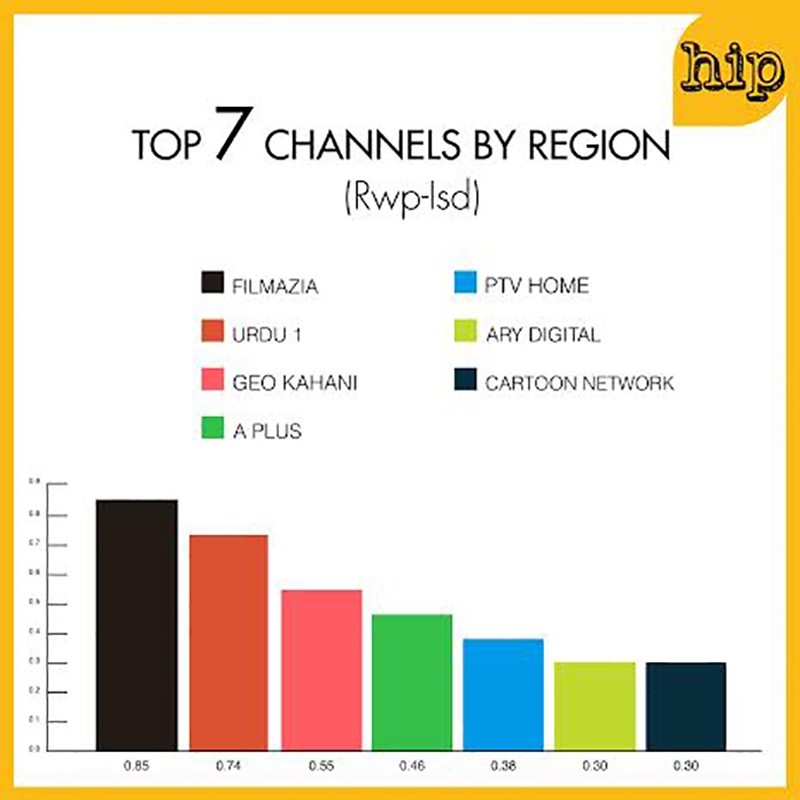 You'd expect people living in the capital city to watch news all the time, but apparently they enjoy watching films and Indian soaps. Yes, the most popular channel in Rawalpindi and Islamabad is Filmazia. Urdu1 is ranked second. Okay, so they love their Turkish soaps too. Third up is Geo Kahani which again is known for its Turkish and Indian soaps.
Finally, on number four and five we have channels that show Pakistani content - PTV and ATV. They're the only cities that give importance to our good old terrestrial channels and don't pay much heed to the Mann Mayals and Udaris of the world.
---
Most of us tend to believe that the ratings obtained through peoples meter are not a true representation of the population. Some channels are accused of bribing households with meters while the audience and industry experts are forever in doubt of the sample population in which the meters are distributed. Despite our doubts, this is the only way to judge the popularity of a show, channel or genre in Pakistan.