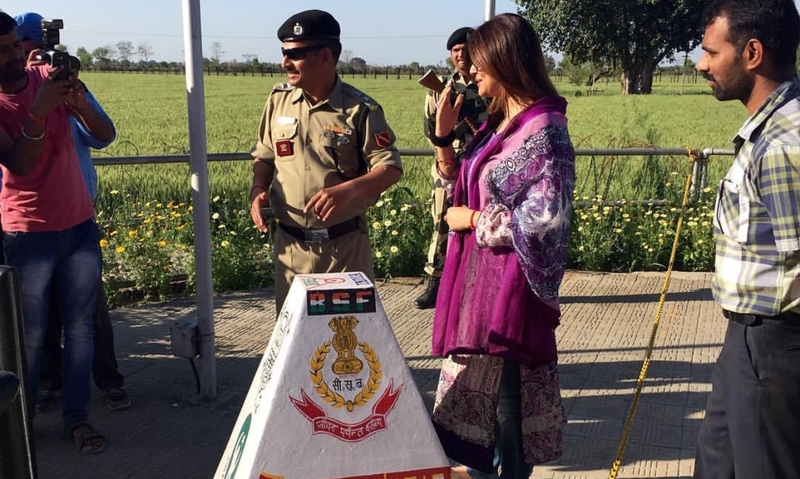 The former Miss Universe was spotted at the border watching the famous Beating Retreat ceremony.

With an essence of Independence in the air, and a feeling of patriotism enshrouding every citizen, the Wagah border remains a near-magical place for anyone who visits it, on either side of the border. It is, hence, no wonder that the place is frequented by celebrities and fans alike. A while ago, Fawad Khan and Sonam Kapoor were spotted promoting their movie on the border, and now, former Miss Universe and Indian diva Sushmita Sen was also spotted at the infamous border crossing.
READ: 12 Indo-Pak filmmakers 'unite' for 'Zeal For Unity'!
The actress who was previously seen visiting the famous Golden Temple in Amritsar, took a short hop towards Wagah, where according to her Instagram, she was 'overwhelmed'.
In a series of photos put up by Sen, the actress also mentioned that "she waved and said Salam to her Pakistani fans, which in turn was replied with a Namaste".
Sen was also present at the border to witness the famous flag-raising ceremony. Posting a video on her Instagram, the actress posted, "And here it is! A glimpse of the famous Beating Retreat ceremony. Love both sides; our BSF soldiers (men and women) and Pakistani rangers gave an amazing, electrifying, disciplined performance at the ceremony. I had goosebumps."
While Sen seemed to have had a time of her life at the border, we hope to see her on this side of it in some upcoming Pakistani projects. Sush, if you're listening, we're waiting!