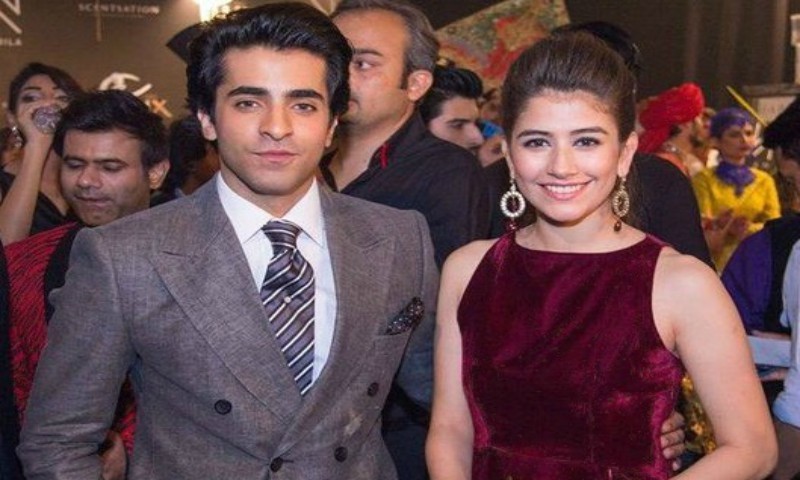 The film is a non-stop action extravaganza with hints of patriotism and tragedy.

Did you, like us, feel disappointed about Syra Shahroz's cameo in Ho Mann Jahaan? And did you wish to see a sequel of HMJ which focused only on love story of Sheheryar Munawar and Syra Shahroz's characters? If yes, then we have some great news for you all. The two will soon be seen as the lead pair in upcoming feature film, Project Ghazi.
HIP recently broke the news that Pakistan's rising star, Sheheryar Munawar, was gearing up for his second cinematic venture after Asim Raza's commercial and critical success, Ho Mann Jahaan. The Aasmano Pay Likha actor will now been seen in ad filmmaker, Nadir Shah's, directorial debut, Project Ghazi.
Interestingly Project Ghazi is chock full of talented artists. Apart from Syra Shahroz and Sheheryar Munawar, the film has Talat Hussain and Aamir Qureshi essaying complex characters, whereas Jalaibee's Adnan Jaffar will wear the antagonist's hat (yet again).
Also Read: Syra Shahroz's debut film 'Chalay Thay Saath' is about finding love
As the shoot continues in full swing in the northern areas of Pakistan; HIP got in touch with the male lead, Sheheryar Munawar, to find out what Project Ghazi was all about. Is it a full-on action film? Does it advocate a pro-army narrative? Should the female audience look forward to it or is it too full of gore and masculinity?
Sheheryar Munawar disclosed that even though the film is a patriotic action-thriller; it is apolitical and doesn't propagate hatred for India (like many of our nationalistic films have done in the past).
Also Read: Five unknown facts about 'Ho Mann Jahaan'
"Project Ghazi is basically an action film, but has nothing to do with anti-terrorism and doesn't campaign against India," Munawar clarified. "As an artist, we have a social responsibility to reduce negativity and with Project Ghazi we are playing on metaphors, but have stayed away from controversies. There's no point in adding hate."
This certainly doesn't mean that the film lacks nationalism. Comparing it with The Bourne Identity, Munawar said, "The film does have a nationalistic sentiment, but in a whole new light. I believe it's something along the lines of The Bourne Identity."
Also Read: HIP Exclusive: Sheheryar Munawar signs his second film, 'Project Ghazi'!
He also revealed that the film has helped him evolve as an actor, as this is the first time that he has ventured into a totally different genre.
"It's been an amazing experience. It is entirely different from Ho Mann Jahaan. Arhaan was a grey character, with layered and complex personality," said Munawar while comparing Zain (his character's name in Project Ghazi) with his character in HMJ. "But Zain Taimoor is an out and out action hero. He's a very nice guy, but has certain issues going on in his personal life, but overall he has a very serious aura about him [unlike Arhaan]."
Also Read: In conversation with Sheheryar Munawar on 'Ho Mann Jahaan'
Sheheryar Munawar admitted that shooting for Project Ghazi has keft him drained, emotionally and physically (despite numerous gym trips).
"There are stunts involved such as hand-to-hand combats, so I had to keep fit. It's been exhausting but I'm testing my limits and my range," he shared. "I played a lot of sports in my college, but now I'm increasing my stamina and working on my physicality. I literally had to become as fit as an athlete for this project."
Speaking about the emotional aspect of his role, he said, "Apart form being physically challenging, it was emotionally challenging as well because I am a very expressive person, but Zain isn't. And since we have been shooting throughout, it has taught me a bit of a self-control."
Also Read: 10 Pakistanis who would make hot superheroes
Sheheryar disclosed that he is looking into a couple of more projects, but nothing is concrete as of yet and his plan is to take things as they come.
"Since the shoot has been very tiring, I plan to take a few months off after I've winded up my part in July." He also shared his work related plans, "I'll probably direct a couple of commercials. I believe working behind the camera has its own charm. I may get into writing as well, but I don't want to jump into anything right now; I want to take my time."
Here's to hoping that Project Ghazi raises the bars of action-thriller films in Pakistan and helps us get out of our shell; where action, more often than not, only refers to gandaasa-brandishing films or a collection of unreal special effects devoid of any story.