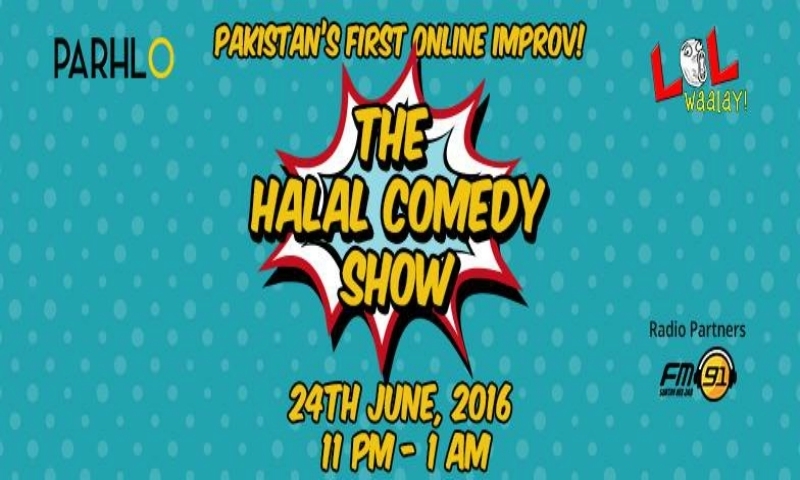 'The Halal Comedy Show' will be live streamed across the globe on Facebook

You can enjoy an improv comedy show from the comfort of your home. One of the most prominent comedy group of Pakistan, LOL Waalay will stream Pakistan's first ever live improv comedy show, The Halal Comedy Show, on world's biggest social networking site, Facebook, on 24th July, 2016 from 11 p.m. to 1 a.m. this Friday.
The Karachi-based group has made the audience burst into laughter many a times at MAD School, Pak-American Cultural Centre, and the National Academy of Performing Arts.
Read: Saad Haroon on his upcoming tour, comedy, and Danish Ali
The most interesting part of the show is that LOL Waalay's team will interact with their online viewers, from across the globe, and will answer their questions. The group consists of five talented men who have the potential to make you go crazy with their stinging humor.
HIP caught up with Osama Sami, the person behind LOL Waalay, to discuss the innovative idea in detail and what the online show has in store for the audience.
While describing why and how they came up with the idea, Sami said, "As soon as we saw the Facebook Live Feature, we thought it would be great to do an improvised show online. As improv is based on audiences' suggestions. We thought it would be something different if people can watch and send suggestions online from the comfort of their home."
Read: Karachi's new love affair with Improv Theatre
A lot of people from across the globe had requested the group to visit their tow for a live performance so this live stream show would certainly be a treat for them.
"And for all the people living outside Pakistan and who have been telling us that they want to watch us perform; the live streaming on Facebook will cater to those as well."
Osama Sami revealed that like their usual comedy routines, this time also they'll give a comic touch to our mundane daily activities, but at the same time, the group also plans to introduce some games and interact with the audience.
"Usually we give a comic touch to our day to day life activities and things close to that. Similarly, this time also our show will be based on those things along with some games and an interactive session with the streamers," Sami explained. "Another useful thing for the people is that it will be in Urdu so that they would easily be able to related to it."
One more interesting aspect to watch out for is that the show will not only have an online audience, but a live one too.
"We will also have live audience (around 100 people) on the set, which is another interesting thing that I would like to add."
Osama Sami said that people often confuse improvised shows with stand up comedy performances.
"Through this initiative, we are also intending to tell people what improv is and how is it different from stand up comedy." He further explained, "The show will clarify the difference between improv and stand up comedy since improv is one of the most popular forms of situational comedy.
Read: Shoaib Akhtar in talks with an Indian comedy show
Sami, while talking about his expectations regarding the show, said that he just wanted people to experience the first of its kind comedy improv.
"I just want people to login and stay tuned to experience the greatest improv ever. They should come, watch it, and support us."