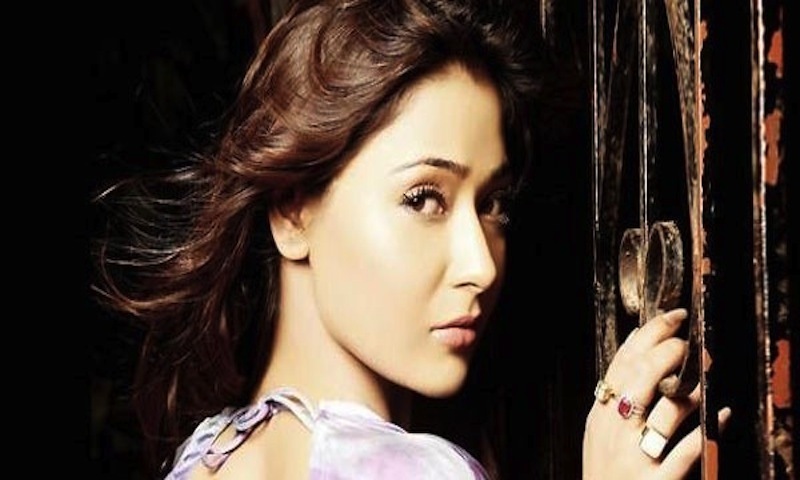 The actress will start shooting for the serial in August.

Sara Khan is a known television personality in India; after performances in soaps such as Bedaai, Ram Milayi Jodi and Susral Simar Ka, the actress became a fan favourite. She also made her Bollywood debut with Midsummer Midnight Mumbai and later went on to star in a small but prominent role in Hamari Adhuri Kahani, alongside Emraan Hashmi and Vidya Balan. She has hosted several shows as well and was also a contestant on the fourth season of reality show, Bigg Boss, but despite being a popular choice, she didn't last the show.
Recently, the model-turned-actress also made her debut on Pakistani screens with a telefilm titled Tujhse Hee Rabta, which has done rather well and allowed her to create a fan following on this side of the border too. In an exclusive chat with HIP, Sara tells us all about working in Bollywood, as well as on this side of the border, and her future plans .
Also Read: HIP Exclusive: Bollywood actor Om Puri talks about his upcoming Pakistani project
HIP: Tell us about projects you are currently working on.
Sara Khan: I've recently completed shooting for an international show in Taiwan called Desi Explorers Taiwan, which basically made me discover a part of the world that I was unaware of. It is absolutely gorgeous. I'm off to San Francisco next month for the World Film Festival and I have a fashion show lined up in the US as well, so I'm really looking forward to my trip.
I have a Hindi film lined up for when I come back to India. I am producing a film here as well, which is in its initial stages. I'm also coming to Pakistan early August for the shoot of a serial and am in talks for a film there. So I'm glad that I'm up to such amazing stuff – fingers crossed.
HIP: Not many actresses wish to work behind the camera, how did you get into production?
SK: Well I had no plans of going behind the camera or anything, but I just believe that if I can do it and I feel like doing it, I should go for it. Regardless of the fact that actresses don't often get into production, I'm actually enjoying it quite a lot. For now, I am producing ads for a Dubai-based jewellery brand, and as I mentioned earlier, I will soon officially announce my first cinematic production as well.
HIP: Who has been your inspiration and why?
SK: I never get influenced by anybody, and neither do I wish to look up to anybody and set my goal towards being like someone. I want to set my own example and identity, and become an inspiration myself.
Also Read: "I would love to do a film in Pakistan," says Vidya Balan to HIP
HIP: What's your take on the trade of talent, especially between India and Pakistan?
SK: I for one, am working in Pakistan and am looking into a few offers as well. And for me, it is as normal yet exhilarating as working in India is. I have been approached by Sana Shahnawaz for a serial and I am going to start shooting for it in August. I don't know how and why it is assumed to be a fuss for Pakistani artists to come work here or vice versa. Why is this question even being raised? Both are separate countries, but that doesn't restrict one to go where work is calling.
People with a negative mindset are just stopping from spreading talent, popularity and the growth of one's own economy. God never asks you to sit in one corner; there is no full-stop in art and I see no harm for actors to come here, or for us to go there. There are Muslims living in peace here as well, and we are warmly welcoming everybody.
HIP: Are you going to work in Pakistan in the future, keeping security and visa issues in mind?
SK: I did a telefilm last year for Geo TV called Tujhse Hee Rabta, and I received a lot of appreciation for it. And that's why I am being offered projects. I'm excited, since I have a huge fan base there and people have continuously asked me to work in Pakistan. And secondly, whenever I tell somebody I've worked in Pakistan, their reaction is more often than not very shocking. So it is in that spirit that I want to see and explore the country, and I'm sure it will be amazing.
Also Read: Yasir Shah talks 'Blind Love', Bollywood debut and a lot more!
HIP: A lot of Pakistani actors have crossed the border recently. Have you gotten an opportunity to view any of their work?
SK: I think Pakistani talent overall is doing well. They're creative and their content is very realistic. Having been part of a project, and more in the future Inshallah, I have received a lot of love and I'm truly overwhelmed. As far as actors crossing the border is concerned, I watched Fawad Khan's film Khoobsurat and I really liked his work. I got to work with Yasir Shah myself recently on Tujhse Hee Rabta and now he has become a family friend. Not only is he a great co-actor but also a great person to be in company of.
HIP: Rumours are that you and Yasir Shah are seeing each other. Is it true?
SK: Honestly, I'm an open book, I don't hide anything from my fans and the media. Yasir and I share a pure friendship and I wish to keep it that way. I'm highly against the idea of getting people together just because of the fact that they are from opposite genders and share a good bond. Rumours and controversies follow an actor like a shadow; even if you haven't done anything, there's always some speculation going on.
I don't deny the fact that I have dated a few people from the industry. I have shared a personal association with them, but I've always been open about it. I'm very much single at the moment and I am concentrating on my work. But you never know about what may happen tomorrow; as for now there's no such decision that I've taken so far. Whatever God permits.
Also Read: Abrar Zahoor talks 'Neerja' and Pakistan!
HIP: When the script demands intimacy, how do you ease off the scene?
SK: I play with my camera, and I don't see anybody else around me. I just like living the character and feeling its emotions to the fullest. If the story says the man standing next to me is my husband, I need to believe it; that way it comes out naturally. I just like believing that the cinematographer is not capturing me, but my character. So I just prefer fitting into my character's shoes perfectly.
HIP: You won widespread fame after your appearance in Bigg Boss. How was the experience?
SK: Honestly, I went in that house as a child and came out as a mature adult, getting to know life a lot better. After Bigg Boss, I started seeing myself in a new light, basically because you need a lot of patience for being there. Many of the contestants still try to act and pretend to be who they're not, but I was there as Sara Khan and that's all I had kept in mind.
My experience on the whole was obviously tremendous. It used to be a lot of fun performing some real tough tasks and meeting people such as Hollywood actress Pamela Anderson and the 'Great' Khali. I also made some great friends; one of which is Ashmit Patel, who has been a fatherly figure. So I'd say Bigg Boss was a life-changing opportunity.
Also Read: Indian reality TV is far ahead from ours: Adnan Siddiqui
HIP: Who has been your favourite co-star so far and why?
SK: I'd say my Bedaai co-actor Angad Hasija. We are the best of friends, and share a strong and beautiful bond. Working with him has always been a treat. Shooting becomes more like partying. And also Yasir Shah, he has been a brilliant friend, and creates a very comfortable environment for his co-actors to work under.
HIP: Final thoughts?
SK: I would just like to thank everybody who has appreciated and supported me throughout. I look forward to working in Pakistan, and accepting more love from all of you. I would also want everybody to concentrate more on my acting than the rest of the things and I will be waiting for your feedback. And of course, love me like you do!