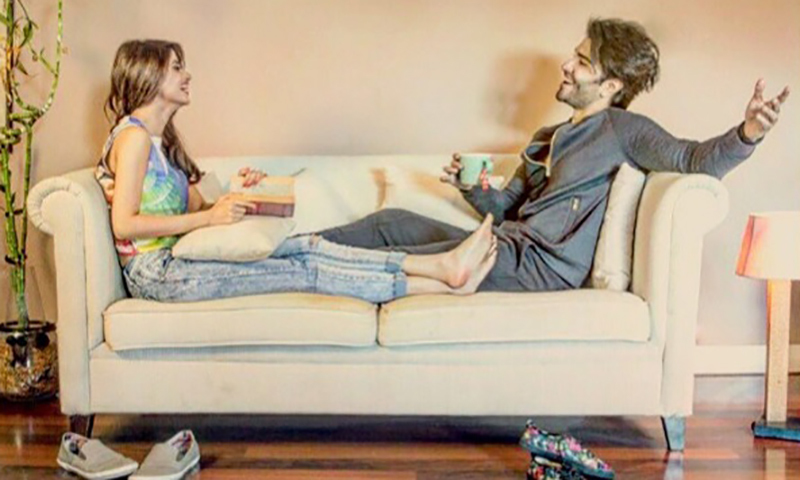 Ladies and gentlemen! The teaser for Sajal Ali and Feroze Khan's debut film is out and it looks intense, romantic, and a bit tragic. Here have a look.
While we were expecting Ali and Khan's debut film to be a lighthearted romance; it seems Anjum Shehzad had something else on his mind. The BTS images featuring the two had us pretty excited so now let's discuss if the teaser lived up to the expectations.
Read: First Look: 'Zindagi' looks 'haseen' for Sajal Ali and Feroz Khan in ZKHH
The edgy visuals coupled with the much talked about on-screen chemistry of the young duo; make this teaser one of the best ones we've seen so far. It is at par with teasers of Dobara Phir Se and Janaan; and these two created quite a stir on social media. Now let's see what this one manages to do.
Directed by Anjum Shehzad and written by Abdul Khaliq; the film promises to do well at the box office; especially because of the lead pair. The film is being released under the banner of Geo Films and is a joint production between afiq Ahmed Chudhary's Australian production company RC Films, and Mrs. Fahmeeda Abdul 's Kingfisher Films.
Read: Soch resurfaces with Zindagi Kitni Haseen Hai's music
While the visuals are pretty much self explanatory; Feroze Khan's dialogue, "Yaad hai pehli baar hum bhi aisi hi ek baarish mein mile thay" and Sajal Ali, "Tum jantay nahi mein kaun hoon!" give us an insight into their characters. He seems to be a hopeless romantic while she sounds like a pompous brat.
Read: Everything you need to know about Feroze Khan and Sajal Ali's debut film
According to the teaser, life will not be happy and shiny for these two. Khan will grow a beard, an unkempt one that is, after a tragedy which forces them to roam about in Makli's graveyard. One question though, who's the kid that drowned?