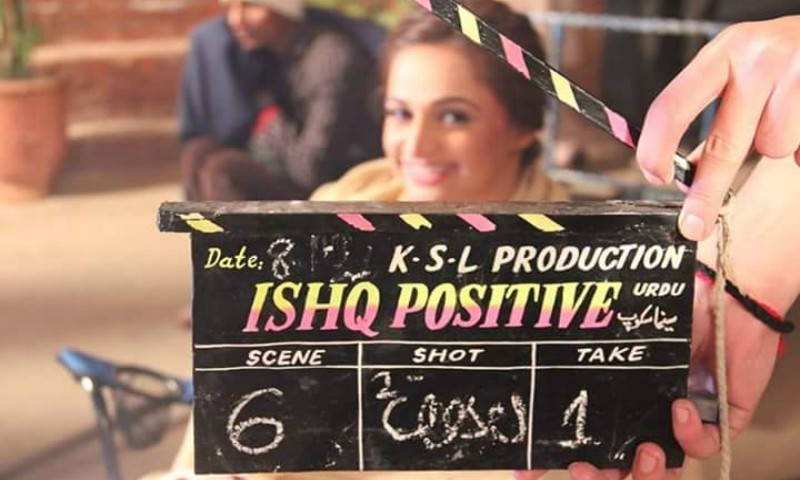 The actress promises a dose of emotions and comedy in her directional debut that focuses the lives of two couples.

Known for her poise and elegance, yesteryear's most renowned actress, Noor Bukhari has undoubtedly been one of the most sought-after actresses of the Lollywood era. With back to back commercial hits back in the day, such as Mujhe Chand Chahiye, Zill-e-Shah amongst several others, Noor truly came, saw, and conquered the industry with her stellar performances and incredible screen prowess.
The actress, who has also recently ventured into hosting; has no plans of slowing down as her directional debut, Ishq Positive is all set to release nationwide on the 22nd of July. The film that stars the diva herself along with Hamid Ali Khan, Saud, Durdana Butt, Shafqat Cheema and Saim Ali is a rom-com, which is set to hit the box-office under the banner of 'Crew Films' and distributed by 'Hum Films'.
Also Read: Noor Bukhari's 'Ishq Positive' set to release on July 22nd
In a conversation with HIP, Noor Bukhari exclusively opens up about her film, the obstacles she had to face, personal life and an official announcement about Bollywood actor, Sonu Sood of Happy New Year fame, being a part of the film's cast. Read on to find out why Ishq Positive might make it to your 'must-watch' list this summer!
Also Read: Ishq Positive's first look finally out and it's appealing
HIP: Ishq Positive is nearing its release. How would you describe the whole journey?
Noor: "It was tough to say the least. I was never aware of the hurdles one may face behind the camera. I used to get pampered on sets, but now it was the other way around for me. Some people had left the project and many thought it had been shelved, but we never lost hope. When the promo was showcased at the 'Hum Awards', actors had literally come up to me backstage and their response was beyond overwhelming.
So I'm nervous, but I'm really excited as well. After putting in efforts for nearly two years, I can guarantee that you won't get bored at all, there's not a single dull moment in the whole film and it's a light hearted feel-good entertainer that will hopefully be able to connect with the audience."
HIP: How difficult was it for you to tackle direction while being the female lead?
Noor: "Yes, it was difficult but I had great fun tackling with both the jobs. When we had another director (Sangeeta), I had only concentrated on my acting but after she had left the project, the responsibility landed on my shoulders and I had to cut a lot of my scenes. But fortunately, amongst all the characters I've done so far, this will by far be the best. It gave me an opportunity to show my true skill and also reflect who I am in person. My character is that of a woman who is emotional yet full of life, so I hope the viewers appreciate my work."
Also Read: Pakistani model Hira shares her IIFA Adventure
HIP: Tell us a bit about how you managed to rope in Indian actor, Sonu Sood for a cameo?
Noor: "Well Sonu was a friend of Wali's and seemed interested to work with us and hence, we shot a guest appearance of his at Film City (studio) in Mumbai for the film. Personally, I think it is huge for a mainstream Bollywood actor to appear in a Pakistani movie, especially after his Indo-Chinese film with Jackie Chan. For now, I wouldn't want to disclose much about Sonu's role, but I'm sure all his fans from both sides of the border would like his work.
We also had a few Indian technicians on board who have previously been associated with a few major Bollywood productions. And I must say, they all are extremely professional and never compromise on their work."
HIP: What is Ishq Positive basically all about and what can one expect from the film?
Noor: "Well Ishq Positive is basically a love story of a couple parting ways, so in a way it focuses on two couples and is somewhat like a love triangle. The film promises a solid dose of emotions, comedy, romance and a lot of fun. I do believe the film has nothing extraordinary to offer, but will surely make an enjoyable watch at the cinemas. It has a lot of surprise elements in store as well, and it manages to cater all sorts of cine-goers.
There will be an antagonist, and there will be a lead pair, as I said, there's nothing out of the ordinary, but it is the treatment and the way we have presented it, that makes it a unique film. Our soundtrack is brilliant, which meets at par with any A list Bollywood film. And with this project I would also like to prove that women are capable of doing anything, we hardly have female directors and with Ishq Positive I wish to raise the bars for films made by independent women."
Also Read: Music launch of movie 'Ishq Positive' was a fun-filled event
HIP: Many have accused of Ishq Positive to be an old-school 'Lollywood' film. Your thoughts?
Noor: "Yes, I have been hearing a lot of stuff (laughs). People may believe that because I and Saud belong to that era of the film industry. But a few of our crew members from India had seen a few rushes, and they absolutely loved it. 'Hum Network' is never satisfied by anything less than the best, let alone a film, and for them to buy Ishq Positive was an honour for myself and the whole team.
I respect all opinions, and consider criticism as an opportunity to identify what's missing. But it's a complete film that gives you a cinematic feel instead of a drama serial on the big screen. You will witness completely different characters, who will lighten you up in almost every scene. And after watching the movie yourself, I can assure you that your perception will change."
Also Read: Badal - Revenge of the Worthless finally gets a release date
HIP: The film will be competing with Revenge of the Worthless, what is your take on that?
Noor: "I don't think Ishq Positive is competing with any film at all. In fact, I am also playing a short role in ROTW. When Jamal Shah had offered me to portray the true story of a teacher who was shot dead by the Taliban, I had instantly felt the desire to do the film and even though I haven't seen it, I'm sure it will be nothing short of amazing.
Coming back to the question, I will promote ROTW as well. I think we can't compare our own films with each other. We must support Pakistani cinema on a whole. Apart from which, both the films have opposite flavours and genres. Ishq Positive is an entertainer whereas ROTW is based on true incidents that had took place during the Swat attack. I would just recommend to enjoy both the films for their own essence."
Also Read: Noor Bukhari back as HUM TV host for JPJ in the absence of Sanam Jung
HIP: What other projects are you currently looking into?
Noor: "I'm talking to somebody for another star-studded comedy feature film. I'm not too sure about whether I want to do it or not, since Ishq Positive has taken a lot out of me and I tend to take a well-deserved break right after its release (laughs). I'm going through three film scripts that I've been offered to direct, but since they are in their initial stages, I would prefer not to speak of them as yet."
HIP: How are you managing personal life with your career?
Noor: "You have no idea (laughs). Women, I believe are multi-tasking beings created by God, who can run their house, take good care of their family and manage to build a successful professional career as well. And that's exactly what I'm doing. After my daughter, Fatima sleeps, I start working on the film's marketing. And since everyone in our house fasts, it's actually quite an alien thing to leave a fast without any logical reason (laughs). But I'm managing it all quite well by the will of God."
Also Read: 'Yalghaar' and 'Ishq Positive' to release under Hum Films
HIP: Final thoughts for all the HIP readers?
Noor: "I would just say that I have felt very disappointed in my country post Amjad Sabri Sahab's horrific murder in Karachi. I would just request all the politicians to please wake up and save our country from drowning like this."