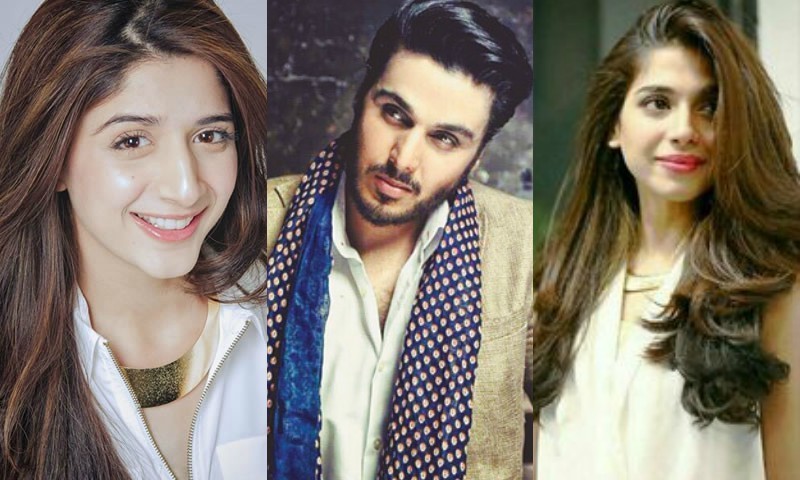 It is widely believed that television actors who turn into film stars should not - and they generally do not - appear on small screen once they've made it big (figuratively and literally). Hence, we cannot help but praise actors who decide to continue to serve the medium (television) which made them the stars they are today.
Mawra Hocane and Sonya Hussyn are two such actresses who are doing drama serials despite their successful film debuts. Hussyn's debut film, Moor, almost made it to Oscars while Hocane was praised for her acting and screen presence in Sanam Teri Kasam. A source close to the production team of upcoming TV show, Haasil, confirms to HIP that Mawra Hocane, Sonya Hussyn, and Ahsan Khan have started shooting the drama serial which will go on air on Geo Entertainment this Fall.
Read: Adnan Malik, Mawra Hocane & Mira Sethi gear up for 'Gypsy'
Sonya Hussyn, while speaking to HIP, shared that she plays the antagonist in the upcoming drama serial, but her character's evil streak manifests itself after an unfortunate event.
"My character Rimsha in Haasil can be termed a negative one," says Hussyn. "Her blunt - bordering towards rude - arrogant personality can be attributed to a horrible event that took place in her childhood. It was a challenge for me to play a character as grey as this one and it has surely helped me grow as an actor."
Read: HIP Talk: Sonya Hussyn talks upcoming film, parallel cinema and item songs
The serial gives out a number of social messages, Hussyn said while describing Mawra Hocane's character.
"Mawra Hocane plays the character of my college-mate, who is incredibly religious, but at the same time she's very judgmental," said Hussyn hinting probably towards religious intolerance prevalent these days. "The story conveys several messages and mirrors the society; especially the way it looks at females who have suffered a lot in life."
The source close to the production concurred that Hussyn plays a bold, slightly cynical girl and Hocane essays the role of a calm and sensible girl albeit a judgmental one. These two girls share a past, and eventually it resurfaces to haunt one of them in the present.
Haasil is not just about one revengful female (Sonya) hounding a poor soul (Mawra); the serial aims to educate the masses by tackling issues prevalent in our society.
"I can easily guarantee that with this serial, not only will our fans see us in completely new avatars, but will witness a meaningful journey that is completely opposite to the usual saas-bahu sagas".
Read: Sakina Samo, Ahsan Khan and Meraj Uddin collaborate for Sukh Dukh
Speaking about her camaraderie with the entire cast - Mawra, Ahsan Khan, Humayun Ashraf, Lubna Aslam, Humaira Ali, Mizna Waqas and others - Sonya Hussyn said:
"It was fun working with Mawra. She's not just a great friend but also a great person to be with. The script demanded me to slap her at a certain situation, and instead of making it awkward for both of us, she continuously made us laugh (chuckles). It was also a wonderful experience working with Humayun Ashraf and Ahsan Khan; both of them have done a brilliant job in their respective roles."
Produced by Raza Ali Baig, Ray Khan, and Zayed Sheikh, Haasil revolves around Ahsan Khan, Sonya Hussyn, and Mawra Hocane. While Khan and Mawra Hocane belong to affluent families, Sonya Hussyn belongs to a humble background, and this difference in status coupled with her deviant mind set creates conflict. Let's see if the conflict resolves peacefully in the end or it calls for a major sacrifice.