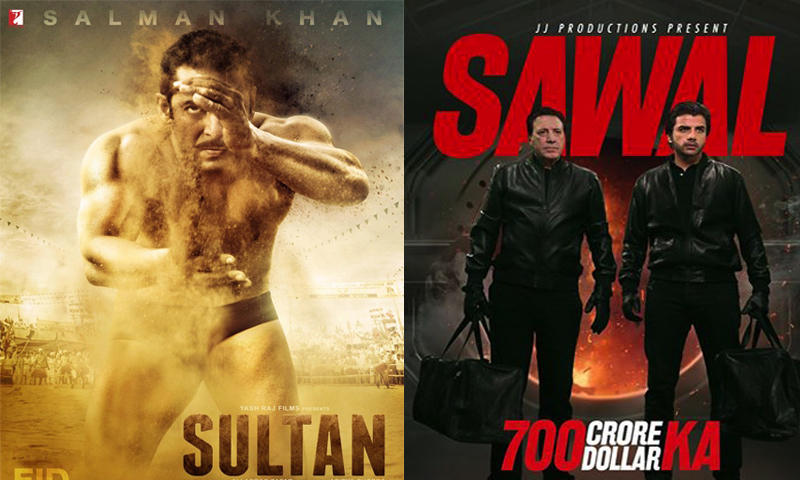 Sultan seems like the only major hit this Eid as all major Pakistani releases have shied away from a clash.

Eid seems to be the ideal time to release a movie – it's when families and friends get together for entertainment. As a result, the season has become a rat race. But with Bollywood denizens locking the dates well before time, every filmmaker has to be extra cautious about releasing their films and keep an eye out for which films will be screened simultaneously. While there were a number of films set for release this Eid as expected, it seems a lot of filmmakers have decided to back out and hold their movies for release for a later (less competitive) time. Sultan, a Salman-Khan starrer which is expected to be a blockbuster and is almost sold out in advance, is releasing and so lots backed out including Blind Love; Sawal 700 Crore Dollar Ka was the only brave one that still stands strong and will release this Eid as decided.
So the question holds – which film are the movie-goers going to watch?
Truth be told, a film like Jawani Phir Nahi Ani that made profit of approximately 30 crores could have been great competition for Sultan. However, Sawal 700 Crore Ka just doesn't seem good enough for the battle at hand. With old school, Bollywood style action, less relatable star cast and girls merely for the purpose of glamour, the release of this movie comes across as a mistake alongside the expected blockbuster.
HIP got in touch with Mohsin Yaseen, marketing manager of Cinepax and asked which movie will do better. "Aap ko kya lagta hai?," he said laughingly. "Sultan is 90% sold out everywhere. Although I have not seen the sales of Sawal 700 Crore Ka but the problem is that they have done no marketing anywhere. They have an advantage that it is not going to be pirated on TV like Indian films but Sultan will still make much higher profits."
But will Sultan manage to break Pakistan's highest grossing film ever, Jawani Phir Nahi Ani's records? "Everybody is saying it will but it really depends on how it is. Pakistani movies aren't pirated and people go to watch them in the cinema so they have that advantage," Yaseen responded.
READ: Sawal 700 Crore Dollar Ka ready to battle it out with Sultan
Sultan seems like the only major hit this Eid as SRK's film Raees left the race, long time back. Not out of fear though, of course. Blind Love was also set to release this Eid, and earlier Ishq Positive and The Revenge of the Worthless were also expected on Eid, but while the former shied away from stiff competition, the latter got delayed and had to postpone the release.
Even if Blind Love did choose to release on Eidul Fitr, it wouldn't have been able to offer much hope. The movie seems to regress the industry back to the tacky Lollywood films of the '90s. With nonsensical action and unappealing humour, this movie has nothing that would interest the viewers, unless you're into item songs like 'Butter Jawani'!
On a different note, according to recent reports, due to no government support and protection for local releases and with cinema-owners refusing to withhold international releases this holiday, film-makers have had to push their release dates ahead. The Indian government took every step to ensure that Bin Roye should not be released at a specific time. Why can't our government do the same to support our vulnerable and developing film industry?
Sultan is being released across 75 screens in 55 cinemas, a number slightly lower than that of Bajrangi Bhaijaan and JPNA that were released across 80 screens. Salman Khan has a big fan following in Pakistan and usually leads the market during this time around, so it is expected that his film will sweep competition as there really isn't any major threat.