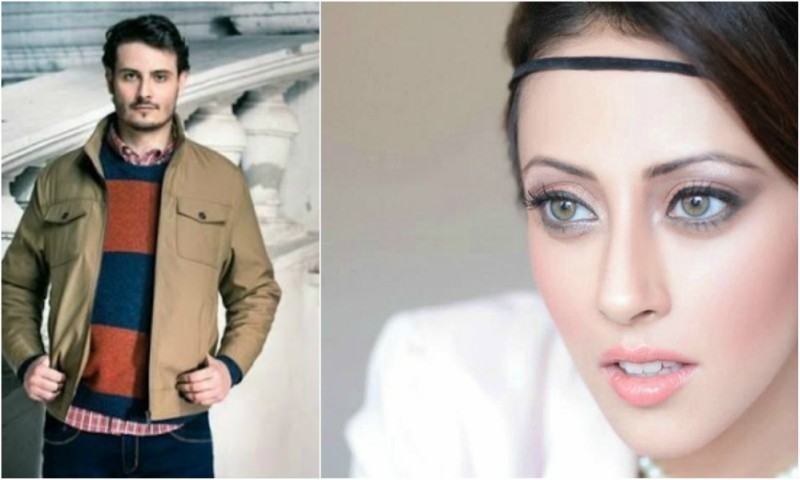 Ainy Jaffri and Osman Khalid Butt speak to HIP about all; their roles, experience and why we must lookout for the film.

Director extraordinaire, Haissam Hussain of Dastaan, Dur-e-Shehwar and Aunn Zara fame is all set to debut on the silver screen with Sadia Jabbar's production, Balu Mahi. A light-hearted, romantic-comedy that stars YouTube's funny man, Osman Khalid Butt, the alluring Ainy Jaffri and the ravishing 'Lux Style Award' winning model turned actress, Sadaf Kanwal.
While both the leads are new to the world of cinema, they have little experience in it. The ever-dapper, Osman Butt was seen in fictional horror Zindahkhana and socio-satire, Slackistan. He has also lent his screenplay and script to IKR Films' ventures, Siyaah and the forthcoming Janaan. Whereas the gorgeous Ainy Jaffri played a supporting character in the commercial success, Main Hoon Shahid Afridi.
As the shoot for Balu Mahi's second spell had just recently winded up in the northern regions of Pakistan, particularly Hunza, we thought of catching up with the leads of the film as they give us an insight into their characters, all that went on-sets and what all they are currently up to.
Sit back and read on to know why Balu Mahi is an extravaganza to look forward to this fall:
Also Read: Do you want to know what Osman Khalid Butt is up to?
I start the conversation with asking both, Osman and Ainy to comment on their respective characters, Balu and Mahi's characteristics. Osman, who had an opportunity to test his range as a multi-faceted artist, since his character Balu demanded a lot more than his usual snooty characters on television, found the portrayal a challenge in itself.
"Bilal aka Balu, on paper appears initially to be a very reserved, humorless character but is, in fact, quite layered. There is a lot of subtext behind his stiff exterior, which was a challenge to portray honestly," Butt asserted.
On the other side of the spectrum, Ainy believes her character, Mahi, mirrors the young Asian women, especially in Pakistan and can become an influential figure once the film is released. She claimed:
"Mahi is amazing. She evokes awe and respect. She's tough, goal driven, full of a raw energy and emotion that is extremely infectious and sucks you into her world. She's brutally honest and absolutely fearless. She could be a role model for young girls. If I have a daughter, I'd want her to be a lot like Mahi."
Also Read: Second spell of Haissam Hussain's Balu Mahi wraps up in Hunza
In Balu Mahi, which is Osman Khalid Butt's first commercial film as an actor, he not only showed signs of apprehension when it came to his performance as he entered a whole new boundary as an artist, the actor also seemed to have thoroughly enjoyed the grueling shoot. He stated:
"It was, first and foremost, an incredible learning curve. I felt I had to unlearn a lot and start from scratch far as acting goes. The filming process itself was at times maddening, but most of the times incredible fun also, because of a great team both in front and behind the camera working for it. I have discovered during the shoot: one hairline fracture, terrible sunburn, several accidents of varying magnitude and later, that I am quite accident-prone (laughs)".
Discovering her diverse abilities of being able to mould herself in accordance to the aspects that create a character, Ainy Jaffri has mostly been seen essaying the cliched damsel in distress roles on television, whereas the medium of 'film', especially Balu Mahi has given her a chance to shift some gears.
"This is my first film in a lead role and so a completely new and invigorating experience. The shoot itself has also been extremely tough with long, hard hours. There have been cuts and bruises and cries of pain, but with each of those, mini victories have followed. I have and am continuing to push myself to achieve things I didn't know were possible and am extremely grateful for the opportunity to do so," Jaffri disclosed.
Also Read: Up close and personal, with Balu Mahi's Ainy Jaffri!
Speaking of their co-actors (each other and the supermodel Sadaf Kanwal to be precise), Jaffri and Butt were all praises when it came to their camaraderie and chemistry off-screen.
"It's been wonderful working with Osman, he's sharp, witty and smart and I can count on him for advice and honest feedback," Ainy Jaffri responded when asked regarding her experience sharing space with her co-stars. "I've just had a few scenes with Sadaf but she's warm and instantly likeable, who seems to have picked up acting very easily. They're both immensely talented and I feel lucky to be working with them," she added.
Ainy Jaffri also revealed that she had seen some of Khalid Butt's YouTube parodies and has been a fan of his ever since. And the story with Butt isn't different either, with just one project together, Osman Khalid Butt went completely gaga over Ainy's commendable work in the film. Here is what he had to say about Ainy Jaffri:
"I had seen some of Ainy's work on television before shoot began, but nothing prepared me for the absolute powerhouse of a performer she'd turn out to be. Behind the scenes shenanigans with her involve a lot of songs sung off key, a lot of off-color jokes and me generally grossing her out with. my particular brand of humour," Osman explained. "This amid all the chaos and intense preparation for our scenes, of course. It has been an absolute pleasure working with her, I've certainly grown a lot as an actor during the course of filming and specifically in our scenes together."
Also Read: Supermodel, Sadaf Kanwal all set for her debut film, 'Balu Mahi'
And that's surely not all, Osman Khalid Butt also seemingly impressed by Sadaf Kanwal's professionalism- considering Balu Mahi being her acting debut, commented that having shared space with her was nothing short of an absolute delight for him.
"Sadaf came to our set in the second spell like a breath of fresh air; quirky, honest, unafraid of voicing her opinions, and an absolute natural in front of the camera despite this being her first ever venture. She's a positive presence on the sets; like Ainy she's always up for a laugh, always the professional, always first and foremost concerned about acing her scenes," Osman added.
Also Read: Osman Khalid Butt tells HIP what's next
Having worked with director, Haissam Hussain the third time after hit serials such as Aik Nayee Cinderella and Aunn Zara, Butt can't get enough of being directed by a "perfectionist" like him. He uttered:
"Haissam can be described by just the one word 'perfectionist'. I've had the honor of working with him in three projects now, and I credit him not just for launching my career but also honing me into the actor I am today. His mood on set is mercurial, I'll admit, but no one knows the job better than he does. He forces you to delve deep into your character's psyche and extracts a sincere, multidimensional performance from even the featured extras".
Being a first for Ainy Jaffri, she happened to have nothing but great words to say about her director and the team.
"I am working with the best team one could hope for. Haissam is intelligent, tough and uncompromising and I think that's how it should be given its his first film too. I am blessed to be working with a director who wants to really push the envelope and doesn't cut any corners," the Aseerzaadi actress pronounced.
Also Read: To me, ratings frankly don't matter: Osman Khalid Butt
Coming back to Osman Khalid Butt, the heartthrob believes that Haissam Hussain's true calling had always been the cinema. With the right time, the right project (and of course the right actors), Hussain will surely be able to prove his mettle on the big screen.
"It is fascinating to observe his genius firsthand. I have always maintained, since our first project together, that Haissam was made for the big screen. His understanding of cinema and its dynamics are, for lack of better word, incredible," Osman added.
Also Read: Nadia Jamil offers voice modulation to the cast of 'Balu Mahi'
Shifting from theatre to television and from television to films is no piece of cake. Similarly, Osman had also been careful when it came to the underrated 'screen presence'.
"I believe in screen presence; we've all been starstruck when our favorite actors appear on screen; their swagger, the way they deliver even the cheesiest of dialogues and make them seem weighty; one smile, one casual cocking of the eyebrow and you're hooked" he said "Without screen presence even a powerful performance is rendered bland."
However, there were no such observations when the shift took place. Or as Osman Khalid Butt puts it, there was a lot of "unlearning" to do. He further told:
"Far as precautions go, no, not many except I had to be more aware of my body language because the frames are wider than they are in television. Also during an intense workshop conducted by Nadia Jamil before shooting began I discovered a lot of the 'fallbacks' I resort to while acting. Like I mentioned before, there was a lot of 'unlearning' to do before the cameras rolled."
Also Read: Osman Khalid Butt and Ainy Jaffri to star in the movie 'Balu Mahi'
As we almost reach the conclusion of the conversation, I ask them what makes Balu Mahi a film we should anticipate, await and mark our calendars for its release. First, Osman quite confidently commented on all that one can expect from the rom-com extravaganza.
"A quirky yet intense love story with a great (not to mention socially relevant) message; visuals that will make you fall in love with this beautiful, beautiful country all over again, props to our DOP, Saleem Dad for his phenomenal work! Perhaps the best female performance seen thus far in modern Pakistani cinema with Ainy Jaffri's Mahi; a host of eccentric characters that'll leave you in splits. In a nutshell - a great time at the cinema."
Ainy wished to keep the synopsis under wraps but revealed that how a boy-meets-girl story will unfold to become a youthful coming-of-age film. She stated:
"I am not allowed to disclose the plot but will just say that it is a romantic comedy where two people (who are poles apart from each other) meet and embark on an epic adventure, a journey of self discovery and love."
Also Read: "I would've been married by now, if I wasn't an actress," says Maya Ali
Osman Khalid Butt is currently going through a few scripts of drama serials and is also looking into his second cinematic venture this year. However, besides Balu Mahi, the actor will be seen romancing Maya Ali in Haseeb Hasan's next titled Sanam, also starring Hareem Farooq, Hina Bayat and Abid Ali. Shedding some light on his delayed rom-com film to be directed by ace ad filmmaker, Saqib Malik, Butt clarified:
"Maya (Ali) and I were both approached for a film Saqib Malik was planning last year. However, that project got pushed back to make way for another film Saqib is planning as his directorial debut. As of now, Maya and I have not been signed for any film together."
Also Read: Silah: A story of a man getting intimidated by wife's success
While there's no update on Ainy Jaffri's much prolonged music-oriented serial, Silah, that features herself alongside Farhan Saeed, the actress is gearing up for Rashid Khawaja's heavy-budget telefilm titled Life Story starring Faizan Khawaja, Zeba Bakhtiar and Sajid Hasan against the Meri Behen Maya famed actress.
Ending the delightful, or a rather hysterical tete-a-tete with both these young and zealous actors, both of them confirmed that the third, and final spell is set to go on floors mid-July in Lahore, that includes the shoot for two songs and a few remaining scenes. The cameras are planned to stop rolling by August, with a tentative theatrical release sometime in the first quarter of next year.