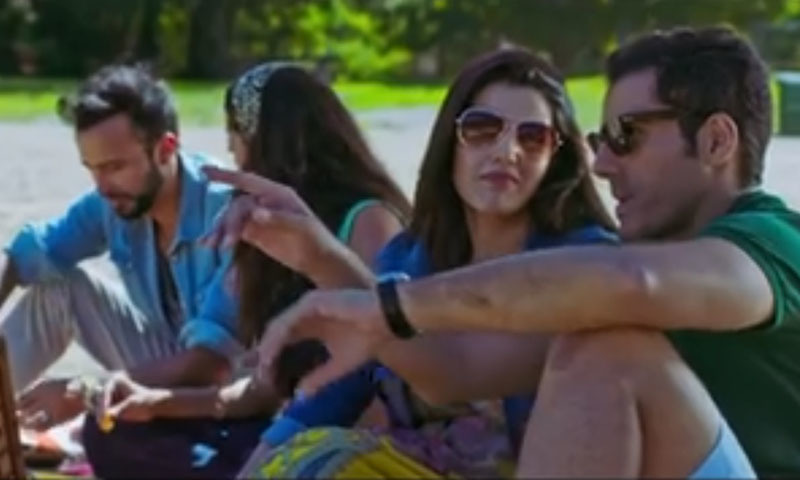 Does the trailer compel us to go watch it? Most definitely.

It is raining films (and that too great ones) this season as we see one film after entering our lives. It all started with Actor In Law, then came Janaan, Zindagi Kitnee Haseen Hai and now Dobara Phir Se. Mehreen Jabbar's directorial venture was alls et to hit cinemas this Eid, but things didn't according to plan and now the film is expected to release sometime in August.
Let's hope the release date is near because we can hardly wait to see the full film after watching the trailer.
The trailer featuring multiple stories - from Ali Kazmi and Sanam Saeed's love story to Hareem Farooq and Adeel Hussain's hate story - released on Eid and has left us quite intrigued. The trailer promises a feature film which persuades us to go book the ticket in advance. Producer Salman Iqbal, and co producers, Mehreen Jabbar and Jerjees Seja, bring us an emotional roller coaster ride with DPS.
The trailer allows us a sneak peek into lives of a number of individuals - Ali Kazmi, Adeel Hussain, Sanam Saeed, Hareem Farooq, Atiqa Odho, Tooba Siddiqui, and Shaz Khan. While Kazmi and Saeed portray a happy couple who have it all right, Adeel Hussain portrays the character of a man who's scared of commitments.
Read: And we present to you the first look of 'Dobara Phir Se!
The sound tracks sound pretty neat and the dance moves will surely make it to upcoming mehndis and dholkis. In short, the film has romance, music, and a life lesson. What is may lack in is in comedy, but we have Janaan and Actor in Law to satiate that need.
How will Adeel Hussain and Hareem Farooq come to terms with their broken marriage? Will Sanam Saeed and Ali Kazmi do anything to save their friends from an unhappy life? Most importantly, why are all these desis creating an havoc in New York?
Read: On the sets of ARY Films' 'Dobara Phir Se'
Dobara Phir Se is shot in Karachi and New York and is not your usually sickeningly sweet love story. Does the trailer convince us to go watch the film? Absolutely!