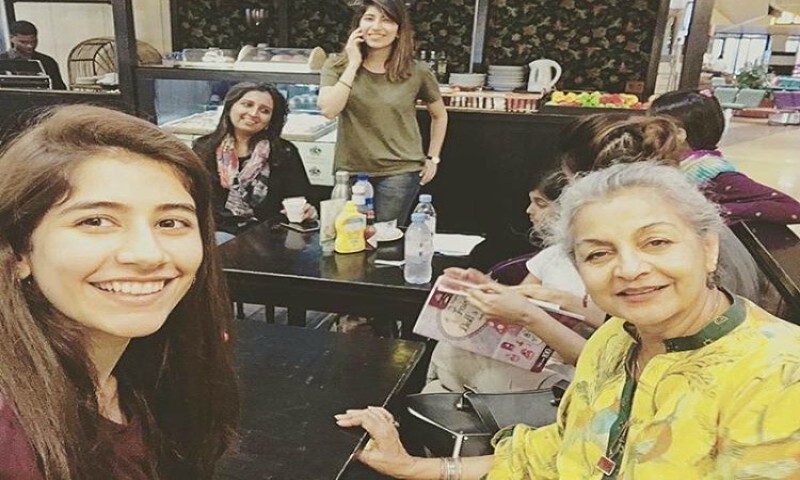 The recently unveiled poster has the male lead hidden behind Syra Shahroz.

Even though we've seen her less on our TV and more on billboards and editorials, Syra Shahroz' fan following is no less than a top celebrity. There is something about her infectious smile that instantly connects with the audience. In her first drama serial, Mera Naseeb, the starlet proved to be a promising addition to the world of television and though the remake of Tanhaiyaan did not receive much acclaim as its predecessor, Syra Shahroz' performance was appreciated. The actress is now set to try her luck on the big screen with her debut film, Chalay Thay Saath; the first look of the film recently made it to social media.
Read: Syra Shahroz's debut film 'Chalay Thay Saath' is about finding love
Directed and produced by Umer Adil and Beenish Umer, Chalay Thay Saath features Behroz Subzwari and Zhalay Sarhadi apart from Syra Shahroz. However, there is still no word on who is going to be the male lead and the first look of the film has left us further intrigued. Shahroz looks fresh, sitting on the branch of a tree, amidst the picturesque landscape of the Nothern areas but it's her hidden co-star, sitting right behind her, that has us both excited and curious.
In earlier interview with HIP, Syra revealed what the movie is all about while keeping the name of the male lead under wraps.
"Chalay Thay Saath is about finding love, even when you have lost everything. It's about forgiving and moving on in life. It is kind of a travelogue which takes you across the scenic areas of the country and into the world of our characters as they find their way around life," she said.
"My character is of a headstrong doctor, who is heading back home with her friends, and she's also on a personal journey of knowing more about her past and future," Syra added.
Read: Syra Shahroz is all charged up for debut film, 'Chalay Thay Saath'!
Word has it that a Chinese actor will play Syra's love interest. The film, that recently wrapped up its shooting in Hunza, is slated for a January 2017 release.