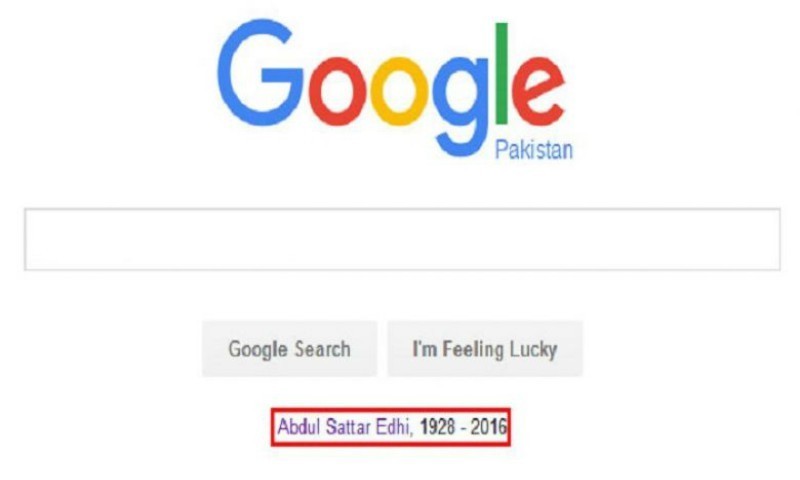 'Abdul Sattar Edhi, 1928 - 2016' appears on the home page.

Abdul Sattar Edhi was one of the greatest humanitarians to have ever lived. Along with his wife Bilquis, he was renowned across the globe for his honesty, dedication and altruism – he believed in helping the needy, orphans and elderly irrespective of their religion, caste or creed. As soon as the news of his tragic passing spread, tributes began to pour in and every Pakistani instantly knew a living saint was lost. The White House issued a statement remembering the Angel of Mercy with fond words and Google also paid tribute to the legend – they highlighted his name, date of birth and death on the home page.
READ: Humanitarian Abdul Sattar Edhi passes away in Karachi
The website placed a link 'Abdul Sattar Edhi, 1928 - 2016' on its main page, which when clicked upon, leads the user to another Google page revealing top search trends of the great human being. The user is able to surf his/her way to find hundreds of news stories, social media posts, images, videos as well as other media content related to the philanthropist.
Edhi passed away at the age of 88 in the late hours of Friday; since 2013, he had been suffering from kidney failure. Even though former president Asif Ali Zardari offered to pay for his treatment abroad, Edhi very politely refused to accept the gesture and continued to be treated in his own country.
Google does not always pay tribute to welfare/social workers but the self-sacrificing life of Edhi did demand this remembrance – he was also nominated alongside Malala Yousafzai for the Nobel Peace Prize.
READ: The world mourns Abdul Sattar Edhi
Apart from Edhi, Google also paid tribute to Ustad Nusrat Fateh Ali Khan in 2015 on his 67th birthday with a doodle. The website is known for honouring only legendary figures and commemorating historic events with its unique ways (doodles or special links).