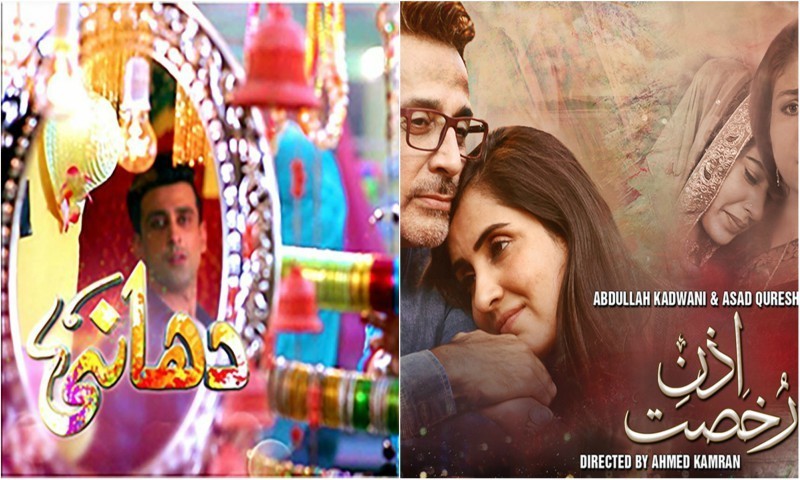 Dramas like Izn-e-Rukhsat, Dhaani & Haasil appear to be good but will they have an equal impact like their predecessors?
With channels galore, television dramas have really picked up pace in the last few years. It's no longer just about one PTV television show which has a profound storyline while the rest follow mediocre scripts. Every channel has numerous brilliant plots and the level of competition is ever increasing which in turn means quality is now everything. With dramas such as Kash Main Teri Beti Na Hoti, Meri Zaat Zarra-e-Benishan and Mirat-ul-Uroos, which focused on societal problems, GEO has always been known for hard-hitting, mindboggling concepts. But recently, it appears whatever seems to sell more, is what producers want to create – it's not about thought-provoking subject matter but rather about commercialism.
However, there are some new shows (Izn-e-Rukhsat, Dhaani and Haasil) on GEO, and here we analyse whether or not they will be able to create the same magic the channel was able to create before.
Read: Sonya, Mawra, and Ahsan to appear in drama serial Haasil
Izn-e-Rukhsat is the story of a girl named Sundus who has created a false image of a perfect life to the world, and her love interest, Haider. She is dumbstruck when he tells her that his mother wants to meet her parents because she now doesn't know how to cover up for all the lies she has told him about her family. Sundus always feared this day would come when all her lies would be revealed and she wouldn't know what to do. Life has been unfair to her, but to the world, she painted another image – she portrayed that she has everything from a successful family life to a sophisticated, affluent lifestyle. But in reality, she has nothing but misery and pain.
Dhaani, on the other hand, is about a girl named Dhaani who is a happy-go-lucky girl who loves life to the fullest. She lives with her aunt and is a fan of vibrancy and bright hues, and this reflects in her warm and friendly demeanour. She is also a little timid and introverted, and this attracts the attention of Sameer – son of a business tycoon named Seth Rehan. The plot takes a turn when Dhaani takes Sameer's advances as a sign of love and asks him to send a proposal, and he declines by saying he has always considered her just a friend.
While both these shows are women-centric, Haasil seems to centre around a love triangle between Ahsan Khan, Mawra Hocane and Sonya Hussain. Only trailers for this show are out, so we aren't sure what to expect just yet.
With what we've seen and heard so far, none of these storylines seem to present anything out of the box or any kind of novelty. The question now arises whether the channel's production team will be able to maintain the success levels of their previous shows or not.
Read: Geo TV's 'Heer' is the story of an independent village girl
Izn-e-Rukhsat airs every Monday on Geo TV at 8:00 p.m. while Dhaani is on every Tuesday at 8:00 p.m. No dates for Haasil have been announced yet.
Stay connected to this space to find out more about these serials.