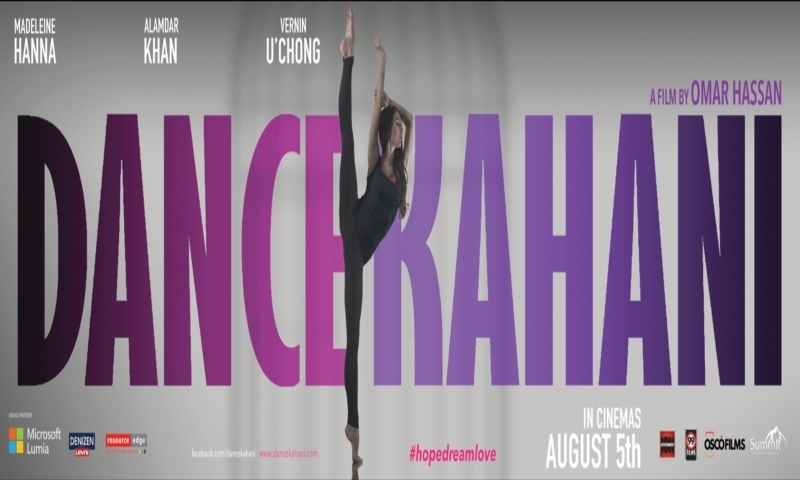 The film seems like a welcomed respite from the clichéd narratives we are so sick of.

The new wave of Pakistani cinema explicitly highlights the differences in movies that were produced years ago to the ones being made today – and there's a massive distinction. Initially, it was all about damsels in distress in bejeweled ensembles (teary-eyed) waiting all night for their knight (like the only aim in life was being with your man!) Today, these damsels have transformed into divas – they're fashionistas and style icons, their dance moves are on point and they are the epitome of glitz and glamour. And this is exactly what we see in Dance Kahani's recently released movie trailer.
READ: Dance Kahani's 'Thoughts of You' is super romantic
Starring newcomers and an array of budding talent such as Madeleine Hanna, Alamdar Khan, Vernin U'chong Abdul Ghani, Shezi Khan, Abdul Rahim, Ramiz Law, Irfan, Ali Parkour, Imran Shaukat, Rahid Sami, Sabiha Zia, Niggy Imtiaz, Talat, Barkat Ali, and Asifa Ataka Sajjad Khan, the film focuses on a topic that has long been ignored in the Pakistani film industry – street dance.
Akin to what we might have seen in Hollywood's Step Up series or Bollywood's Anybody Can Dance, the film seems like a welcomed respite from the clichéd narratives we are so sick of. However, that being said, Dance Kahani is no 'Kahani' without flaws. Whilst the dance part of the trailer seems to be an eclectic mix of hip-hop, ballet and street dance enough to gain one's interest - perhaps due to a lack of such films being seen in the past - the acting is a mish-mash of bad dialogue deliveries and a seemingly rushed script. Add up all of that into the classic cliché of a so-called gori coming to Pakistan turning all heads and leading everyone into the perfect crew, and you've got yourself Dance Kahani.
Narrating the story of Nizzy, a 'posh' British-Pakistani whose dream of pursuing a professional dance career is shattered, she is seen fighting the odds to keep it alive in a society she never wanted to be a part of. Directed by Omar Hassan, the film is set to release on August 5th across screens in Pakistan.
Watch the trailer (link below) and decide for yourself if you want to watch the movie or not!