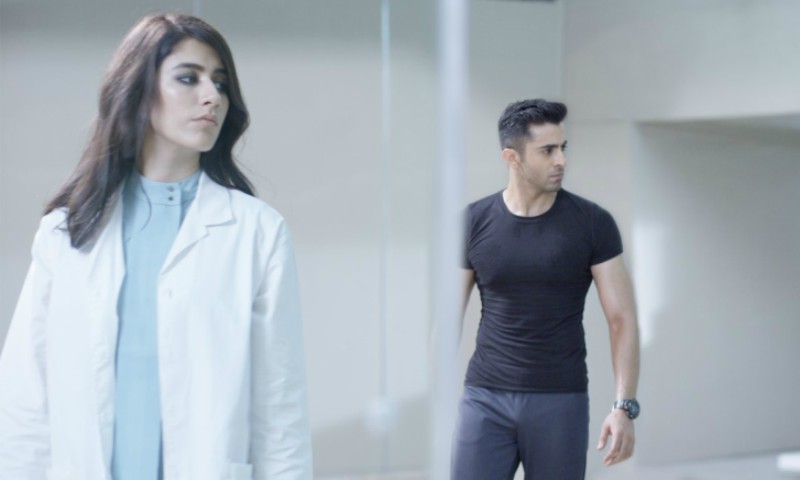 Being labelled as our first superhero film, Project Ghazi stars Sheheryar Munawar, Syra Shahroz, and Humayun Saeed.

HIP recently broke the news of Sheheryar Munawar and Syra Shahroz pairing up for an action-thriller film, Project Ghazi. Much to our delight, the makers of the film - director, Nadir Shah and producer, Ali Raza - have released a BTS footage and a few shots from the first spell and now we're dying of anticipation (especially because the film is being labelled as Pakistan's first superhero movie)!
Here have a look and join the 'dying with anticipation club'.
Also Read: HIP Exclusive: Sheheryar Munawar signs his second film, 'Project Ghazi'!
The footage tells us that the action-packed film is not only an emotional ride, but has a science fiction angle as well, making the film one of its kind. Featuring acclaimed actors like Humayun Saeed, Talat Hussain, Adnan Jaffer and Aamir Qureshi in prominent roles, this action extravaganza is definitely a film we are eagerly looking forward to.
Celebrity stylist Ehtisham Ansari, who earlier lent his expertise to the cast of Zinda Bhaag and Jalaibee, gave us an insight into Sheheryar, Syra and Humayun's roles.
"I think doing a superhero film involves a lot of layering. One has to sum up the script and the director's vision in a character, but the looks [in Project Ghazi] are quite simple and closer to reality," he revealed. "As an actor-profile-developer there is no set formula of styling a character, but with Project Ghazi I can assure you that the film has a strong script and intriguing characters, and will definitely set a new benchmark in our film industry."
Also Read: Ehtesham Ansari - a man who makes our celebs look gorgeous
We expect Sheheryar Munawar, who will be seen essaying the role of a major, to play the new age action hero to perfection with that well-toned body and that furrowed brow. And we foresee a lot of ladies going gaga over the heartthrob.
Syra Shahroz brings her 'oomph factor to the role of a scientist and even though we don't get to see much of her in this BTS video, we can barely wait to see her as a scientist on the big screen. Humayun Saeed perfectly fits the bill of the experienced Colonel and Zain's (name of Munawar's character) mentor.
But the dudes in masks ended up being the highlight of the BTS images. One of these men happens to be the lead antagonist, Adnan Jaffer, who has already shown us his villainous side in Jalaibee as the city don's assistant. When we got hold of the film's makers for details regarding these cool men, they had only one thing to say, "wait and watch".
Also Read: Sheheryar Munawar & Syra Shahroz pair up for Project Ghazi!
On a whole, the makers seem to have hit the bulls eye in terms of casting. Even though the main leads - Sheheryar munawar, Syra Shahroze, and Humayun Saeed - are venturing out of their comfort zone, we can see that they've fit in perfectly. They've finished shooting the first spell of Project Ghazi and the film is expected to release sometime next year.