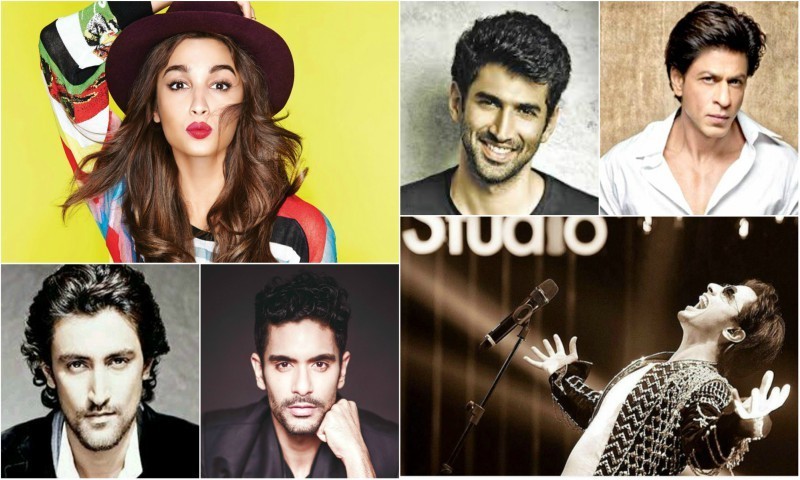 The song called Love You Zindagi features Bhatt with her four love interests and one of them is our very own rock star

A source from the sets of Dear Zindagi has revealed that Alia Bhatt is shooting a song called Love You Zindagi with her four love interests, one of whom happens to be our very own Ali Zafar, PinkVilla reported.
"It's a party sequence and the four guys take turns dancing with Alia in styles that complement their characters," the source disclosed. "Interestingly, some of the crew makes an appearance in the dance sequence too. It was Gauri's idea but while her assistant directors were drawn into the frame, the team couldn't convince the director to join in. The song was shot in South Goa over two days. Only Shah Rukh Khan who plays Alia's therapist, wasn't a part of the song."
Ali Zafar is one of those celebrated artists from Pakistan who not only wooed the Indian audience through his acting skills, but also through his power packed vocals. From Teray Bin Laden, Meray Brother Ki Dulhan, to Kill Dil, Zafar has made a mark on the celluloid with his screen presence and spontaneous acting.
While his last Bollywood outing, Kill Dill, didn't meet expectations, we are quite hopeful that Gauri Shinde (the director of highly acclaimed 2012 hit, English Vinglish) will take the best out of him in her up-coming film, Dear Zindagi.
Read: Ali Zafar, Alia Bhatt and Shah Rukh Khan-starrer gets a new name
Dear Zindagi, previously known as Walk & Talk, is again a women-centric film like English Vinglish and stars Alia Bhatt as the main lead who'll be seen romancing the likes of Ali Zafar, Aditya Roy Kapoor, Angad Bedi, and Kunal Kapoor. Ali Zafar is going to play a rock star in the film and will reportedly sport some really cool tattoos.
And if this isn't enough to pique your interest, news is that King Khan is doing an extended cameo and will basically help Bhatt reinvent herself.
Read: Ali Zafar's Walk & Talk to release this year
Dear Zindagi is a tale of a girl who, during her journey of making a film, explores the lives and perspectives of four men whom she dates.
"Alia dates all these men with contrasting personalities, whose perspectives on life eventually reflect in the film she is making. It'll be interesting to find out who she ends up with finally," stated the source.