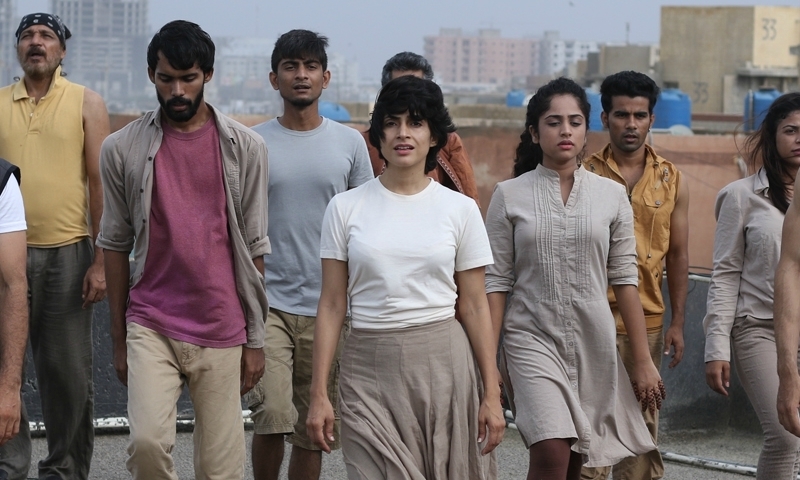 'A Love Letter to Karachi' is a story of how an outsider comes to the city, and eventually falls in love, with Karachi.
In a country blazing in chaos, only a few things provide respite to the common man, and only a few still yearn to use their talent for the betterment of it despite hardships. One such strong example is dancer extraordinaire, Joshinder Chaggar-– who made waves through her theatre work in the 'Conversations' series and stellar choreography in Josh. Never the one to disappoint her fans, she is now all set to bring 'A Love Letter to Karachi' – a part of her renowned theatre dance-drama series Conversations to the proscenium arch this month.
A global citizen in all regards, Chaggar was born in India, grew up in Lagos, Nigeria, and then moved to Australia. And since almost a decade, she has given her talent to Pakistan through an array of memorable art performances. HIP recently got in touch with the dancing and acting powerhouse to discuss her latest project.
"Conversations 2016 is a 60 minute modern contemporary dance-drama. Its theme is 'A Love Letter to Karachi'. It's my own personal journey of living & loving and eventually embracing the city. It is pure movement, with a couple of short monologues. It's very experimental, crazy, and, has a very dynamic youthful positive energy, " Chaggar told HIP.
The show, which delves into the dynamics of Karachi and its many facets of daily life, aims to leave the audience enthralled.
"You can expect to be awe inspired for sure, especially to see how much one can express through pure movement. You will be entertained. Also, you will be seeing your city, Karachi on stage, so I'm sure there will be mixed emotions. We are surrounded by too much tragedy. But simultaneously, there is just as much love. And I feel too often we take the 'love' for granted. This show is not a romanticised version, but an honest look at the other dimension that we don't talk about," Chaggar explained.
Differing from a myopic view of the city, usually seen in theatre, the dancing maverick added,
"I have explored two dimensions of Karachi. One is how you first see it. It's very patriarchal, masculine, chaotic, and unpredictable. And then, there is the second layer, the people and their generosity –their open hearts and this beautiful web of community. It's basically a story of how an outsider comes to the city, and eventually falls in love, with the city."
While the show is set to showcase Karachi in its all-time reality and all of its many faces, what has gotten us further excited is the juxtaposition of the old and new. While we see Chaggar taking the directorial seat for the third time along with co-director Sunil Shanker, some new faces have joined the cast to grace the stage with their acting prowess.
"This is my third show in the Conversations series and it's always been a thrill. People make a city just like people make a project. It's always about the team and we have a brilliant team of artists and amazing human beings. Sunil and I both feel like there is a spiritual energy surrounding us during the rehearsals. The play's inspiration was the overwhelming generosity that I've experienced in Karachi, and once again, during this process, the team, our friends & the community's generosity has overwhelmed us," Chaggar explained.
Set to commence from July 28th till August 14th, 2016, the show will be staged at FTC Auditorium, Karachi.