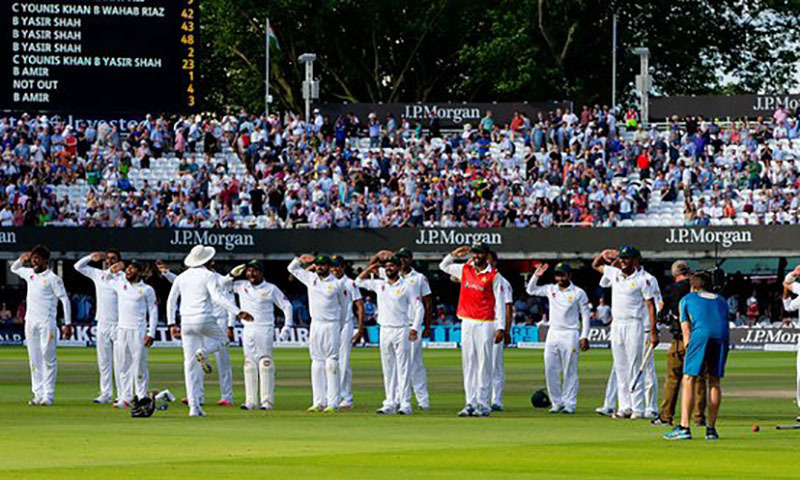 Muhammad Amir taking the last wicket and the military-style celebration was a cherry on the top!

The win at Lords cricket ground was as fitting as it could get when Muhammed Amir - the fast bowler who left this very ground six years back under the dark cloud of match fixing - took the last wicket to lead Pakistan to a historic win. The crowd, Pakistan's and England's supporters alike, at the home of cricket broke into a deafening applause as Younis Khan orchestrated a military style push-up celebration to pay tribute to Pakistan's army who had trained the team before the Pakistan-England series.
And the military wasn't the only one whom they payed tribute to, Misbah ul Haq dedicated the win to the great humanitarian Abdul Sattar Edhi.
"We dedicate this win to the great humanitarian, Abdul Sattar Edhi, who left us a few days ago," Misbah Ul Haq said while speaking to Mike Atherton at the post-match presentation ceremony.
Although Yasir Shah won the Man of The Match award, it was Muhammed Amir who won hearts as the entire crowd chanted "Amir Amir" eliminating all the doubts that he would be bullied by the crowd for the 2010 debacle. Muhammed Amir proved that he is back in the game and this time as a "good kid" as Misbah Ul Haq puts it.
The entire nation celebrated the befitting win, especially our celebrities who finally have something positive to talk about!
Fahad Mustafa shared the clip of their famous military-style celebration.
He just couldn't contain his excitement and bombarded his Twitter timeline with tweets about the match.
Even Sri Lankan cricketer, Kumar Sangakarra, also hinted towards their celebration by saying "you need more push ups".
Activist Jibran Nasir shared a video which aptly portrayed the current mood of Pakistanis.
Umer Sharif shared the record made by Yasir Shah.
Fakhr-e-Alam, a cricket enthusiast, congratulated the team along with Faysal Qureshi and Hamza Ali Abbasi.
If you think only boys enjoy test matches, then our female celebrities' tweets will prove you wrong.
A few people also took digs at the celebration.
England cricketer and commentator, Michael Vaughan, earlier asked everyone to tune into the match which is proving out to be a revival of test cricket in the cricketing world.
Indian commentator and analyst, Harsha Bhogle, saw the symbolism like the rest of the cricket enthusiasts.
Pakistan's in at the Lord's cricket ground after 20 years and after that 2010 debacle has uplifted the spirit of the entire nations. We'll hopefully see many more wins in this tour and military-style celebrations which everyone seems to be a fan of.