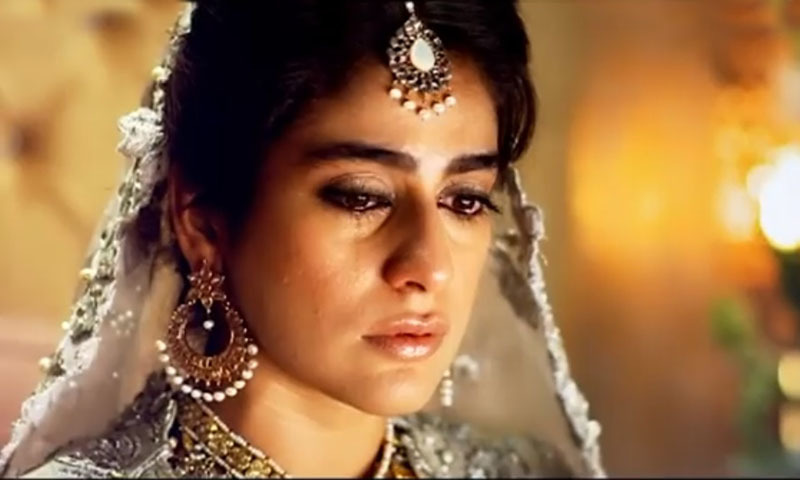 After Tum Kon Piya, the channel has upped its game in terms of local content

Urdu 1's upcoming quarter promises to be a delight for those who sorely missed Alishba Yousuf's presence on screen. Yousuf made her mark with Mein Abdul Qadir Hoon and then her performances in the baraat series and Ek Nazar Meri Taraf cemented the belief that she's indeed a very good actress.
Read: Alishba Yousaf to make a comeback with Hum Nawa and Bay Aib
Be Aib looks promising
Be Aib, written by Qaisera Hayat and directed by Ali Hassan, includes Noor Hassan, Samina Peerzada, Alishba Yousaf, Maryam Ansari, Imran Aslam, Sheheryar Zaidi and Ismat Zaidi in the cast. The serial promises to stay away from weepy women, but from the look of it, Be Aib has gone too far to portray matriarchy.
We see Samina Peerzada acting all god-like in the various teasers while Alishba (who plays her daughter) will pay the price for her mother's need to achieve perfection in every single thing and arrogance.
"It's basically a story which tells the audience to accept what life gives you, rather than choosing wrong ways of achieving what's not meant to be," Noor Hassan told HIP earlier in an interview.
Read: What are Noor Hassan, Alishba Yousaf & Samina Peerzada up to? HIP finds out!
The following teaser shows us what Hassan means by accepting what fate has in store. First, his character will lose his leg and then we'll see him suffering another blow when Peerzada refuses to marry her daughter (Alsihba) to an 'imperfect' man.
The serial looks promising, but I wish drama serials would stop showing independent, strong women as evil beings.
Meher Aur Meherban is tale of three women
The second drama serial which will go on air on Urdu 1 this quarter is Meher Aur Meherban. The teaser tells us that it is a story of three women - Shagufta Ejaz, Sonia Mishal, and Sanam Chaudhry - who're suffering at the hands of their 'supposed' head of family (Waseem Abbas).
"Jab mard ko aurat ki kamayi khanay ki aadat hojaye na tou phir nahi dekhta woh ke samany beti hai ya biwi," Shagufta Ejaz says in the teaser and hints towards a story line full of greed on the part of the man of the house and sacrifice by the females.
Do the teasers entice us to watch the drama serials?
Be Aib? Yes. Firstly because it marks a comeback of Alishba Yousuf and secondly it gives an important message that sometimes it is necessary to accept things as they are, instead of striving for perfection, because if you do so you'll only end up hurting yourself due to high expectations.
Meher Aur Meherban seems like your regular watch, but we'll have to see the first episode to decide if the performances are strong enough to keep us hooked or not.