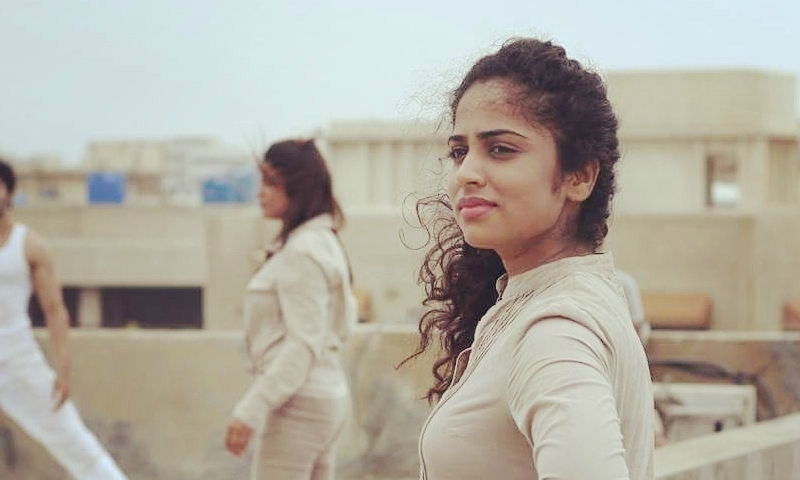 HIP talks to the budding diva about her upcoming stint in Conversations 2016, her experiences with TV, and commercials.

In an industry with many faces and numerous talents, only a few manage to stand out from the crowd with their uniqueness. One such example is Almas Fidai –who grew tenfold as an actor solely in a few years. For many who didn't know her until a few years ago, she silently became a lead in TV shows, a part of the budding theatre scene, and now, the face of Nestle's EveryDay while still continuously enthralling her fan-base.
Fidai, who was last seen in GEO Entertainment's Teri Meri Jodi –one of the most diverse shows from the conglomerate, garnered major appreciation after which the actress has only looked forward to bigger and better things. HIP recently got in touch with the budding diva to talk about her upcoming stint in Conversations 2016, her experiences with her last drama serial, and TV commercials.
Talking about the expectations people have with her upcoming theatre drama, Fidai said,
"I would not want to raise people's expectation to a point where they might not achieve what they had expected. However, you are going to feel it, and art is all about feeling. Conversations 2016 is based on a theme, 'A Love Letter to Karachi', and it's definitely a master art piece of its kind. It is going to be performed in a contemporary dance-drama form and it's about a woman who enters Karachi and falls in love with it despite of Karachi's unpredictable (and sometimes frightening) nature."
Interestingly, in the play, which focuses on the city and its many faces, the roles are as unique as the idea of it.
"Karachi, as a city is made up of a lot of various elements like traffic, food, sea, people etc. and you would be seeing me play every part of it; things that make Karachi, 'KARACHI'," the actress tells HIP.
However, despite the seemingly obscure role in the play itself, Fidai saw it as an experience that made her a better actor and satiated her wish to act in theatre.
"After experiencing TV and having worked with theatre actors in Teri Meri Jodi, my wish to learn theatre grew even stronger and I would consider myself lucky to get my first opportunity to work and learn under Joshinder Chaggar and Sunil Shankar's direction. Both of who were tremendously creative and patient", the actress explains.
Having no previous experience in the form of dance, which will be a part of Conversations, the actress added,
"Josh (Chaggar) taught dance to me, a person who had never danced in her life and feared dancing! In only three months, I have tasted the flavour of peculiar acting, which is hard to have in mainstream television."
Fidai, who was last seen in Teri Meri Jodi, essaying a role of a girl who is simply salt of the earth and everyone's favourite, starred against Sami Khan –who seemed like AB productions and Geo's pick for all their shows. Despite that, her experience with the show remains her fondest.
"I love Teri Meri Jodi and I would surely love it for the rest of my life. Not only did it provide me with a great story and character, but also co-actors who I got to work with were the treasure I found during that period of my life. I have made some beautiful memories and relations there. And receiving messages from fans that never watched Pakistani dramas getting glued to TMJ is an achievement in itself! Working for the show has raised my bar of expectations of stories and characters, which is also a reason why I'm being seen less on television," Fidai elucidates.
The ever-growing actress, who seems to be climbing the stairs of success rapidly, also looks at her experiences with her latest TV commercial as a profound experience. After all, being the newest face for a company like Nestle is a feat of achievement on its own.
"Nestle is my first TVC for which we went to Bangkok to shoot. I had always heard of getting the 'star treatment' at TVC shoots, and to receive that for the first time was an experience of its kind. I had a commendable experience working with a Thai production crew and an Indian director, both of who taught me cross-boundary work ethics!" Fidai tells HIP
---
The actress who seems to have an unbounded approach to her projects, has the humility and aesthetic approach that makes her the budding performer she has swiftly become. While you can see her in the latest Nestle EveryDay milk powder commercial on television or at the upcoming theatre play Conversations 2016, we hope to see Fidai continuing with more success and of course, more projects for us to swoon over!