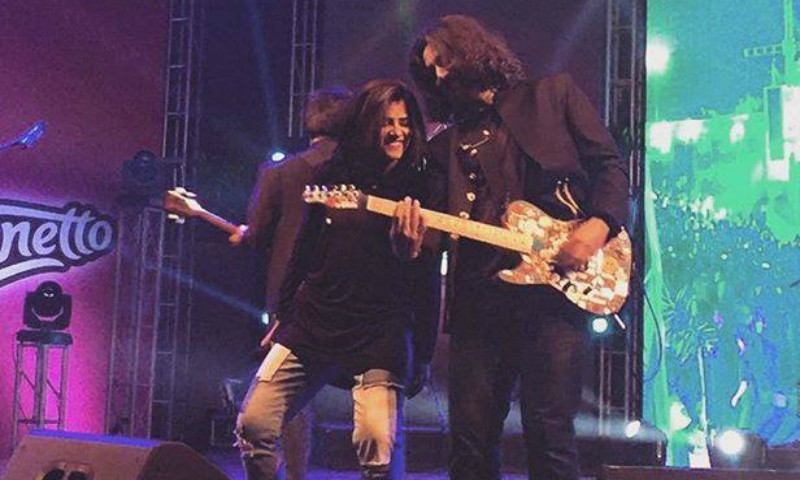 "With Noori, I feel my creativeness has taken another dimension," says Quratulain Baloch.

In a country like Pakistan, 'Cornetto Pop & Rock' is a beacon of hope for our heritage and art. That not only encourages, but also supports and helps in reviving the long-forgotten commercialized side of Pakistan's music fraternity. Managed by dancer, actor and PR guru, Hasan Rizvi of Body Beat PR; the platform has been subdivided into four branches - the concerts, the fashion exchange, the battle of the bands and finally, the music videos.
The first music video to come out this season was Zoe Viccaji and Umair Jaswal's Jhoom. Although the song had powerful vocals, it failed to make an impact that it had intended to. The second music video, which was released this Eid, was a fun blend of contemporary and folk music and was sung by Qurram Hussain of Josh and Komal Rizvi. Next up, we have the melodious voice. A voice that made Humsafar and Mann Mayal's OSTs what they are today. Yes, we're talking about Quratulain Baloch, better known as QB!
Also Read: Does 'Jhoom' really make you want to jhoom?
We had a chat with Quratulain Baloch to find out what the upcoming video is all about. According to Baloch the song is about acceptance, not for societal norms, but for your own, unique self.
"The song is about accepting yourself the way you are," Baloch explained. "Making peace with your flaws and being openly peculiar. In other words, not giving in to the conventional society and be elevating of sorts."
Also Read: Noori tells artists to 'Believe In Yourself' with BIY Records!
The music video is produced by Noori's very own record label, 'BIY Records' (Believe In Yourself Records). Noori and QB had earlier collaborated for a 'Cornetto Pop & Rock' concert in Islamabad and are also working on a duet (for their own label). Speaking about her experience of working with Ali Noor and Ali Hamza, she said:
"After collaborating with Noori, I feel like my creativeness has taken another dimension. So you can have high expectations from whatever we do together," she chuckles.
Also Read: Qurram Hussain and Komal Rizvi present Desaan Da Raja this Eid
Shedding some light onto the platform that is 'Cornetto Pop & Rock' and its initiative of producing original music that has a Pakistani feel and flavour, the singing sensation commented:
"It's another way of reviving the music industry, and that too 'live' in front of an audience. It's something that hasn't been done before so hoping the concept will stick around."
Noori and Ali Azmat will release their solo tracks after the release of Baloch's single and Ali Noor and Ali Azmat will lend their gifted voices for a duet for the 'Cornetto Pop & Rock's' grand finale.