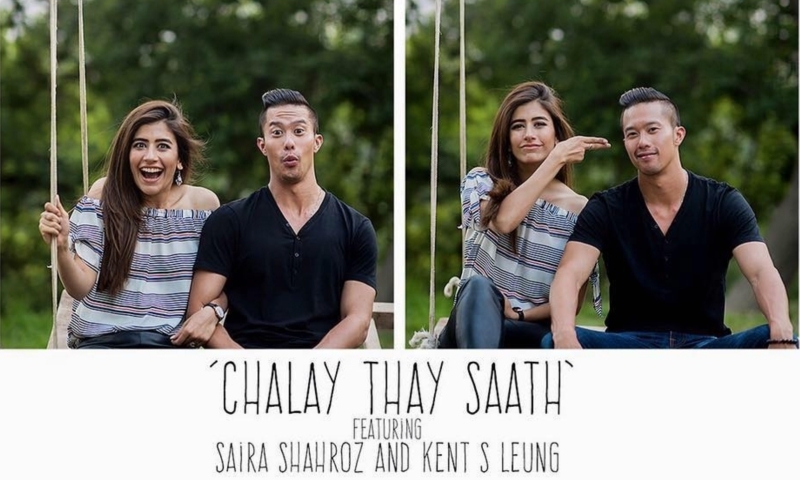 The actor talks about his experiences in Pakistan, Chalay Thay Saath, and his favourite memories from the shoot

If there are two things that truly makes us believe it is the belle époque of Pakistani films, it's the narrative and acting. One after another, the industry has seen dramatic changes for the better. Whether it has been films juxtaposed with 'art' narratives such as Manto and Moor, or just feel-good dramas like Ho Mann Jahaan and Jawani Phir Nahi Aani –films finally have the charisma that makes us run towards the cinema. Now, working on the same lines is Chalay Thay Saath, which not only promises a power packed performance by Syra Shahroz, Osama Tahir, Zhalay Sarhadi, Behroze Sabzwari, and Mansha Pasha, but also debuting Canadian heartthrob, Kent S. Leung.
While HIP broke news of the film and its feel good, romantic narrative, we have another exclusive for you as we interview the international actor for the first time who will be seen essaying the role of diva Syra Shahroz's love interest in the film. Talking about his experiences in Pakistan, CTS, and possibly working on other Pakistani projects, Leung makes us realise why his tongue-in-cheek humour, charisma, and star quality makes him someone to swoon over!
HIP: How was your experience working in a Pakistani film?
Kent S. Leung: Working on Chalay Thay Saath was an absolute pleasure. It was my first time filming in Pakistan and I must say it exceeded my expectations. Before this film I wasn't even aware than Pakistan shot movies and soon after I did some research I discovered that the cinema has been undergoing a recent revival. Seeing how shooting CTS went I'm not only excited to be an integral part of a film which is going to play a role in that revival but also excited for what the Pakistani cinema holds in the future.
HIP: What similarities and differences do you see between Pakistani cinema and the other cinemas you have worked with?
KSL: There are some major cultural differences between Pakistani films and North American films. As we all are aware sex, drugs, alcohol and violence are frequent and key themes in Hollywood. From what I can tell this is far from the case in Pakistan. I had an interesting conversation with Beenish Umer (the producer for CTS) that I think highlights some of these differences.
When I was discussing this role with Beenish before the shoot I asked her a couple of key questions:
-Will I have to dance? -Are there any topless scenes for myself? (Because I would then need to prepare accordingly)
And her answers shed some light to where there were some differences between my expectations and what was actually going to happen in this film. I'm paraphrasing, as I don't remember her exact words:
"No Kent, no dancing. That's really more a Bollywood thing and Pakistani cinema is actually quite different from Bollywood. And no, there will be no topless or intimate scenes between Syra and yourself. At most you will hug Syra with clothes on".
This left me disappointed, because I wanted to be part of a dance ensemble! And yeah I guess a little intimate scene with her wouldn't hurt right? Please take that as a joke. I treat these things very professionally. No seriously. I do. I've dug myself into a hole here haven't I? (The actor adds jokingly)
Similarly, my reaction to the clothed hugging was,
"Yeah ... ok, I think I can handle that."
Considering some of my past work and intimate scenes I've done, a clothed hug scene is going to be a walk in the park. I've never been shy about getting intimate for a role and my previous work I've done will definitely display that. (For those curious look up John Apple Jack and the harder to find Bloody Knuckles).
HIP: What was Pakistan like for you?
KSL: Pakistan was honestly great. Despite what foreigners hear about Pakistan in the news I at no point felt in danger or worried for my own safety. Perhaps I was being naive but my trust in the people never turned out negatively even though there was one situation where it very well easily could have.
For example I documented my first day in Islamabad where I had a nice run in with the locals.
Another interesting aspect of this trip was that despite spending 45 days in Pakistan I don't feel I got a good idea of what Pakistan is really like. This is because I spent the majority of this trip in the beautiful Hunza Valley and not at all in one of the big cities where I think I would get the true feeling of what Pakistan is like.
That being said, I'm excited to go back to Pakistan and especially Karachi in time for the premieres for CTS. My new friends including the cast have all offered to take me around and show me the sights, sounds and especially the food in Karachi!
HIP: Do you see yourself working in more Pakistani films?
KSL: I would love to work again in Pakistan. Shooting CTS was a great experience and it really set the bar for me for what to expect if I were to shoot again in Pakistan.
HIP: What are some of your favourite memories working on Chalay Thay Saath?
KSL: Oh so many! The gorgeousness of the Hunza Valley is an unforgettable thing. Waking up every morning in my Serena tent, opening my door to discover Hunza Valley is for sure one of the highlights.
There were a lot of good laughs had on set but one that stands out was when we were getting a reaction shot of a few of the other cast members, Faris (who plays Faraz) and I pretended to kiss each other on the other side of the camera which broke the rest of the cast into laughter.
Another memory that stands out was when Syra and I were shooting a scene at the Baltit fort and we were surrounded by tourists. Syra was trying to keep a low profile since she didn't want to get 'mobbed' for photos with her. So I jokingly said to Umer Adil (the director for CTS) in an overly projected voice, "O.M.G. is that Syra Shahroz??" Adil to my surprise plays along with me and takes out his phone and shines a light on her. Syra, in a hushed voice urges us to stop and luckily the tourists didn't catch on. Otherwise I'm sure that would've delayed our next shot by some time on the account of her fame.
I would like to add though that after working with Syra and seeing her around fans I really kind of looked up to her. As I've said to her personally, she is the type of celebrity that I plan to be. And what I mean by that is that she's welcoming and kind with all the fans that approach her and I truly respect that and appreciate that in her. In the scene above she didn't want to be 'found out' because she knew that it would've caused complications and delays to that day of shooting.
Lastly on a more personal note I really enjoyed venturing, climbing, hiking, exploring all the beautiful environments of the Hunza Valley area. Im quite an active and athletic guy so I found the environment to be like one big jungle gym for me.
I have a list of others but I'll leave that at that!
HIP: Lastly, is there any message from you for your fans?
KSL: My fans in China have been itching for a new film from me since they watched my previous film John Apple Jack. I'm very excited to have something for them in the coming year that I think they will truly enjoy. They have been extremely supportive of me since day one, which I am grateful for. I am also extremely excited for all the new fans I am going to make through CTS. I hope it's just the beginning of what will be a number of more projects in Pakistan.