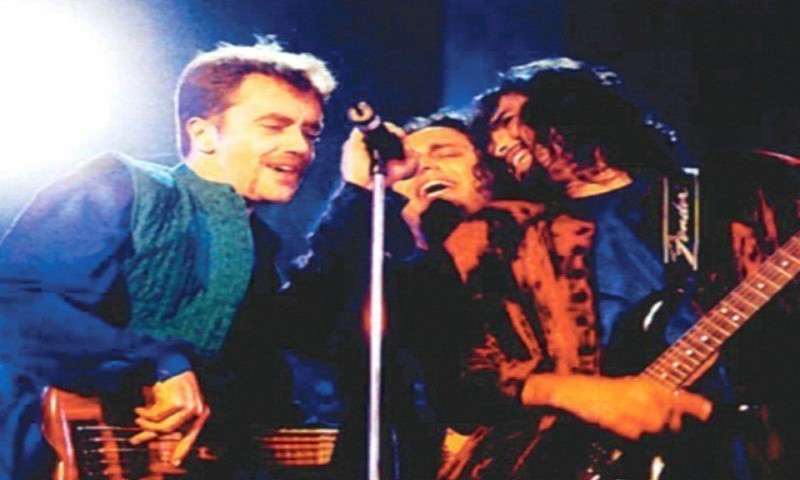 A time when there were no cell phones and all we had was a Sony 'walkman' audio-tape recorder to entertain ourselves.

Anyone who grew up in the era before social media and technology literally took over our lives, can fondly remember what songs made their generation fall in love with music. After all, who doesn't remember what they had grown up listening to? From recalling that teenage nostalgia to songs that became part of your everyday life, we have compiled a list of songs felt that truly makes us proud of being a 90s kid! So, sit back, rejoice and hum along to some of the biggest fan-favourite tracks of the 'generation Y'.
Read: HIP in 2015: 10 songs that made it to our playlist
A time when there were no cell phones and all we could have was a Sony 'walkman' audio-tape recorder and a 22 inches colour TV to entertain ourselves, the gist of our lives remained lying on the bed and enjoying our favourite tunes. Every morning, instead of checking our phones intrinsically even before washing our faces, one used to get up to the sound of Radio Pakistan's morning transmission or of course, our parents scolding us for getting late for school.
Yes! It was the best of times, when the tunes of Vital Signs and Junoon would get us in a frenzy; when Awaz made us swoon over them with Ae Jawan and of course Abrar-ul-Haq's Billo used to be the talk of town.
HIP brings you top 10 hit Pakistani songs that you are sure to be remember as a 90s kid. Let's see how many you can sing along with!
1. Jazba-e-Junoon by Junoon
Ali Azmat, right from the inception of band Junoon remained successful in getting people to embrace the 'new' genre of melodies in the world of Pakistani music. 'Jazba-e-Junoon', thus had been one of the most renowned creations in the music scene during the 90s. The song sent a wave of patriotism that resonated in the heart of every Pakistani. For many years and even today, the song has a special place in, almost as if it has been engraved in our minds as one song that evokes the spirit of nationalism among us. Jazba-e-Junoon remained on top of the charts for years, as it went to become the signature song of the ICC Cricket World Cup in 1996.
2. Billo by Abrar-ul-Haq
One can still recall the time when guys in the 90s used to refer to this very song just to tease girls at university campuses around the nation! The ultimate super-hit song to blast in your boomboxes, when 'Billo' hit the channels, it soon became a massive frenzy due to its quirky lyrics and amazingly unique music. The fusion of bhangra with western tunes along with Abrar-ul-Haq's voice managed to win hearts as the song had massive novelty and variation to offer the masses which wasn't seen before.
3. Purani Jeans by Ali Haider
Every college corridor, school ground and school function echoed Ali Haider's amazing song, 'Purani Jeans'. Almost every school and college farewell celebrations were incomplete without the song being played or sung at least for once as it resonated that nostalgia for anyone missing friends or bidding their final farewell to them. Ali Haider took the music space by storm with this astounding creation that had unusual and super sweet lyrics. It truly was a one of a kind song that every 90s boy or girl associated with immensely.
4. Manne Di Mauj by Hadiqa Kiani
The melodies provided by Hadiqa Kiani have always been a treat to listen to regardless of what mood you're in. She is the only female pop-star of Pakistan today, who has been so consistent, and thus highly acclaimed . Her voice still instills purity and serenity in our souls. With 'Manne Di Mauj', Kiani stepped into the world of music and changed it forever. With this beautiful song, one could still feel like they are in the 90s. The song has a mix of Urdu and Kashmiri languages which is a plus point when it comes to Kiani's singing talent who can sing in different dialects. 'Manne Di Mauj' remains the favourite of every 90s girl, that is sure to make you feel connected to the beautiful valleys and lakes of Kashmir.
5. Chief Saab by Sajjad Ali
The ever-rebellious and quirky Sajjad Ali hushed all his bullies with a simple 'Bas Bhai Bas!' in the 90s. The song gave a very different touch to Pakistani pop music with its witty and scintillating words. Ali with all his swag, completely shined out with 'Chief Saab', which brought a revolution in the music industry. Even today when we hear it, its catchy tunes and sarcasm make us love it even more!
6. Patang Baaz by Fariha Parvez
How can we forget about Fariha Parvez's 'naughty' 'Patang Baaz' from her debut album Nice & Naughty? The song made her a sensation overnight and one could still hear it being sung at weddings and dholkies! The drum beats and chorus gives the song so much energy that the melody of 'Patang Baaz', manages to hit the right chords perfectly each time! A mix of energy and happiness in its tunes, It is definitely something that we treasure as a true 90s creation.
7. Sanwali Saloni by Vital Signs
While literally being a consolation prize for people who got offended by Junaid Jamshed's 'Goray Rang Ka Zamana', 'Saanwali Saloni' turned out to be one the best songs of the decade. Its peppy tunes and thought provoking lyrics translate a tale about a guy swooning over a girl's wheat-ish complexion and the sound of her bangles. It mesmerised thousands of Pakistani girls who fell in love with then-heartthrob, Junaid Jamshed's voice.
8. Babia by Sajjad Ali
Sajad Ali struck gold once again with 'Babia' in the 90s as one of the most remarkable creations till date. Like Ali's other numbers, the song was distinct than the run-of-the-mill kind of tracks heard, and brought complete revolution. Whether it was birthday parties or just casual meet-ups, everyone used to hit the dance floors on the beats of two people; either Michael Jackson or the one and only, Sajjad Ali.
9. In Se Nain by Najam Sheraz
Another beautiful track by the long-lost but not forgotten singer Najam Sheraz, 'In Se Nain' was another chart-topper of the 90s era. The lyrics, music and vocals, everything in the song seemed spot-on. Even today one feels the dire need of Sheraz when Pakistani pop has almost breathed its last with only a handful of people who produce music after long intervals. In Se Nain defines the flirtatious nature of a woman's eyes that can make man go crazy easily, and truly what a song!
Read: Adnan Sami speaks out against 'Bhar Do Jholi Meri' controversy
10.Jadoo Ka Chiragh by Awaz
After the recent cover by Nescafe Basement that was aired in the last season, 'Jadoo Ka Chirag' made us feel nostalgic about the craze that was the band Awaz in the music scene of the 90s. The duo of Faakhir and Haroon remained quite the hit among fans and all music lovers and the song, Jadoo Ka Chirag excelled in delivering the passion of a man for his beloved.