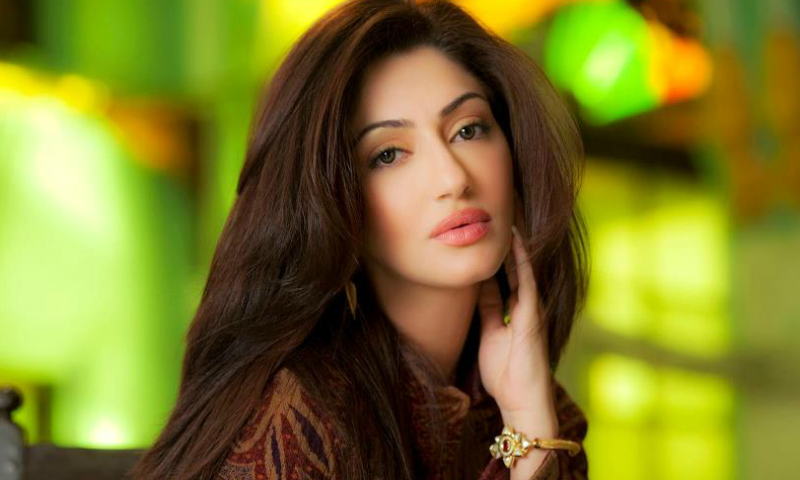 Reyhna is a fan of local dramas' re-runs on Zee Zindagi and will make her debut in Pakistan with the film '100 Crore'

25-year-old Indian model-turned-actress Reyhna Malhotra made her Bollywood debut with Babloo Happy Hai, and although the film was a disaster, Reyhna was appreciated for her performance. She also tried her hand at Telugu cinema in India with Antha Scene Ledu, and television projects such as Jamai Raja and the ongoing Ishqbaaz; and instantly became a fan favourite.
In Pakistan, she previously endorsed a beauty lotion and is also the soon-to-be-face of Nestle yogurt. Interestingly, she also been roped in by Bhai-famed director Shoaib Khan for a comedy called 100 Crore which will mark her silver screen debut in Pakistan! To find out more about the actress, HIP decided to catch up with her and here's what she had to say:
Also Read: HIP Exclusive: Noor Hassan & Sanam Chaudhry pair up for Shoaib Khan's film
HIP: Tell us a bit about what you're expecting from the Pakistani film industry?
Reyhna Malhotra: I actually happen to be a keen follower of 'Zee Zindagi' and the re-airs of Pakistani dramas here. I am a big fan of all the actors and directors in Pakistan. Their content is so beautifully articulated; every character has its own facets, equal importance and screen space. Above all, the edit-work is crisp and exactly how it should be. Hence, I had always wanted to work in Pakistan.
I strongly believe that art is appreciated wherever it is produced. For me, it is such a magnificent medium for us to diversify our cultures and connect with artists worldwide and bring peace and harmony. Every artist gets its due respect, and I will too. I have previously shot for two Pakistani television commercials, and the attitude there is very warm and welcoming. I have no qualms about that whatsoever!
HIP: Controversies follow Pakistani actors when they work in India like a shadow and vice versa. What's your take on the trade of talent?
RM: True, but who creates this so-called controversy? We, here in India, are absolute fans of Fawad Khan. He has generated a plethora of fan following within no time at all. Youngsters have started mimicking his dialogues. Talent is appreciated everywhere, be it India or Pakistan.
Apart from that, I believe there is no trading in art; it is just that, we actors are keen to work on good scripts and having self-satisfactory outcomes in the end. Wherever we may get that, we just follow the path! As far as Indo-Pak relations are concerned, I believe there isn't much difference in our culture, the roots are the same, only our religious beliefs differ.
Also Read: Sonu Sood to appear in Ishq Positive, Noor Bukhari tells HIP
HIP: What made you sign the film 100 Crore in Pakistan, especially since your character is that of the second lead?
RM: Firstly, I had always been keen on working in Pakistan. So when this offer came my way, without giving it a second thought, I instantly said yes! I firmly believe that whatever happens in one's life is with the will of Almighty, and things that don't happen for you, no matter how bad you want them in your stride, is again, for one's own betterment. Hence, I don't question much when things happen for me – I just go with the flow.
As far as the film is concerned, 100 Crore is an interesting blend of non-stop comedy, romance and a bit of suspense here and there. It is your ultimate masala flick, offering all the elements that the audience would want to see. Even though it's the second lead, Sanam (Chaudhry) and I have different parts in the film with our own stories, songs and heroes. What more can a debutant ask for!
HIP: Tell us a bit about you personal life. How was it growing up and has acting always been your dream profession?
RM: Well I have a very small family; a mother, a father and a younger sister who is a doctor. And I am also seeing somebody these days, but he's completely out of the showbiz scene. As far as aspirations go while growing up, I had always wanted to act and dance. And to peruse, it I moved to Mumbai, auditioned, got a few ramp shows, bagged a television series, and eventually moved towards the big screen. So I'd say it's been a sweet three-year journey so far.
Also Read: Maya Ali or Sadia Khan: Who will be Akshay Kumar's leading lady?
HIP: What projects are you currently looking into at the moment?
RM: Well my series for Star Plus called Ishqbaaz is currently on air and I've been receiving great reviews so far. I play the antagonist, a woman who is power and money hungry. I'm taking time out of that and going to Bangkok for the first spell of 100 Crore. I've also completed shooting for a suspense-thriller Bollywood movie called Exit with Kunal Roy Kapoor. I'll start dubbing for that once I'm back in India.
I think Exit is a first of its kind for the Indian film fraternity. It narrates the story of a man who keeps repeating the same mistake in every birth of his (the seven janams that are believed in Hinduism). And eventually, in one of his lives, people start warning him, and all of these people have previously been associated with him in one way or the other, and I portray one of his love interests in his past life.
Also Read: HIP Exclusive: Indian actress Sara Khan to work in Sana Shahnwaz' next
HIP: Why do you think people should watch both of your forthcoming films?
RM: 100 Crore is a rollercoaster ride. It has a lot of fun-filled moments, it has suspense, and all of that is surrounded by continuous comic reliefs. And it's a film that makes you forget all your tensions and just have a good laugh. Exit, on the other hand, is again a suspense thriller but absolute opposite to 100 Crore. It is all about what happens between one's birth and rebirth. That in-between time zone portrayed in the film is really interesting and I hope the viewers are intrigued too.
HIP: Your Bollywood debut didn't manage to make it to mainstream commercial cinema. Does that ever discourage you as an actor?
RM: Yes, it is a bit disappointing at times, but it's all part of the game. At times you lose, and at times, you win. That should never have a person demotivated, since I believe, hope is bigger than anything. One just needs to move forward with positivity. I am not sacred of failing; I just don't want to ever give up. I will keep doing what I love to do; with all the optimistic energy in the world.
Also Read: Why is Bollywood going for Pakistani actresses? Let's find out
HIP: Are there any actors from Pakistan that you look up to?
RM: I wouldn't say I look up to them, but I definitely admire and love all the actors and drama serials since I've been religiously following re-runs on Zindagi channel. I loved Shehr-e-Zaat, Humsafar, Kankar and Maat the most. I absolutely loved the way Saba Qamar and Adnan Siddiqui essayed their roles in Maat. In fact, every actor in Pakistan has a great flow of delivery –they're natural and realistic with their characters.
I also liked Sanam Jung in Mohabbat Subh Ka Sitara Hai. I thought she did a fabulous job in that serial. I am also a fan of Fawad Khan. And apart from these, I got to personally meet Sajal Aly while I was shooting for an ad in Thailand. She came across as a lovely person and a powerhouse of a performer. I loved her serial Nanhi.
Also Read: Sushmita Sen visits Wagah Border; waves to Pakistani fans
HIP: How different are the mediums of television and film from each other? Which one do you prefer more?
RM: Film sets are a lot more calm and planned. You have time to rehearse and perfectly fit into the character, whereas due to telecast dates you don't have that much time for television. Television also demands grueling work hours; you hardly have time to change into your next scene's outfit. Series here go on for at least a year, so that is definitely more hectic. However, I enjoy doing both. To me, they're life, tea and coffee. Both of them have their own feel and flavours.