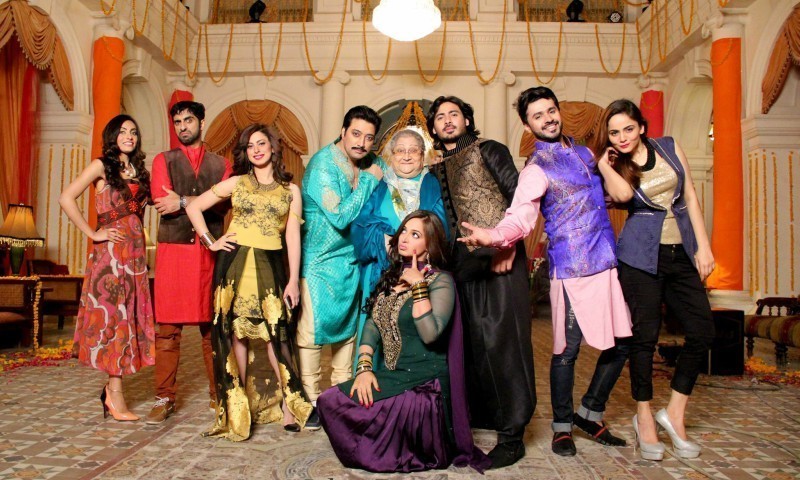 A mixture of bad Lollywood and flop Bollywood films, Ishq Positive reminds you why such films failed at the first place.

In a realm of films where narratives make sense, cinematography remains top-notch, and acting prowess speaks tenfold, one could expect only the best of Pakistani cinema to make it to cinemas. Call it being spoilt for choice, but with such an array of spectacular films available, would you expect to go for the lowest common denominator? That's exactly how one feels after watching Noor Bukhari's latest venture, Ishq Positive.
READ: Sonu Sood to appear in Ishq Positive, Noor Bukhari tells HIP
Directed by Bukhari, written by Suraj Baba, and produced by Shazia Hussain and Kashif Latif under the production banner of KSL Productions, the film can only be described as a rehash of old Lollywood and equally flop Bollywood films, reminding you why such cinema failed at the first place. In simple words, the film only acts as a vessel to promote failed clichés, gaudy item songs, and unnecessary humour in order to salvage a sinking ship. Talk about bad choices!
Revolving around the bubbly-yet-sly Rajjo (Noor Bukhari) and Wali (Wali Hamid Ali Khan), the film takes its viewers on a journey of friendship, love, and heartbreak in the lush valleys of Pakistan, where of course, things predictably have to go awry. Ending up in a love triangle of epic proportions between the protagonists and the film's main 'old-school' villain, played by Saud, the film is an amalgamation of cheesy dialogues and lackluster storytelling that ended up causing more damage than good.
That being said, the veteran ensemble cast in the film provides Lollywood nostalgia for anyone missing the downtrodden and forgotten film industry. Thus, performances by Durdana Butt, Saud remain the only two commendable things when it comes to acting! When it comes to the hero, Wali, and Bukhari's debuting younger sister, Faaria Bukhari, nothing could have saved them from the disaster that was their own acting skills.
Amongst a mish-mash story, plethora of songs sung by Bollywood singers and our very own Rahat Fateh Ali Khan, and just overall bad direction, Ishq Positive is undeniably a Lollywood style gargantuan failure, which serves as a very potent example of 'how not make a movie' in the new age of Pakistani cinema.
In short, if there is nothing good available to watch in the cinema, or even on your television screens, Ishq Positive might provide you with a few seconds of laughter, and two hours of awkward on-screen chemistry. But only if you're truly desperate for any form of entertainment.
READ: Ishq Positive's theatrical trailer offers nothing new
HIP Rating: 1/5 Stars