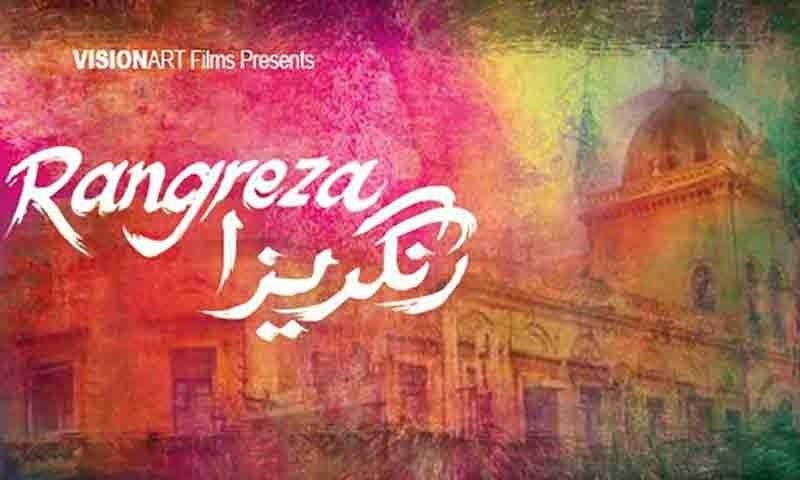 Sana Javed has made her presence felt on the small screen and now, she is set to make her silver screen debut with Rangreza alongside Bilal Ashraf and Gohar Rasheed. The movie, which is essentially a musical based love triangle, is expected to go on floors on August 1. The trailer and Gohar's first look have been revealed and let us tell you that we are blown away!
Read: Sana Javed's debut film gets a title
Although the look doesn't reveal anything except for the name, we love the artistic feel of the poster; that archaic building blurred by a spray of colours promises that the film will be something bigger and better.
Penned by Akhtar Qayoom, the story highlights the contrast between classical and contemporary music. It is being directed by Aamir Mohiuddin – who started his career as an assistant director for TVCs and later went on to join Vision Art Media under whose banner Rangreza is being produced.
Gohar will be essaying the role of a dholak player in the film; his overall look and attire is very different from what we've seen from him so far. He also has long locks which seem to add intensity to the character of a dholak player!
We've only seen his look so far and not Sana or Bilal's – we're guessing the latter will play the role of a contemporary musician, but where does that leave Sana? What role will she be playing? Guess we will have to wait and see.
Read: Guess who is the male lead in Sana Javed's debut film
Interesting note:
After watching the first look of the movie, you have this uneasy feeling like you've seen something like this before. Well, after much pondering and in-house discussion, we reached a conclusion that it reminds us of Indian flick Raanjhana (2013) which starred Dhanush, Sonam Kapoor and Abhay Deol.
The only difference is that Sonam and Dhanush were in the spotlight whereas in this case, none of the cast members are gracing the posters just yet – it is merely the title, written in both English and Urdu with a building in the background hidden behind a spray of colour.