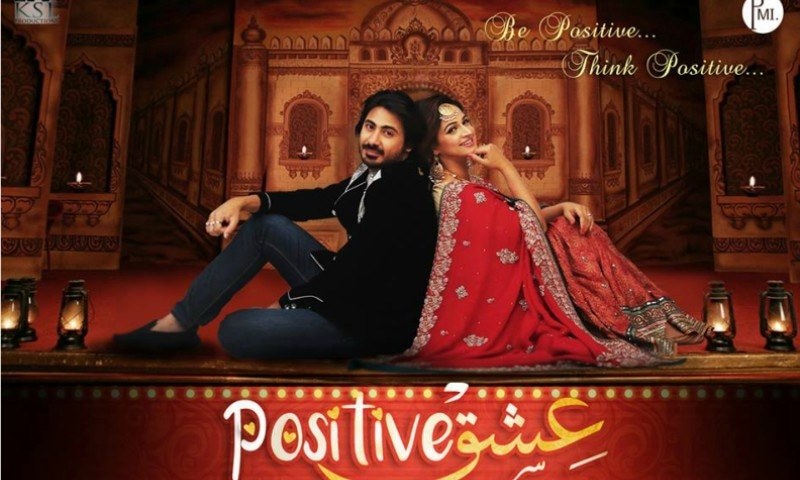 The composers have made music which makes you fall in love and we look forward to hearing more from the trio soon.
Noor Bukhari's directorial debut Ishq Positive may have failed at the box office because of an inferior script but one thing the makers need to be appreciated for is the brilliant music. Desi movies are all about music and Ishq Positive was able to achieve that. Whether it's the romantic ballads or the masti-filled tunes, the film's music will take you to another world!
Read: Ishq Positive goes down the Lollywood way
The music has been composed by Wali Hamid Ali Khan (who also happens to be the lead), Kamran Akhtar and Saji Ali, and the lyrics have been penned by A.M Turaz from India. Out of nine songs, there are five that we absolutely loved. Let's have a look:
Rab Diyan Rab Jaane (Rahat Fateh Ali Khan and Akriti Kakkar)
This is our favourite and it sets the tempo and mood for the rest of the album. The composers understood that they had to grab the listeners right from the beginning and for that, they chose Rahat Fateh Ali Khan, who always captivates the audience with his magical voice. The lyrics are meaningful, which is actually a nice change. We do feel that Kakkar's voice did not do complete justice but obviously when you are singing a duet with such a legend, you are bound to be nervous – that's something sensed in her vocals. But nonetheless, excellent effort!
Dil ka Panchi (Wali Hamid Ali Khan and Daima Farooq)
This has a very youthful feel to it and expresses the feeling of falling in love wonderfully. Daima Farooq's vocals are quite pleasant and go well with Khan's voice. The music and lyrics along with the vocals give it a very 90s Bollywood touch as well.
Tujh Bin Mora (Ustaad Hamid Ali Khan and Akriti Kakkar)
You cannot go wrong with having a legend like Ustaad Hamid Ali Khan sing a song for you especially when your intention is to truly move the listener and Wali, Kamran and Saji have done a great job in achieving that goal. You must listen to this if you want it to leave an impact on you because it will; especially right at the end where you hear the tabla and Ustaad Hamid's alaap together.
Noor-e-Khuda (Wali Hamid Ali Khan and Akriti Kakkar)
The combination of Kakkar and Khan here is nice too and they both compliment each other's style of singing. When you have two singers who understand each other then automatically the track sounds even lovelier. The song transports you back to the land of love!
Ya Ali (Raga Boyz)
After the first track, the one which touched us the most was this song from Ragaboyz consisting of Ustaad Hamid Ali Khan's children namely Wali (yes, he's in a band as well), Nayab and Inam. The band gained popularity on both sides of the border with Mun Kunto Mola which they sang for Bollywood film, Maximum.
The beauty of these guys is that they give a modern spin on classical music.Ya Ali does manage to touch the emotional chords and if you want to go on a musical emotional journey, then this is a must for you.